When it comes to home renovation, you want to save every penny you can. Expenses can add up fast, especially when it comes to fixing up a kitchen. You also want your new kitchen to look good and avoid cheap particleboard cabinets. That's where Quick Ship Kitchens can help. Our line of Wolf Kitchen Cabinet can help save you money without sacrificing quality.
Since 2018, Quick Ship Kitchens has been helping contractors, DIY-ers, and landlords build new kitchens fast. Our Wolf Kitchen Cabinet line has an abundance of styles to choose from and quick delivery times, you'll enjoy your new kitchen sooner when you order from Quick Ship Kitchens.
Wolf Kitchen Cabinet Line From Quick Ship Kitchens
Wolf Cabinets have been made in America for over 175 years. With a reputation of an exceptional business, value, quality, and service. At Quick Ship Kitchens we offer a variety of styles of Wolf Kitchen Cabinet to meet your project's needs with quality, speed, style, and affordability.

These cabinets are durable and long-lasting. With a 5-year warranty and a variety of accessory and storage options, not only will these cabinets enhance your kitchen aesthetics but they will improve functionality too. All of our cabinets have certifications from the Environmental Stewardship Program (ESP) and Kitchen Cabinet Manufacturers Association (KCMA). Classic offers 19 different door options in a variety of colors and styles. View our gallery to start envisioning your new kitchen.
Quality You Can Depend On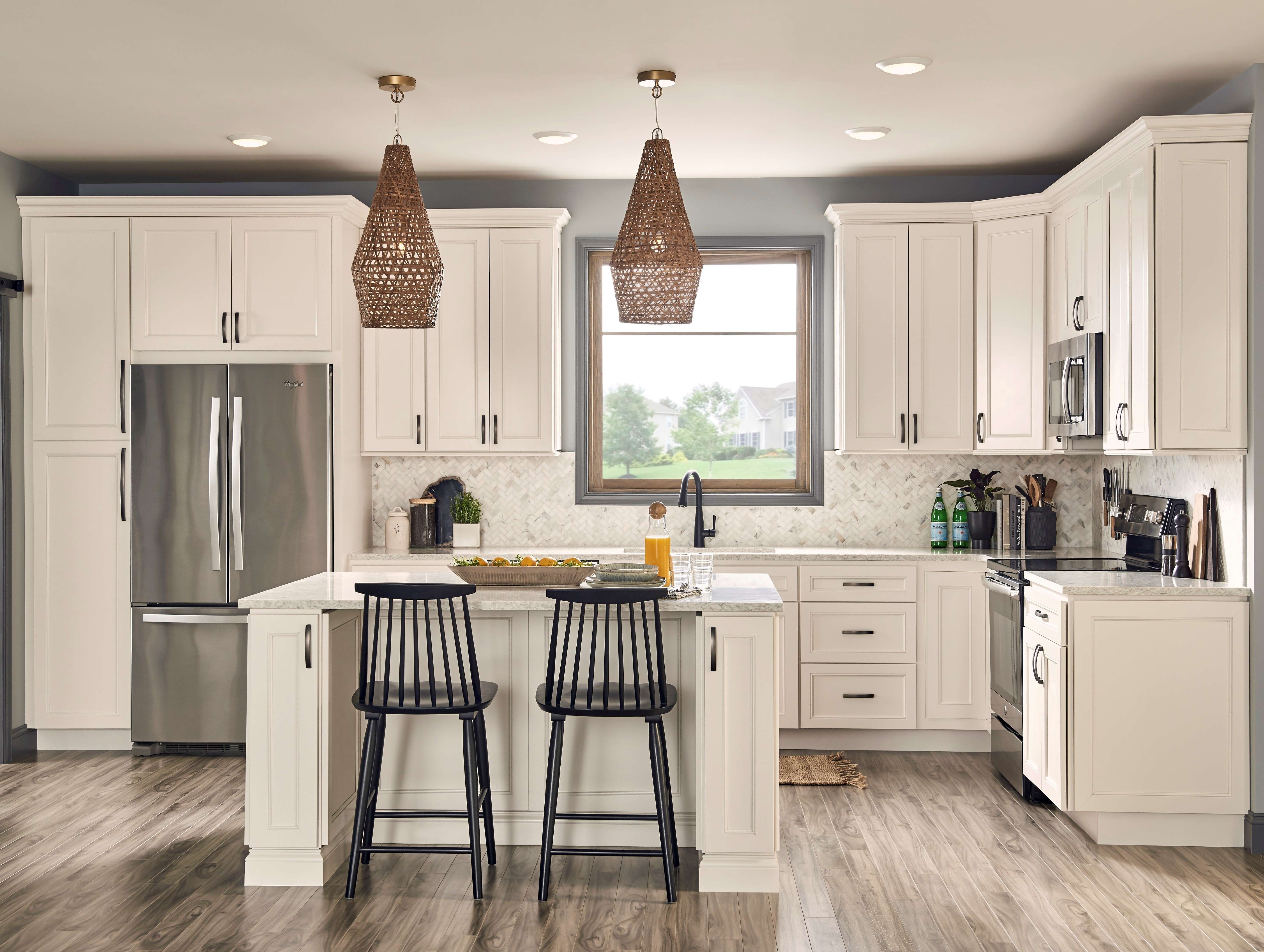 American Maple and the highest quality hardware are what make Wolf Kitchen Cabinets different from the rest. Our cabinets do not include brackets, cams, or clips. Wolf cabinets come standard with solid wood dovetail drawers and all-plywood box construction. All cabinet face frames are made for ¾" solid maple. The drawers have a 75 lb rating, so they'll hold up all your pots, pans, and heavy mixers with ease. Solid hardwood components and a state-of-the-art finishing system produce a consistently beautiful and long-lasting appearance.
With quality like this, you'd expect to pay big money for a new kitchen. With Quick Ship Kitchens the savings for the quality are outstanding. Once you get a quote for your new kitchen from Quick Ship Kitchens, you can compare it to other cabinet stores. if you get another of the same product and manufacturer from another competitive retailer that is lower in price, we will match it. That's our low-price guarantee. We will review the pricing from both quotes and match it, but we bet it will be hard to find another company that comes anywhere close to our quality, price, and delivery speed.
Faster Manufacturing and Delivery Speed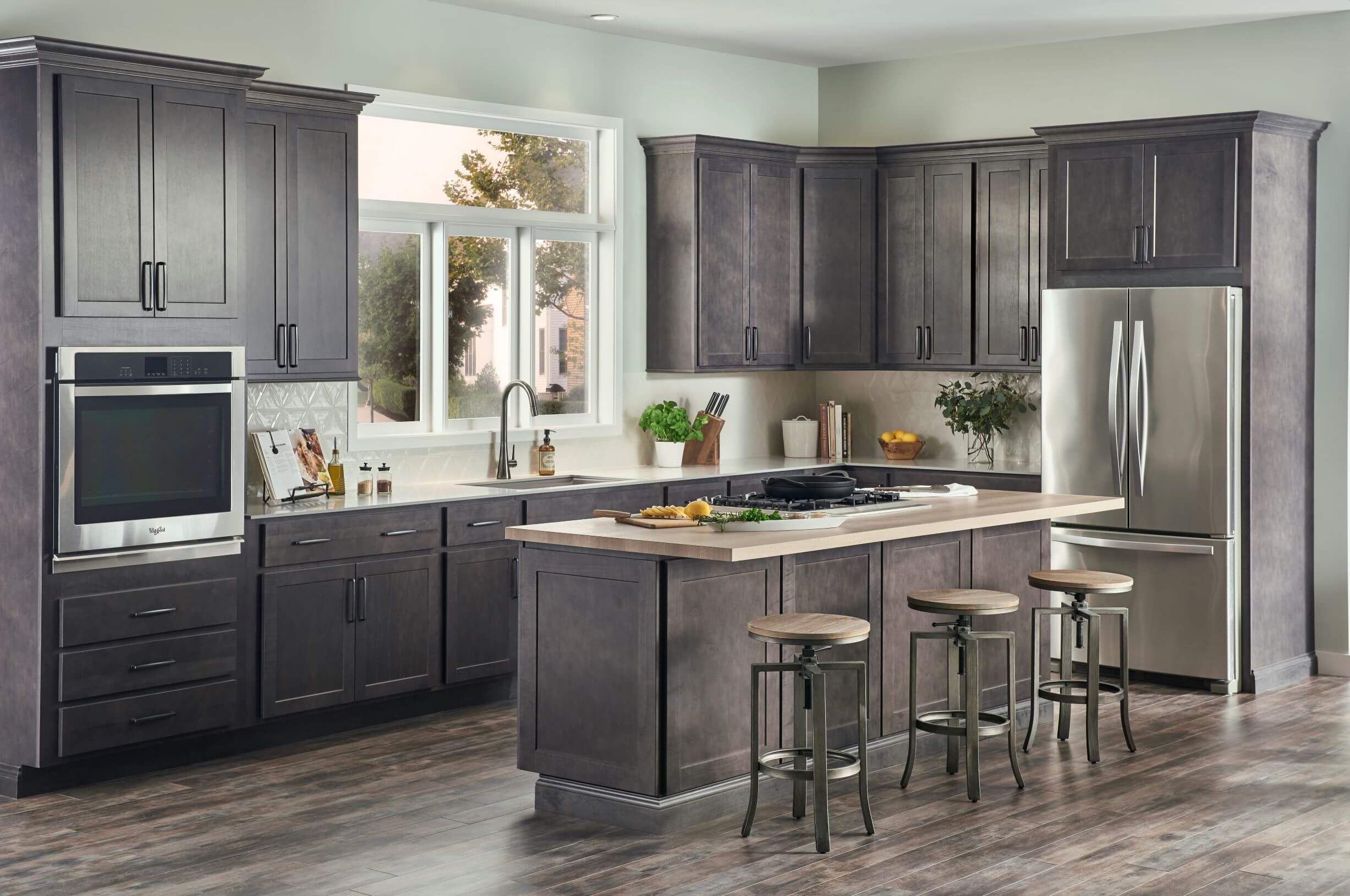 Besides the exceptional quality of Wolf Classic cabinets, we are also incredibly impressed with their manufacturing and delivery speeds. Wolf Classic's superior technology combines generations of woodworking expertise with today's latest technologies. Your Wolf Kitchen Cabinet design will be completed and delivered to you fast. We directly ship your cabinets in 1-2 weeks to your home instead of 5-8 weeks. This beats most standard industry wait times, so you can enjoy your kitchen sooner.
When your cabinets arrive, you'll want to inspect them for damages just in case. If you notice any damage, call our customer service line with 14 days of your delivery and we can help set things right. Our cabinets also come standard with touch up kits. Each kit includes a putty fill stick, touch up marker, and a bottle of top coat, so you can keep your cabinets beautiful, even with future accidental damage.
Order Your Wolf Kitchen Cabinet Sample From Quick Ship Kitchens
If you're unsure about the quality of kitchen cabinets ordered from the internet, you're not alone. A big investment like new kitchen cabinets is not a decision that should be made lightly. That's why Quick Ship Kitchens has Wolf Kitchen Cabinet door samples. Take your sample to other stores and compare the quality. We know you'll love our cabinets.  You'll be confident that you have made the right choice by going with Quick Ship Kitchens. Start creating a custom quote with our design guide, and then contact us with any questions. We're standing by to help you build the kitchen you've always wanted.