Wolf Standard Framed Cabinetry
Wolf Classic is a standard framed cabinetry line that is known for its all wood factory-assembled construction and exceptional value, quality, and delivery speed.  The cabinets are handcrafted here in America using American Maple and the highest quality hardware without brackets, cams, or clips.  Classic offers 19 different door options available for quick delivery in days, not weeks and additional styles and colors in truckload and special order.  The cabinets and hardware come with a 5-year warranty and a variety of accessory and storage options to enhance not only kitchen aesthetics, but functionality.  All of our cabinets have certifications from the Environmental Stewardship Program (ESP) and Kitchen Cabinet Manufactures Association (KCMA).

 At no additional charge, Wolf Classic cabinets come standard with solid wood dovetail drawers and an all plywood box construction.  Cabinets are assembled using high industry standards with custom quality features and construction.  This includes base cabinet wood corner blocks.  We never use cams, clips, or brackets for assembly like those found in Ready-to-Assemble (RTA), unassembled cabinets.  The face frames are made of 3/4″ solid maple and drawers have a 75 lb rating.  Take a look why Wolf Classic is the fastest-growing and one of the most popular cabinet lines in America.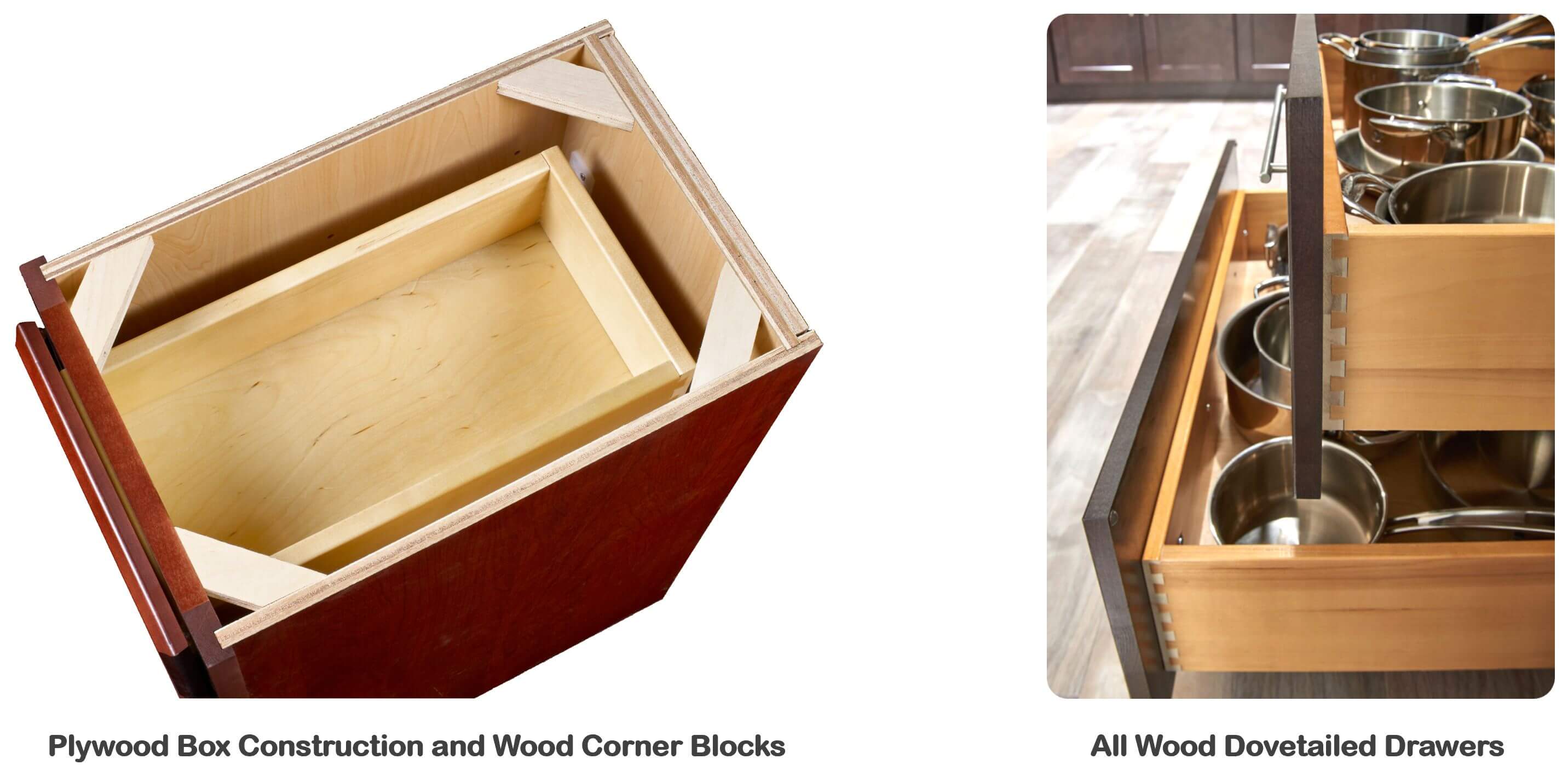 Construction Specifications
Wall Cabinets – Hudson, Berwyn, York, Dartmouth, and Hanover Door Styles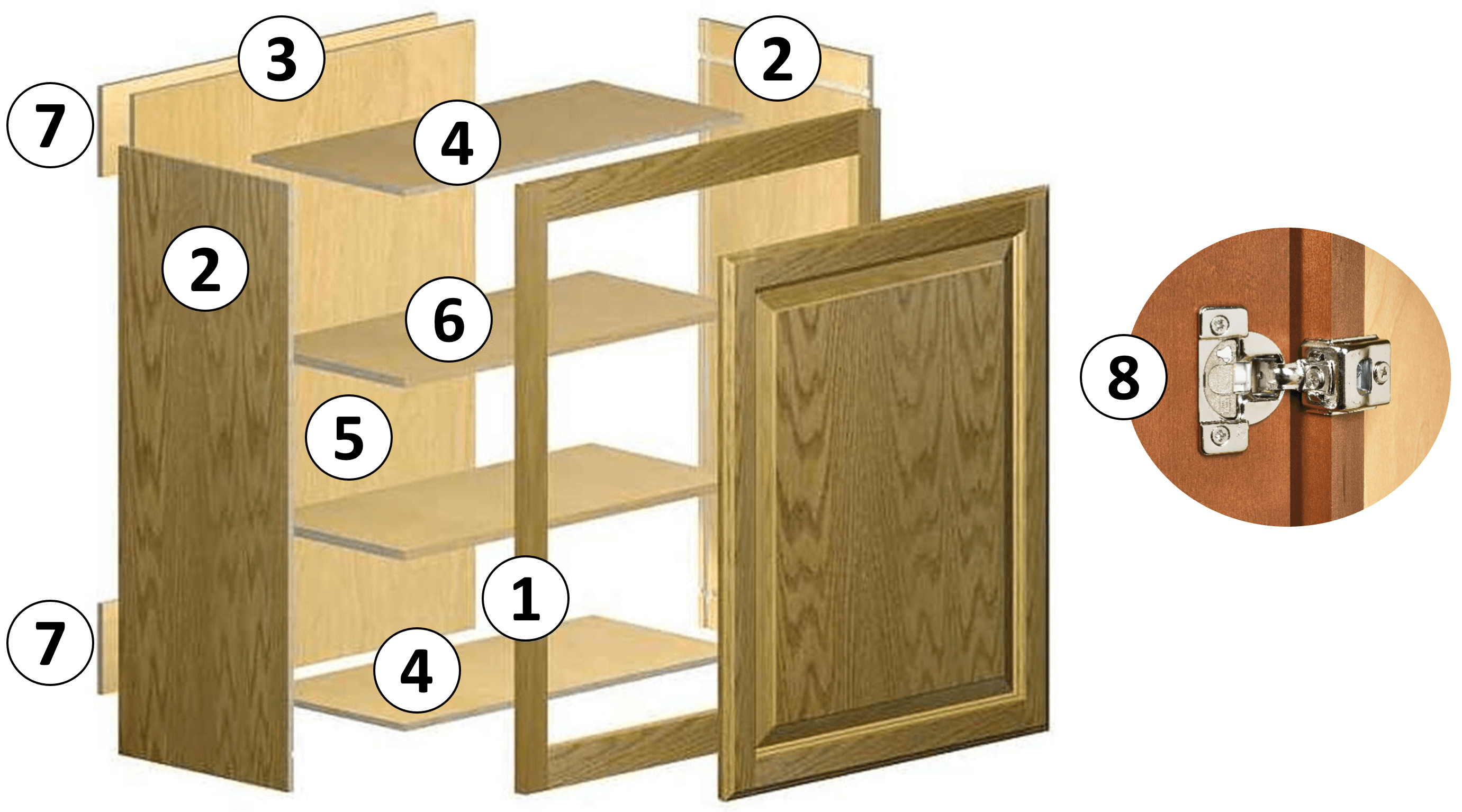 1. Face Frame – ¾" thick x 1 ½" wide solid maple
2. Side Panels – ½" plywood with matching exterior laminate
3. Back Panel – ½" plywood
4. Top and Bottom Panel – ½" plywood
5. Interior – Natural maple laminate for pewter and opal paints and stained finishes
White laminate for York White, Dartmouth White, and Hudson Antique White paints
6. Shelves – Adjustable, full-depth ¾" plywood shelves with self-locking clips and bull-nosed, foil covered front edges
7. Hanging Rails – Concealed top and bottom ½" plywood
8. Door Hinges – Soft-close, hidden, 6-way adjustable hinge with integrated soft-close mechanism
Wall Cabinets – Saginaw Door Styles
1. Face Frame – ¾" thick x 1 ½" wide solid maple
2. Side Panels – ½" plywood with matching exterior laminate
3. Back Panel – ½" plywood
4. Top and Bottom Panel – ½" plywood
5. Interior – Natural maple laminate
6. Shelves – Adjustable, full-depth ¾" plywood shelves with self-locking clips and bull-nosed, foil covered front edges
7. Hanging Rails – ½" plywood
8. Door Hinges – Standard (not soft-close), hidden, 6-way adjustable hinge
Wall Cabinets – Somerset Door Style
1. Face Frame – ¾" thick x 1 ½" wide solid maple
2. Side Panels – ½" plywood with matching exterior laminate
3. Back Panel – ½" plywood (1/8" panel with 3/8" structural perimeter)
4. Top and Bottom Panel – ½" plywood
5. Interior – Natural maple laminate
6. Shelves – Adjustable, full-depth ¾" plywood with self-locking clips and edge band front edges
7. Hanging Rails – ½" plywood
8. Door Hinges – Standard (not soft-close), hidden, 6-way adjustable hinge
Base Cabinets – Hudson, York, Berwyn, Dartmouth, and Hanover Door Styles
1. Face Frame – ¾" thick x 1 ½" wide solid maple
2. Side Panels – ½" plywood with matching exterior laminate
3. Back Panel – ½" plywood
4. Bottom Panel – ½" plywood
5. Interior – Natural maple laminate for pewter and opal paints and stained finishes
White laminate for York White, Dartmouth White, and Hudson Antique White paints
6. Drawers – 4" high, 5/8" thick solid maple dovetail drawer box construction with ¼" thick plywood bottom
7. Shelves – Adjustable, half-depth ¾" plywood with self-locking clips and bull-nosed, foil covered front edges
8. Corner Blocks – ¾" all-wood
9. Hanging Rails (Not shown) – ½" plywood attached to back panel across top and bottom
10. Door Hinges – Soft-close, hidden, 6-way adjustable hinge with integrated soft-close mechanism
11. Drawer Glides – Soft-close, full-extension, undermount glides with 75 lb. rating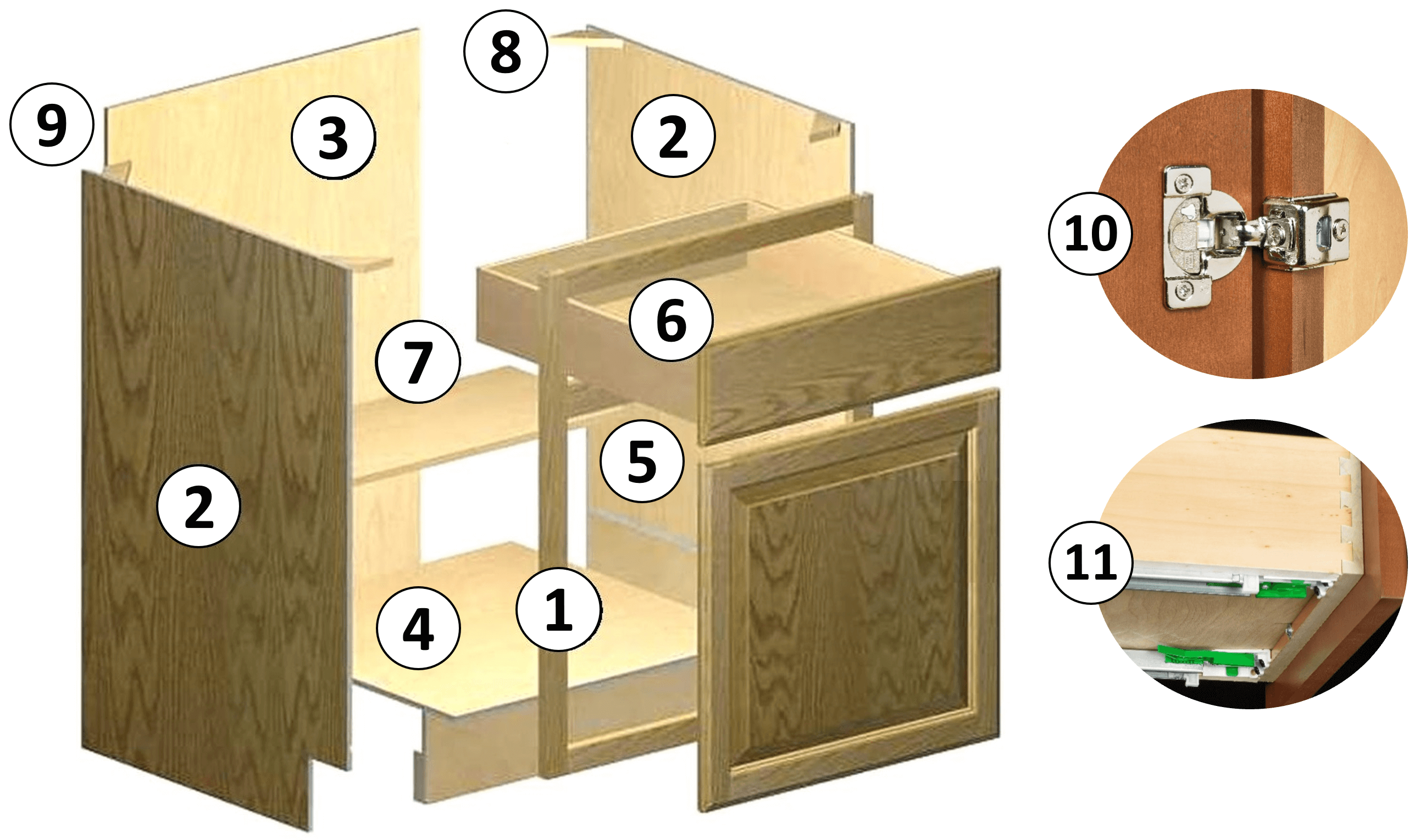 Base Cabinets – Saginaw Door Styles
1. Face Frame – ¾" thick x 1 ½" wide solid maple
2. Side Panels – ½" plywood with matching exterior laminate
3. Back Panel – ½" plywood
4. Bottom Panel – ½" plywood
5. Interior – Natural maple laminate
6. Drawers – 4" high, 5/8" thick solid maple dovetail drawer box construction with ¼" thick plywood bottom
7. Shelves – Adjustable, half-depth ¾" plywood with self-locking clips and bull-nosed, foil covered front edges
8. Corner Blocks – ¾" all-wood
9. Hanging Rails (Not shown) – ½" plywood attached to back panel across top and bottom
10. Door Hinges – Standard (not soft-close), hidden, 6-way adjustable hinge
11. Drawer Glides – Standard (not soft-close), side-mount, standard epoxy glides with 75 lb. rating
Base Cabinets – Somerset Door Style
1. Face Frame – ¾" thick x 1 ½" wide solid maple
2. Side Panels – ½" plywood with matching exterior laminate
3. Back panel – ½" plywood (1/8" panel with 3/8" structural perimeter)
4. Bottom Panel – ½" plywood
5. Interior – Natural maple laminate
6. Drawers – 3 ½" high, 5/8" thick solid maple dovetail drawer box construction with ¼" thick plywood bottom
7. Shelves – Adjustable, half-depth ¾" plywood with self-locking clips and edge band front edges
8. Corner Blocks – ¾" all-wood
9. Hanging Rails (Not shown) – ½" plywood attached to back panel across top and bottom
10. Door Hinges – Standard (not soft-close), hidden, 6-way adjustable hinge
11. Drawer Glides – Standard (not soft-close), side-mount, standard epoxy glides with 75 lb. rating