Buying cabinets doesn't have to be hard, especially when you buy Wolf Cabinets Online. Quick Ship Kitchens is a proud retailer of Wolf Cabinets since 2018. Quick Ship Kitchen's goal was to provide customers with affordable cabinets designed at a higher industry-level standard when they first started, and today, they are making it happen. 
If you are interested in buying cabinets that come pre-assembled, made of hardwood components, and are American-made, you have come to the right place. Contact Quick Ship Kitchens today! 
Why Should I Buy My Cabinets From Quick Ship Kitchens?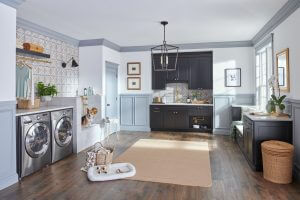 Since the founding of Quick Ship Kitchens, our mission is to give customers fast, high-quality, factory-assembled cabinets to enhance and reshape their homes and bring options to the renovation industry. All of our cabinets are factory assembled without using cams, brackets, and clips. Our cabinets are designed with dovetail corners and are all made in the U.S.. 
Once your cabinets are ordered you will receive your cabinets in one to two weeks, after they have been assembled. Quick Ship Kitchens' delivery time is unlike other cabinet companies because the typical delivery time can be anywhere from five to eight weeks before you receive your cabinets. 
Another thing that sets Quick Ship Kitchens apart from other cabinet companies is that we include a five-year warranty with every purchase. Life happens and sometimes things break so within the first five years replacing your cabinets is on us. Upon delivery, if your cabinets come broken, let us know and we will replace those as well! 
As for discounts, we offer select discounts on truckload purchases for condos, apartment buildings, and more. We even offer additional colors and styles for cabinet doors. To check out what we have available on our website, check out our list of products. 
Quick Ship Kitchens strives to give our customers the best experience when it comes to buying Wolf Cabinets Online. We offer free design services for all of our customers and quality customer service. Included in all of that, we also provide a 'lowest price guaranteed' policy. If you get a quote from another company that is lower than what we offer a discount to match that price. All quotes must be submitted to Quick Ship Kitchens at [email protected] before your discount can be applied and before you place any kind of order with us. For more information regarding our 'lowest price guaranteed' policy, read through our Terms and Conditions. 
What Rooms Can I Use Quick Ship Kitchens' Cabinets? 
In short, Quick Ship Kichens' cabinets can go anywhere! There are a lot of rooms that require or would look amazing using our cabinets, but you can have these installed in any room of your house, apartment, or business. Here are a few places we think our cabinets would really elevate your space: 
Bedrooms 
Bedrooms are typically filled with dressers, chests, and bookshelves; however, you can have cabinets with Quick Ship Kitchens' cabinets instead. Our cabinets can hold everything from toys to shoes and it will give your bedroom a unique style. If the bedroom happens to be a nursery or a room for a young child, our cabinets are great for storing numerous amounts of diapers, onesies, and other baby supplies. 
Every home needs to have kitchen cabinets that are big enough to store your food and favorite glassware. Quick Ship Kitchens has cabinets that are perfect for your kitchen and won't cost you an arm and a leg. Our cabinets will also give your kitchen a modern chic look that will make your kitchen the envy of anyone that comes into your home! 
It's easy to let your bathroom get overrun with cosmetics and hygiene products, but with Quick Ship Kitchens' cabinets keeping your bathroom tidy and organized will be easy. Everything can have its place and your bathroom will also look amazing. 
Basements have a lot of different uses. It can be a guest room, a lounging area, or a storage room. It is a space you can use for anything your heart desires, but one thing you should have in your basement is Quick Ship Kitchens' cabinets. No matter what you end up using your basement for, it is always a good idea to have cabinets to put your things in, whether it is for the wet bar or storing your old antiques you can't part with, our cabinets will make your space look clean and pristine! 
Contact Quick Ship Kitchens When Buying Wolf Cabinets Online 
Quick Ship Kitchens offers customers affordable and sturdy cabinets. If you are interested in buying your Wolf Cabinets Online, consider buying from us. If you're unsure about what cabinets we have available, check out our products page!