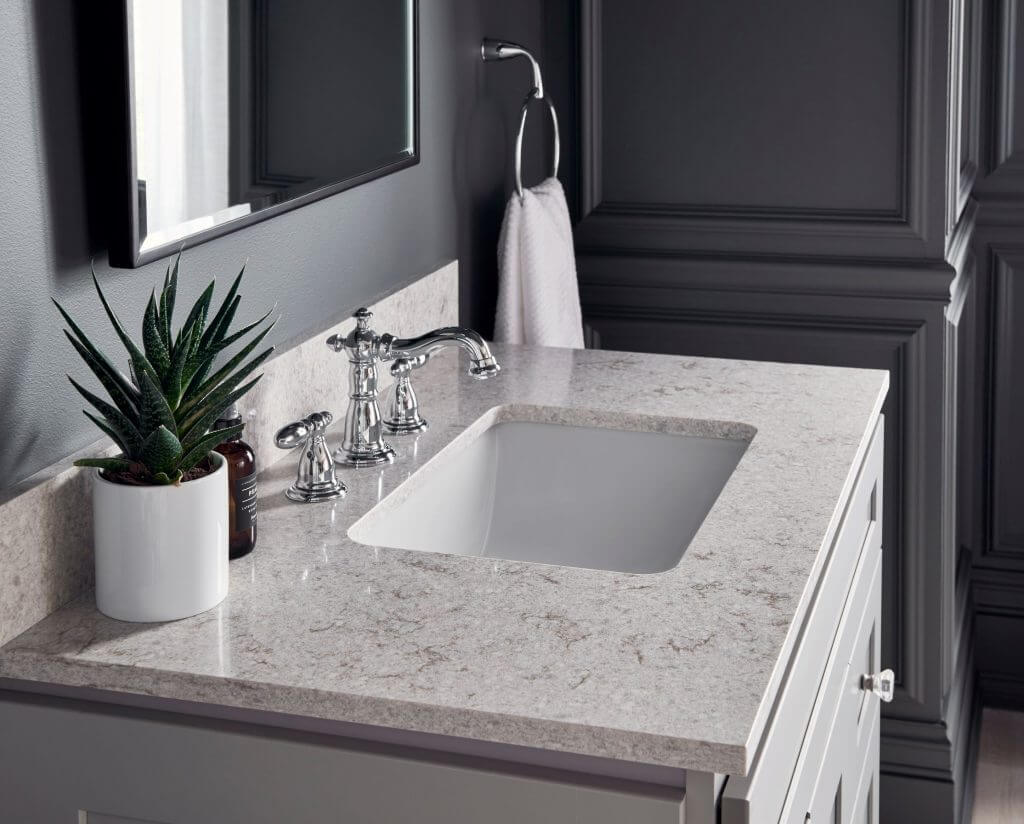 At Quick Ship Kitchens, we provide more than just preconstructed cabinets – we also carry gorgeous bathroom vanity tops. Whether you're completely overhauling your bathrooms or just looking for a quick style upgrade, our team can help. We offer the most popular vanity top materials in several different colors so there's sure to be something for everyone, regardless of your style preferences or budget.
If you'd like to have your new vanity top delivered straight to your door in the next 7-14 days, shop our vanity tops today!
What to Look for in Bathroom Vanity Tops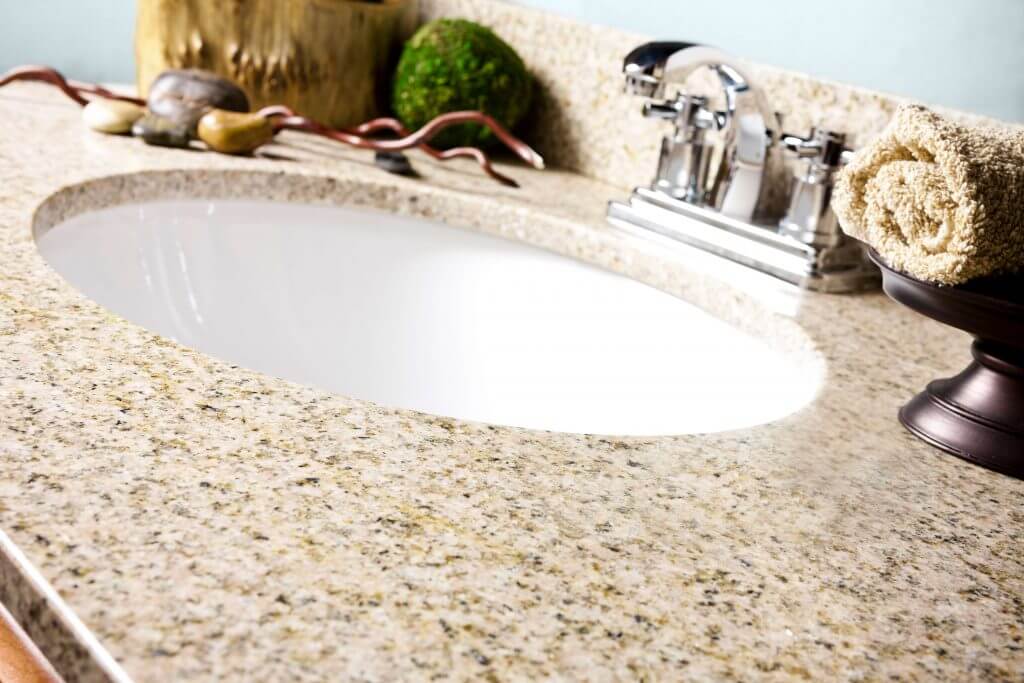 Your poor old vanity top – so neglected and overlooked. If you're like most people, you spend a limited amount of time in the bathroom every day – you go in, do your business, then get out as quickly as you can.
One reason for all this rushing around might be because your bathroom isn't the inviting, relaxing space that it could be. You've probably grown tired of that old, weathered vanity top and out of date color.
Here's the good news: with a quick upgrade, you can transform your bathroom from dull and outdated to chic and contemporary. How? By installing a new vanity top. Sure, a fresh coat of paint and a new vanity will also help, but the centerpiece of the bathroom – its most noticeable feature – is the vanity top.
So what exactly should you be looking for in a vanity top? Here are a few suggestions: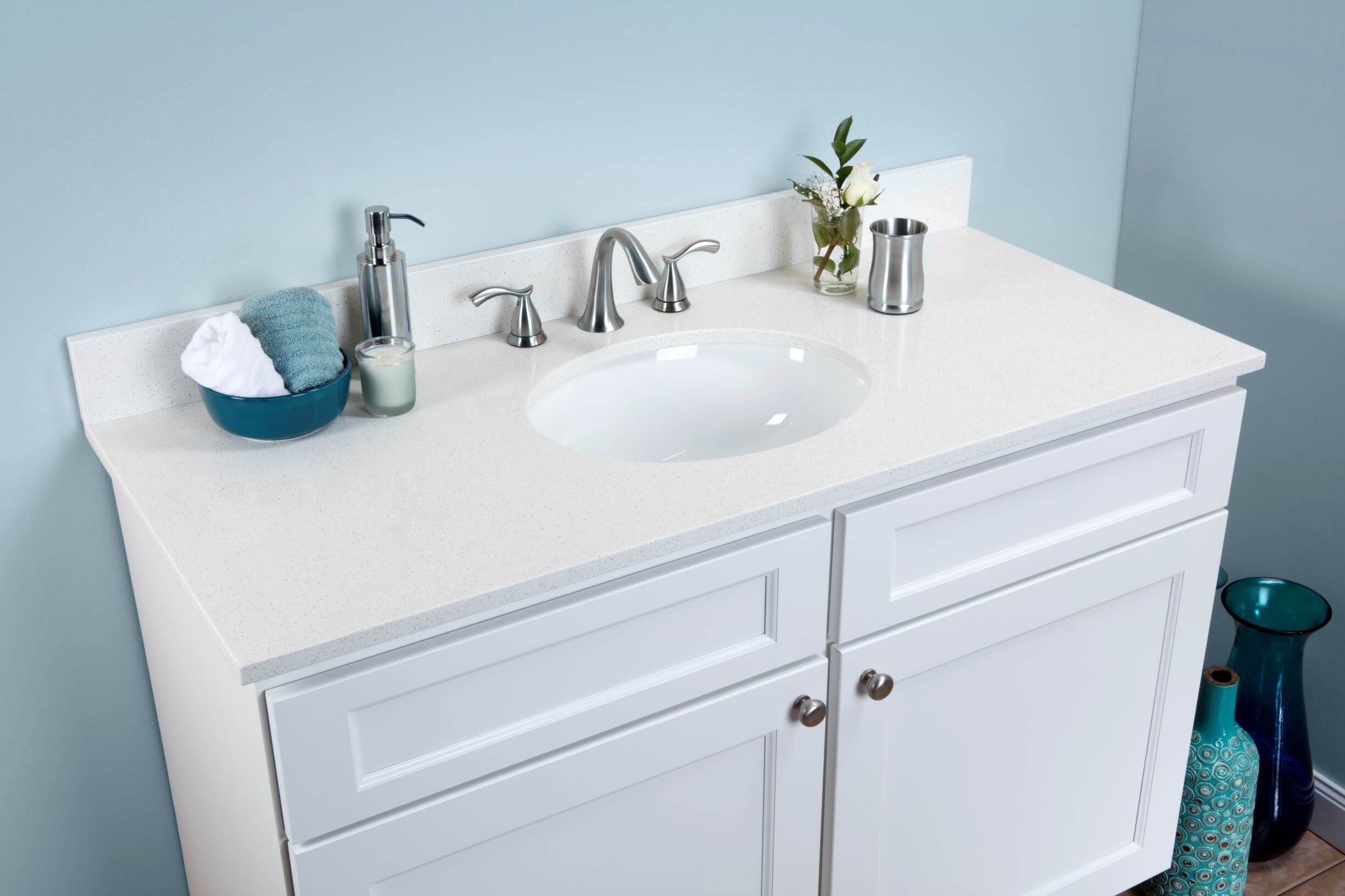 1. Beautiful
You're not making this investment to end up with another ugly bathroom counter. With vanity tops serving as one of the biggest features in your bathroom, you want it to look good.
2. Practical
You may want your vanity top to look beautiful, but good looks will only get you so far – you also need a counter that will withstand heat, humidity, hair products, and more.
When choosing the material for your vanity, make sure that you find one that is durable. If the material chips too easily, you might want to move on to another option, especially if you have kids.
You'll also want to make sure the surface is not too porous. Imagine spilling a bottle of foundation, only to have it seep deep into your countertop. That's going to take a lot of elbow grease to remove!
So while beauty is certainly an important factor, you do need to be practical; make sure that your vanity top can also serve the purpose it has been created for.
3. Affordable
Beauty and practicality don't have to break the bank – you can find both of these qualities in a vanity top at a price you can afford. Especially if you buy from Quick Ship Kitchens; we work hard to find high-quality vanity tops at reasonable rates.
The Best Materials for Vanity Tops
Homeowners have quite a few options when it comes to vanity top materials. But if you're looking for the perfect combination of beauty and practicality, the best choices are granite, quartz, and cultured marble. Here's a bit of information about each of these stunning materials: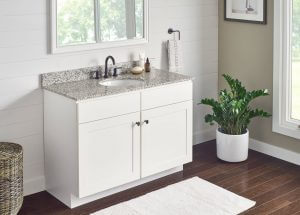 Granite
Granite was the number one choice of vanity materials for many years, and for very good reason. Granite is known for its strength – it's highly resistant to chipping, scratching, and heat. You also won't have to worry about too much upkeep with granite; you only need to seal it once per year.
Not only is granite strong, it's also gorgeous. As a natural stone that comes in various hues and patterns, no two slabs are alike. Installing a granite vanity top can also help with the resale value of your home. Granite is so desirable that home buyers often pay a higher price for homes with this particular feature.
Cultured Marble
Just like quartz, cultured marble is a blend of stone, resin, and pigments. This allows us to make a wide variety of colors to create a natural-looking pattern. Cultured Marble vanity tops are inexpensive, yet durable materials. There is no sealing required with the maintenance of these tops. These tops are also a full one inch thick compared to other tops at three-fourths inches thick, creating a full look at a great price.
Quartz
Quartz has recently overtaken granite as the most popular material for vanity tops. The reason for this popularity is clear – quartz is one of the hardest materials on the planet and maintenance-free. That means it can tolerate a lot of abuse, without the need for sealing or polishing. Quartz is an engineered or man-made stone that is composed of natural stone. This stone is bonded together by resin. The result allows the versatility of colors and a gorgeous look.
Contact Us Today for Bathroom Vanity Tops
Ordering your vanity top is easy – just give us a call at 1-888-784-0322 or visit our online shop. Your brand new bathroom is waiting for you!