Welcome to Quick Ship Kitchens! If you're looking for new high-quality kitchen cabinets that won't bust your budget, you've come to the right place. We understand that you are uneasy about ordering cabinets through an online retailer, but there are actually many advantages to doing so. For starters, because we work directly with Wolf Classic Cabinets, your cabinets are sent to you in 1-2 weeks. This beats most industry lead times. That's just one of the many advantages of ordering new cabinets through Quick Ship Kitchens.
Since 2018, we've been helping contractors, landlords, and home renovators build new kitchens quickly without sacrificing quality. We'll break down how we operate and highlight all the areas where you save big. Feel free to check out our FAQs, or contact us to answer your specific questions.

How To Order Cabinets From Quick Ship Kitchens
A kitchen renovation can cause a lot of headaches and stress. We get it. There is some satisfaction in knowing what you're getting when you can touch it at a store. Here at Quick Ship Kitchens, we work with you like any other cabinetry retailer, except we don't have a storefront. We do that because we want to cut out the middlemen to save our customers money. Let's get you started on your journey to a new kitchen today!
Start with the Design Help Guide

The perfect place to get started on your new kitchen is with our Design Help Guide. Mapping out your kitchen is important for you to decide on which features you want where so you can have a clear image of your mind.
Our guide is broken down into easy-to-follow steps. First, sketch your kitchen layout and take measurements. Your measurements need to be accurate and include things like doorways, appliances, and windows. Second, you'll take pictures of your current kitchen and submit them to us. Finally, you'll fill out our form with any additional features you want to see if your new kitchen.
Once everything is submitted, the Quick Ship Kitchen design team will send you a complete itemized quote for your new kitchen. If you have any design and cabinet questions, you can always contact us for more information and help. Once you have your quote, you can compare it to other cabinet retailers. If you manage to find a store that will offer you similar quality cabinets at a lower price, send it to us. We back our products with the lowest price guarantee. We will examine quotes from competitive retailers, and if we find your quote is the less for the same high-quality cabinets, we'll match it.
Request Your Sample
Now that you have a quote for your kitchen, you'll probably want to experience the quality for yourself before you make such a big investment. That's why we offer door samples. Choose from one of our 19 styles. Take your sample to other stores and compare the quality. We know you'll be so impressed with our cabinets; you'll feel confident that you made the right choice by going with Quick Ship Kitchens.
Order And Assemble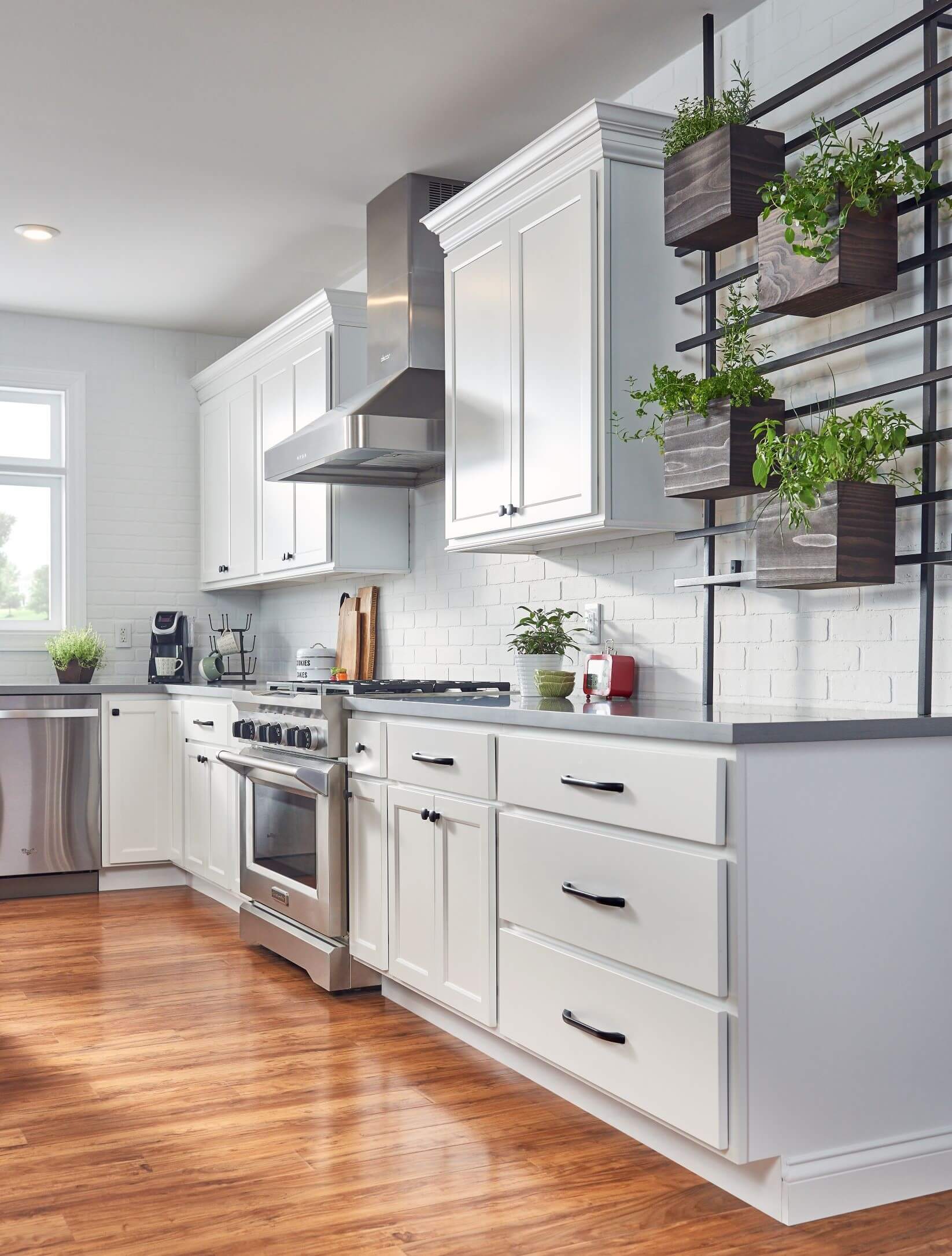 Shop our expansive selection of cabinet styles and features. We offer 19 different door options to match the style and color you're looking for. All cabinets and hardware come with a 5-year warranty and a variety of accessory and storage options.
When you're ready, place your order with our design team. Your cabinet delivery will arrive in 1-2 weeks after your order has been placed. Most other cabinet companies take 5-8 weeks to deliver your cabinets. Wolf Classic Cabinets are handcrafted and assembled without any cams, clips, or brackets. With generations of woodworking expertise with today's latest technologies, the solid hardwood components and state-of-the-art finishing system from Wolf Classic produce consistently beautiful cabinetry with a long-lasting appearance.
When your cabinets arrive, you'll want to inspect them for damages just in case. If you notice any damage, call our customer service line within 14 days of your delivery and we can help set things right. Our cabinets also come standard with touch up kits. Each kit includes a putty fill stick, touch up marker, and a bottle of top coat, so you can help keep your cabinets beautiful, even with future accidental damage. Quick Ship Kitchens cabinets come pre-assembled by the manufacturer and are ready for install saving you time and money.
Enjoy Your New Kitchen Sooner with Quick Ship Kitchens
If you're ready for a new kitchen in a matter of weeks, not months, then order cabinets from Quick Ship Kitchens. With a plethora of styles, colors, and features to choose from, your new kitchen will be exactly what you've always wanted. Start with our design help guide or contact us to learn more.