Kitchens are the most fun room to renovate and customize. When you spend a lot of time in your kitchen, you want handy items to be in ideal spots. But what they don't tell you about kitchen renovations is how long they can take. And if you're without a kitchen for a long time, it could be a big problem. Speed up your kitchen remodel with Quick Kitchen Cabinets from Quick Ship Kitchens. Our products are of high quality, customizable, and are delivered quickly.
Our cabinets are all Wolf Classic Cabinets. They are American made with the latest technology. When you order Quick Kitchen Cabinets from Quick Ship Kitchens, we'll directly ship your cabinets in 1-2 weeks to your home instead of the standard 5-8 weeks. You'll be enjoying your new kitchen much sooner. Start with our Design Help Guide today.
Wolf Classic Cabinets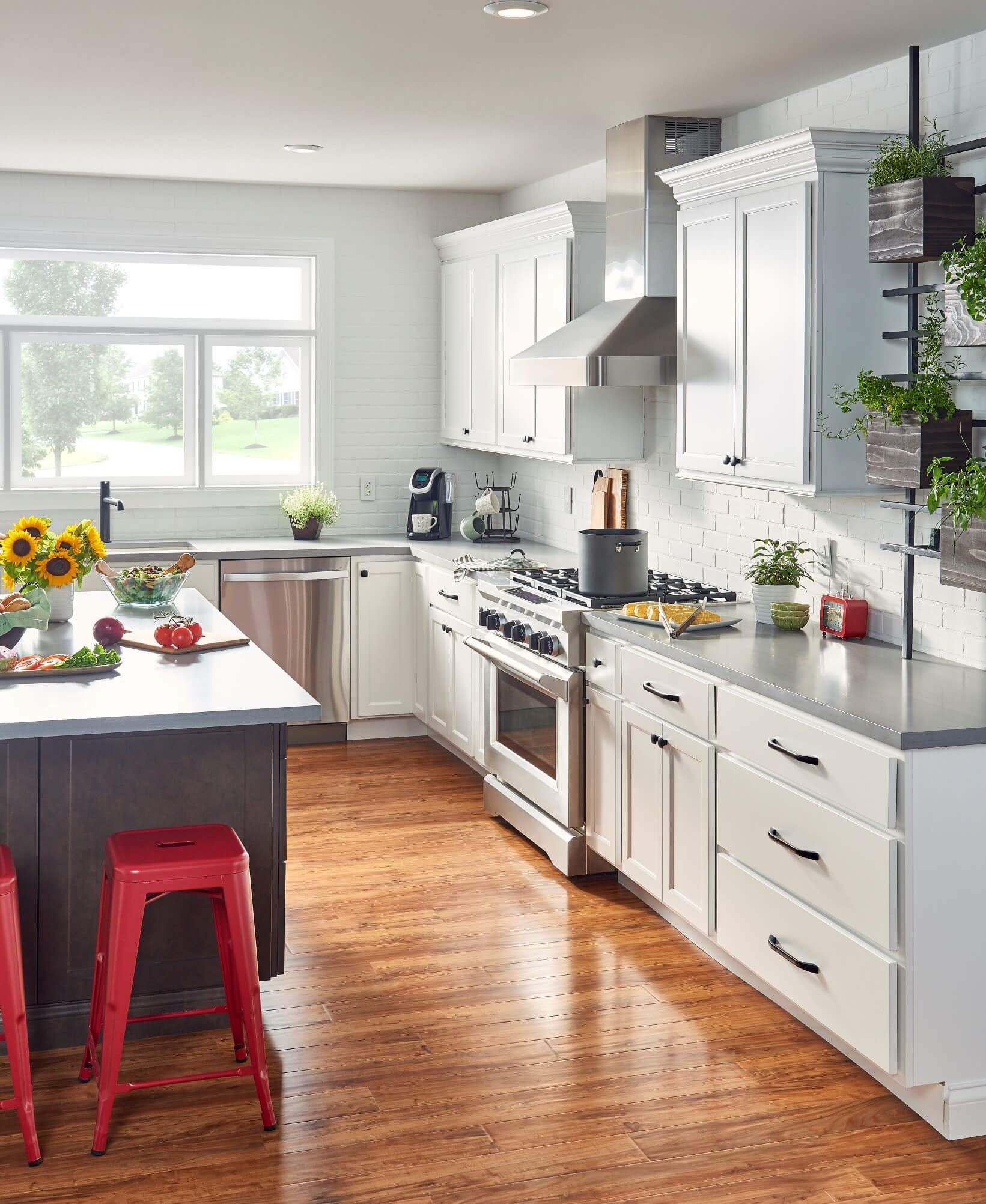 At Quick Ship Kitchens, all of our cabinets are Wolf Classic Cabinets. This framed cabinetry line is known for its all-wood factory construction and exceptional value, quality, and delivery speed. We offer 19 different door options to match the style and color you're looking for. All cabinets and hardware come with a 5-year warranty and a variety of accessory and storage options.
Our Quick Kitchen Cabinets are assembled using high-quality industry standards with custom features and construction. We never use cams, clips, or brackets for assembly like some other cheaper cabinetry options.
If you're still not convinced of the Wolf Classic Cabinet quality, you can see one for yourself. We offer door samples. Once you feel the quality of our cabinets, you'll see why Wolf Classic is the fastest growing and one of the most popular cabinet lines in America.
Quick To Ship & Quick To Assemble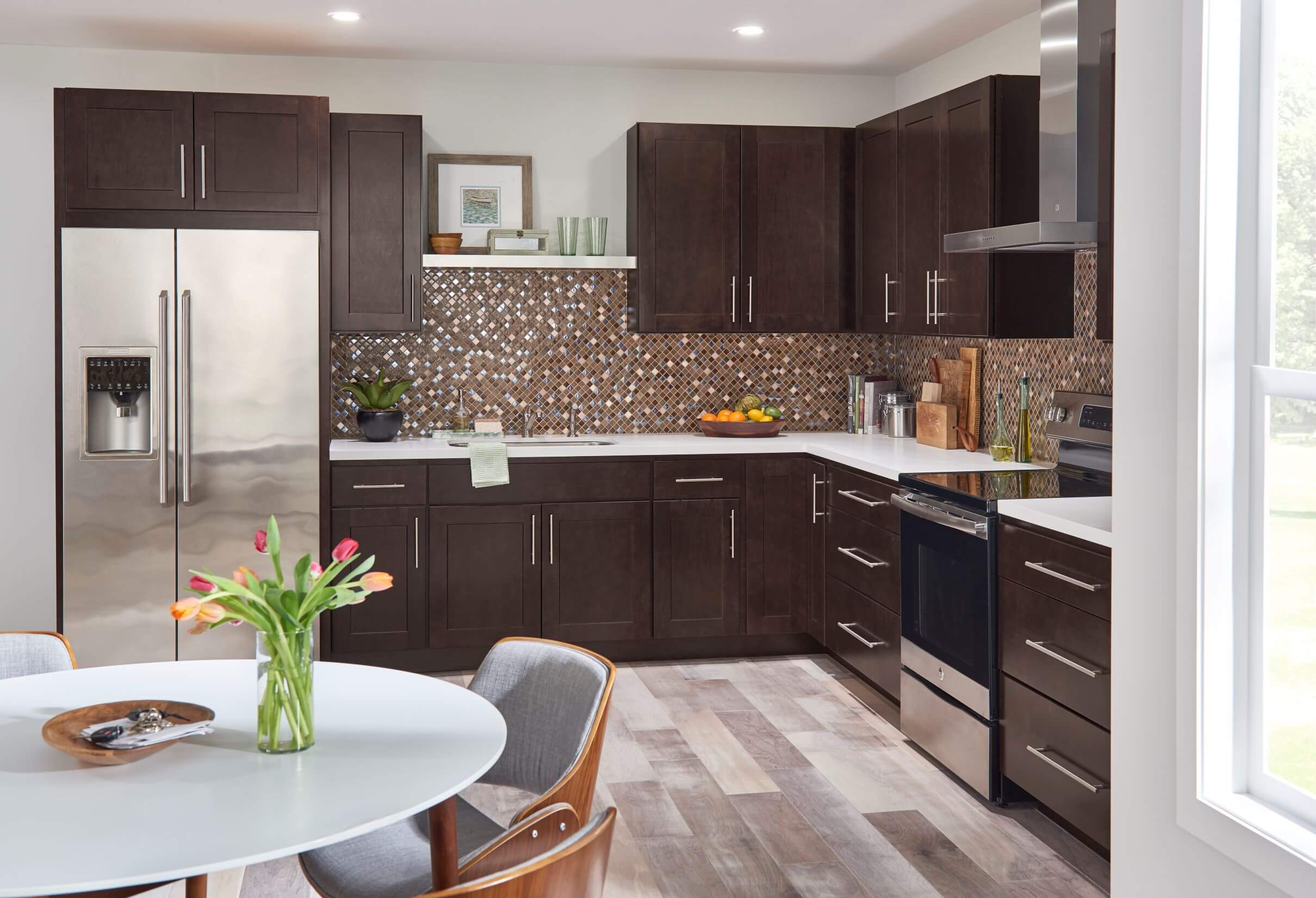 Besides the quality, the next best thing about ordering from Quick Ship Kitchens is how fast you will receive your new cabinets. They don't call us "Quick Ship" for nothing. All of our Quick Kitchen Cabinets are shipped directly in 1-2 weeks to your home. Most other cabinet companies take 5-8 weeks to deliver your cabinets.
When your cabinets arrive, you'll want to inspect them for damages just in case. If you notice any damage, call our customer service line with 14 days of your delivery and we can help set things right. Our cabinets also come standard with touch up kits. Each kit includes a putty fill stick, touch up marker, and a bottle of top coat, so you can help keep your cabinets beautiful, even with future accidental damages. Our cabinets come pre-assembled by the manufacturer and are ready for install.
Save Time & Money With Quick Kitchen Cabinets
We all know the old idiom: "Time Is Money." We can't put a price on time, but the more productive you are with your time, the more you feel like your time has been well spent. When it takes weeks for your kitchen to get back to normal, you probably feel like you're wasting both time and money. When you order Quick Kitchen Cabinets, you'll feel like your kitchen has improved faster than it would from other cabinet retailers. You'll be so happy with the speed at which you received and assembled your cabinets, you'll know you spent your money and time wisely.

If you don't believe us, once you get a quote from Quick Ship Kitchens you can compare it to other cabinet stores. If you get another of the same product and manufacturer from another competitive retailer that is lower in price, we will match it. That's our low-price guarantee. We will review the pricing from both quotes and match it. We bet it will be hard to find another company that comes anywhere close to our quality, price, and delivery speed.
Order Your Quick Kitchen Cabinets Today
If you're ready to save time and money on your kitchen remodel, then check out our large selection of Quick Kitchen Cabinets today. We've got a plethora of colors and styles to choose from. To start, fill our out design guide! If you have any problems, our customer support team is standing by to help make your new kitchen dreams a reality.