Remodeling a kitchen often comes with a big price tag. Homeowners who want the features of a new kitchen, without going broke often cut corners when they can. Many people cut out contractors and do the work themselves, but that can often slow down the remodeling process. When time and money are tight, that's when it's time to check out Quick Ship Kitchen's Prebuilt Kitchen Cabinets for your home.
Since starting in 2018, Quick Ship Kitchens brings fast and high-quality prebuilt cabinetry options to the home renovation industry.  Our cabinets offer the attributes of a custom quality cabinet, but without the custom wait or price. Our customers save both time and money on the kitchen renovations while still obtaining an excellent quality product.
High-Quality Prebuilt Kitchen Cabinets for A Great Price
When you're tackling a big project like a remodel, shopping around is always a good option. Never go with the first quote you get. Comparing quotes will expose more opportunities to save without sacrificing quality. At Quick Ship Kitchens, we want you to shop around first before getting a quote from us.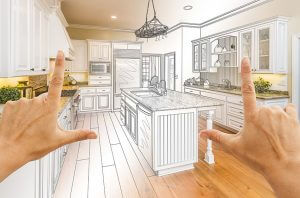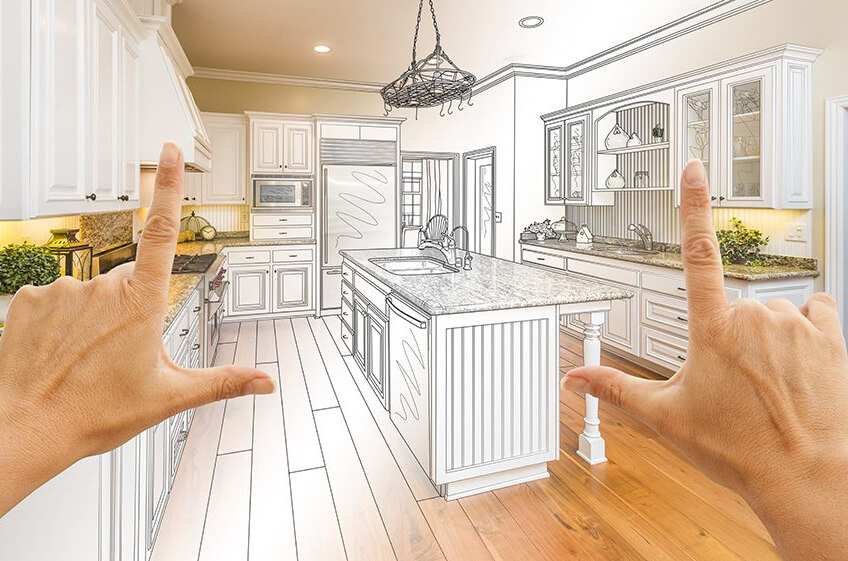 To get a quote, visit our Design Help Guide. There, we'll talk you through step-by-step about drawing your kitchen to scale and uploading pictures. Fill out our questionnaire so we can get a better idea of how to help you design your ideal dream kitchen. We can help keep you on budget or design around a distinct style using different cabinet options and accessories for optimal functionality and aesthetics.
When it comes to cabinets, it seems like you either have really expensive nice cabinets, or very cheap low-quality cabinets. At Quick Ship Kitchens, our Prebuilt Kitchen Cabinets not only will you find high-quality cabinets at a great price. We also guarantee it is the best price! Our Lowest Price Guarantee works like this: if you get a recent quote of the same product and manufacture from another competitive retailer that is lower in price, email us. We will review the pricing from both quotes and match it. But our cabinets are so durable and high-quality that we know it will be hard to find a quote that comes even close to ours.
Experience the Quality Before You Buy
New kitchen cabinets probably take up most of your budget. You want to spend your money wisely while getting the most bang for your buck. When you buy Prebuilt Kitchen Cabinets online, testing the quality before making a big investment is essential.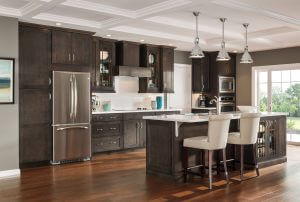 We supply our customers with a wide variety of Wolf Classic Cabinets to choose from. With over 175 years in the business of cabinetry, Wolf Classic is known for its all-wood factory-assembled construction and exceptional value, quality, and delivery speed. They are handcrafted, combining generations of woodworking expertise with today's latest technologies. Solid hardwood components and state-of-the-art finishing system produce a consistently beautiful and long-lasting appearance.
Wolf Classic cabinets are made in America using American Maple and the highest quality hardware without brackets, cams, or clips. The face frames are made with ¾" solid maple and drawers have a 75 lb rating. Prebuilt Kitchen Cabinets come standard with solid wood dovetail drawers and an all plywood box construction.
You can experience the Wolf Classic Cabinet Quality for yourself. We offer door samples. Once you feel the quality of our cabinets, you'll see why Wolf Classic is the fastest growing and one of the most popular cabinet lines in America.
Enjoy Your New Kitchen Sooner
Besides the quality, the next best thing about ordering Prebuilt Kitchen Cabinets from Quick Ship Kitchens, is how fast you will receive them. They don't call us "Quick Ship" for nothing. Cabinets are shipped directly to your home in 1-2 weeks. Most other cabinet companies take 5-8 weeks to deliver your cabinets.
When your cabinets arrive, you'll want to inspect them for damages just in case. If you notice any damage, call our customer service line with 14 days of your delivery and we can help set things right. Our cabinets also come standard with touch up kits. Each kit includes a putty fill stick, touch up marker, and a bottle of top coat, so you can fix any minor repairs yourself without wasting any time.
Order Your Prebuilt Kitchen Cabinets Today
If you want to enjoy your newly renovated kitchen sooner rather than later, then contact Quick Ship Kitchens today for your Prebuilt Kitchen Cabinets. Not only do we ship cabinets, but we are also your one-stop-shop for all your cabinet accessories such as vanity tops and hardware. Complete your kitchen sooner and for less when you order from Quick Ship Kitchens.