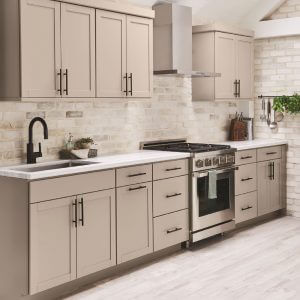 If you're looking for preassembled kitchen cabinets at a reasonable cost shipped directly to your door, then you're in luck – that's exactly what Quick Ship Kitchen delivers! Established in 2018, our company has already established itself as one of the most reliable providers of high-quality preassembled kitchen cabinets in the country.
We're also known for our fast shipment; while other companies can take several weeks and even months to deliver your cabinets, we get them to you in just 7-14 days. Quality, convenience, fast shipment, and low prices – what more could you ask for?
If you'd like to learn more about our preassembled kitchen cabinets, feel free to explore our website; on it, we offer product details, photos, design help, the answers to frequently asked questions, plus care, maintenance, and installation guides. If you'd like to talk to a member of our staff, simply fill out the contact form on our site or give us a call at 888-784-0322.
Advantages of Preassembled Kitchen Cabinets
There are usually three options for homeowners to choose from when it comes to kitchen cabinets: custom-made, in stock or preassembled, and ready to assemble (RTA.) If you ask us, preconstructed cabinets have several key advantages over the other available choices. A few of the advantages include: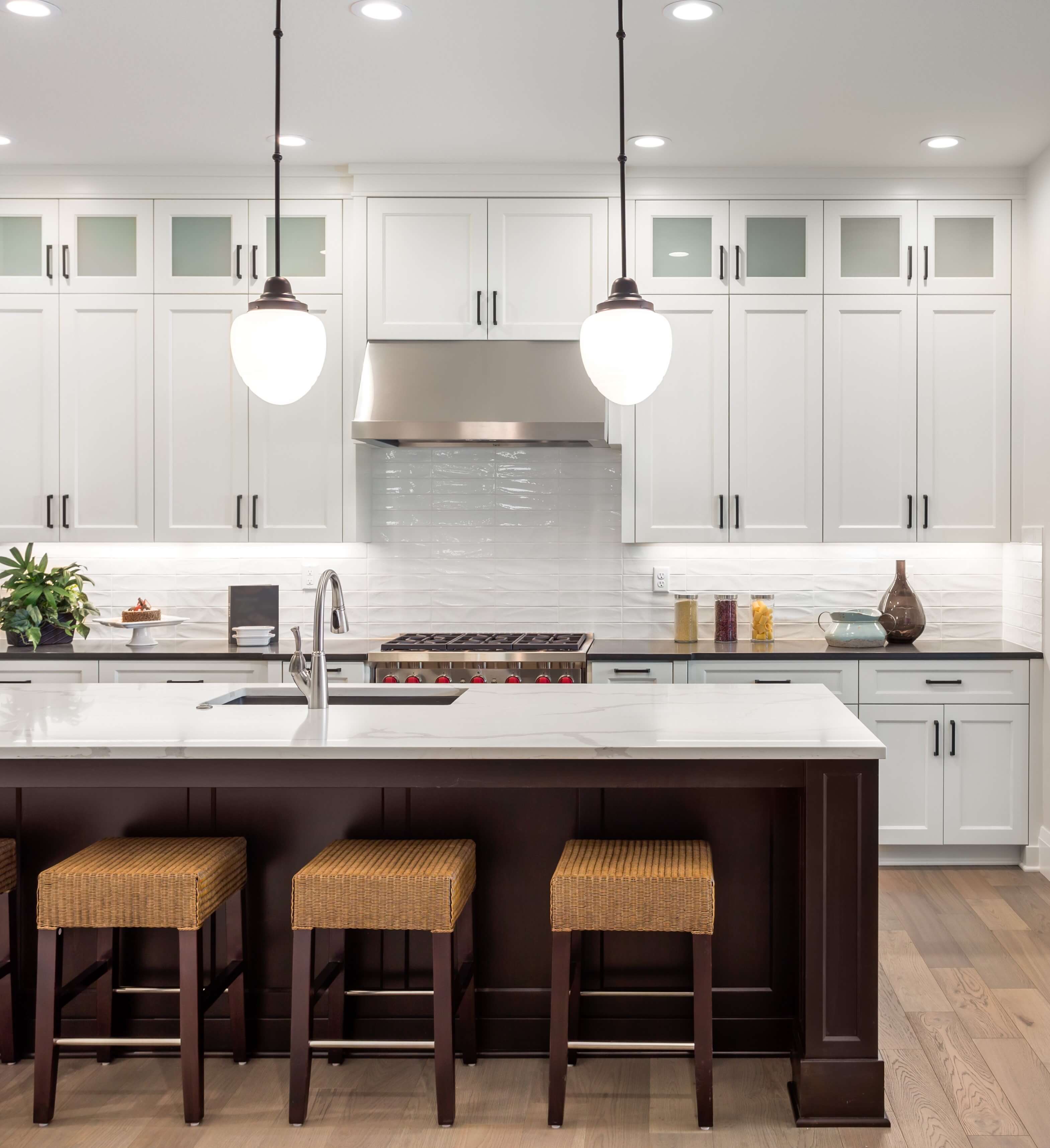 1. Premade kitchen cabinets are affordable
Probably the biggest reason homeowners choose preassembled cabinets is the fact that they cost a whole lot less than custom-built cabinets – without sacrificing beauty or quality!
2. Preassembled kitchen cabinets are easy to install
Homeowners who are looking to save money tend to lean toward either preconstructed cabinets or those that come ready to assemble (RTA cabinets). RTA cabinets might save you a little bit of money, but what you gain in money, you lose in the amount of time, energy, and effort it takes to put together and install the cabinets.
Because preassembled cabinets arrive at your home completely put together, installing them is a breeze. Just make sure you provide the right measurements when you place your order and your new cabinets will be up in no time, looking even more beautiful than you'd imagined.
3. Premade cabinets are a better-quality product than RTA cabinets
Our assembled cabinets use custom-made assembly techniques and hardware, such as all wood corner blocks or I-beam construction. We never use cams, clips, or brackets like that of RTA cabinets. Our products are handcrafted in the USA by Wolf Cabinetry using American Maple – not particle board like some of those RTA cabinets. The quality of materials and higher grades of Maple wood used are better than your standard RTA cabinet. We offer all wood plywood box construction and all wood dovetail drawers.
4. Preconstructed cabinets are more durable than RTA
Because they're made from high-grade materials and assembled by professionals, premade cabinets are also a lot sturdier than RTA cabinets; in fact, we guarantee that our cabinets will last by offering a 5-year warranty. Our cabinets use high industry standards with custom quality features and construction.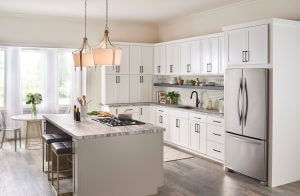 5. There are a variety of styles and colors available
We know that no two homeowners are exactly alike. You want to be able to express yourself through your home décor. That's why we offer cabinets in several different colors and styles. Just check out our gallery – you're sure to find something you like!
6. You can customize your premade cabinets
In addition to style and color, we also offer other customization options. Would you like a wine rack? We can do that! How about a lazy susan or a pull-out trash container? We can do that, too! You can also choose from numerous other customizations including plate racks, pot and pan organizers, knife block drawer inserts, a door-mounted cutting board, floating shelves, and more.
7. Preassembled cabinets are convenient
When you order premade cabinets from Quick Ship Kitchens, your cabinets are delivered right to your doorstep in two weeks or less – what could be easier!?
Call Quick Ship Kitchens Today
If you want stunning, durable, hand-crafted kitchen cabinets at a fraction of the cost as custom, then contact Quick Ship Kitchens today. We'd be happy to help give your kitchen the upgrade it needs.
To get started, all you need to do is call us toll-free at 1-888-784-0322. A member of our staff would love to walk you through the ordering process, help you design your premade cabinets, and answer any questions you may have.
If you prefer to reach out to us online, we can also be contacted via email at [email protected] or through the contact form on this site. We look forward to hearing from you soon!