Cabinets can make or break your living space. Do you have enough storage for all your kitchen appliances? Does their color match the paint on the walls or are you just thinking you could paint over them and hope for the best? To save you the hassle, you should look into the Philadelphia Wolf Cabinets that are taking the cabinet market by storm. 
Quick Ship Kitchens was established in 2018 and is an Indiana- based company, though we do ship to other parts of the U.S. including Philadelphia. Wolf Cabinets sold by Quick Ship Kitchens sell cabinets that are high-quality, but built for the average consumer. All of Wolf's cabinets include dovetail corners and never use cams, brackets, or clips when assembling these cabinets. If you're interested in Quick Ship's cabinets then contact us today!
What Kind of Philadelphia Wolf Cabinets Do We Sell? 
There are many places where a cabinet is necessary. Here are a few places where installing Philadelphia Wolf Cabinets could spruce up your home: 
Kitchen 
Every home needs to have kitchen cabinets. They are a staple in all modern American homes and Wolf cabinets are perfect for homeowners that want top-quality cabinets but don't want to burn a hole in their pocket.
It is surprising how quickly a bathroom can be taken over by hair products, skin care creams and serums, towels, toilet paper– the list goes on and on! Installing or replacing cabinets in your bathroom with Philadelphia Wolf Cabinets can go from cluttered to clean! 
Over the past couple of years, mud rooms have increased in popularity and what better way to hang up your wet coat and put away your muddy shoes than in an American-made cabinet with solid hardwood components? Wolf brand cabinets come in all shapes and sizes. Check out the different kinds of Wolf brand cabinets Quick Ship Kitchens has!
Project rooms are the perfect palace to keep your crafts and hobbies and do them in peace; however, project rooms organized can be a challenge all on their own, but if you use our cabinets, your project room will be very organized. Not to mention, if you are particular about your cabinets matching your aesthetic, you're in luck because our cabinet designs are suitable for all kinds of stylistic choices.
Since the COVID-19 Pandemic, more people are working from home and having to convert a room or area of their home into a dedicated workspace. With Quick Ship Kitchens' cabinets, you can stock your cabinets with all the office supplies you could need, and then some. Not only that, but you could have the most professional background on all your video calls. 
Why Should I Choose Quick Ship for My Cabinetry?
Quick Ship Kitchens' mission is to bring affordable, factory-assembled cabinets with high-industry standards to the average household. We deliver our Philadelphia Wolf Cabinets in 1-2 weeks, as opposed to the typical 5-8 weeks with other cabinet companies.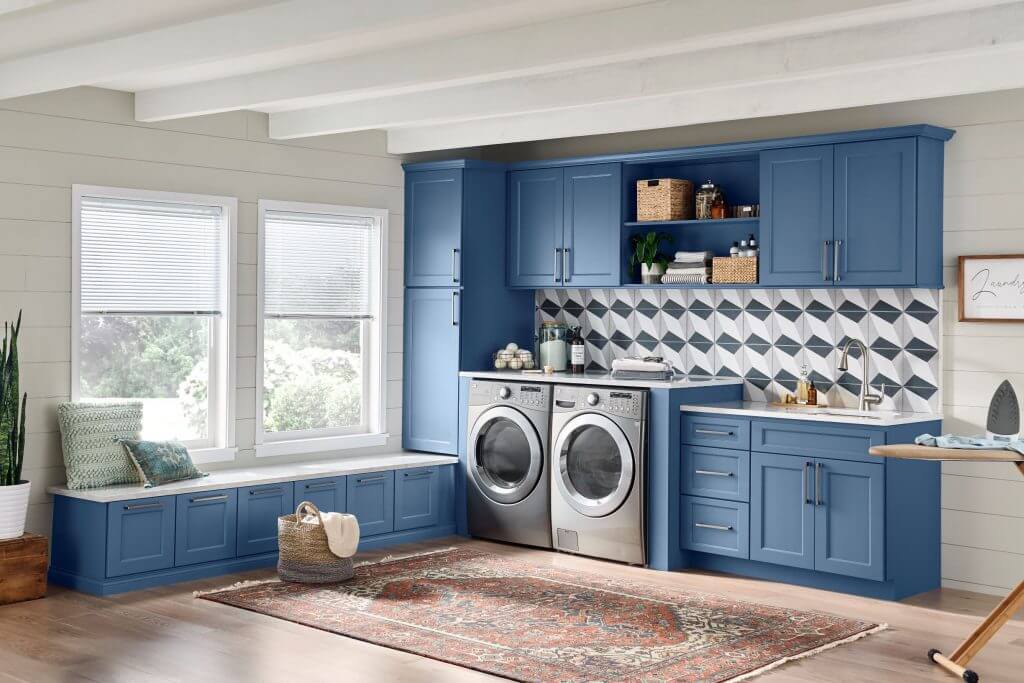 Our cabinets are also reliable, but they do come with a 5-year warranty in case something happens. We also have a 96% delivery success rate, but sometimes things happen and you may receive a cabinet that is chipped or broken. There is no need to worry. Let us know and we will replace the broken product. 
For our customers who are still in the early stages of replacing or adding cabinets, Quick Ship Kitchen provides a free design service. If you ever wondered what it would look like to see how our cabinets would look in your kitchen before you buy, here is your chance! All you have to do is submit a sketch of your kitchen, photos of the kitchen, and what you want, we will handle the rest. This service includes a drawing layout, 3D model views, and an itemized quote. 
If you aren't sure about what we have check out our various colors and styles in our catalog. We also have samples for sale in all of our wood types and colors for $31 a sample. This way you can see how the different colors and grains would look in your kitchen or bathroom without having to pay full price for a product. 
Contact Quick Ship Kitchens! 
Have you found what you are looking for? Contact Quick Ship today to order your high-quality, pre-assembled, budget-friendly cabinets. We are happy to help you and look forward to assembling and shipping your cabinets. We are thrilled you chose us to help make your house a home.