Philadelphia Discount Kitchen Cabinets
Whether you are doing a full-blown remodel of your kitchen or you are looking to do a few updates here and there over time, it is a good idea to have your cabinet company picked out. When choosing a cabinet company, go with a company that will not only provide sturdy and durable cabinets but also ones that are budget-friendly and will look great in your modern kitchen. That's why you should choose Quick Ship Kitchens for your Philadelphia Discount Kitchen Cabinets. If you are looking for affordable and stylish, check out our products webpage to see what we have to offer! 
Most Budget-Friendly Kitchen Cabinets in Philadelphia
Are you a Philadelphia resident who wants to redo your kitchen without it costing you an arm and a leg? You have come to the right place because Quick Ship Kitchens sells Wolf Classic Cabinets that are made with high industry standards and keep the average consumer's budget in mind. 
All of our cabinets are made with an all-plywood construction and the corners are joined with solid wood dovetails on the drawers in the United States of America. One of the features that sets our kitchen cabinets apart is that they are all constructed with custom quality construction. Cabinet face frames are constructed with ¾ inch solid maple as well. We never clams, brackets, or clips during the construction and manufacturing of your cabinets. Wolf Classic Cabinets are built with hardwood components, so you know that your cabinets are stable and solid as a rock!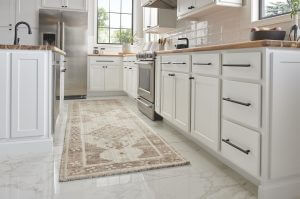 When you buy from Quick Ship Kitchens, you know you are getting a deal with our Philadelphia Discount Kitchen Cabinets due to our unbeatable prices and great product, however, you also get a little extra! Our cabinets ship one to two weeks instead of the usual industry shipping time of anywhere from five to eight weeks. That is too long for you to be waiting to get your kitchen cabinets, and no one likes to wait! You also get a 5-year warranty and on all purchases over $499, you will also receive a touch-up kit for all those pesky scuffs and scratches. 
Quick Ship Kitchens has several different styles and colors for our customers to choose from to get the kitchen cabinets that would suit their home best. Our styles include Dartmouth, Berwyn, York, Grantley, and Hanover and they can all come in colors such as dark sable, grey, white, seaport, honey, and so much more! 
If you are interested in Quick Ship Kitchens kitchen cabinets, then you should check out our products page. Aside from affordable cabinetry, we also sell countertops and hardware for your cabinets. Check all those out on our products page. If you act now, for every additional $500 you spend, you get a discount on your overall purchase. Act now before it's too late!   
Free Kitchen Design Help for All Customers 
Aside from our 5-year warranty and quick shipping time, Quick Ship Kitchens also offers our customers a free kitchen design service that includes a 3D model of your potential future kitchen, a drawing layout, and an itemized quote so you have an idea of how much buying our cabinets would cost. 
In order to get those things, you will have to do 4 simple steps. The first is to do a rough layout of your current kitchen with measurements of all the walls, cabinets, and kitchen island. Next, you will need to take photos of your kitchen and its layout. This will help us get a better idea of what your current kitchen looks like. Then you will need to do the fun part of this whole process, tell us what you want to change about your kitchen and what your future kitchen looks like. You can find the form for this part as well as examples of kitchen layout sketches on our design help webpage. Once you have completed all of those, the last step is to submit your pictures and sketches to Quick Ship Kitchens, we will handle the rest. 
Contact Quick Ship Kitchens for Your Philadelphia Discount Kitchen Cabinets
Are you ready to buy discount kitchen cabinets for your Philadelphia home? Look no further than Quick Ship Kitchens. We have the cabinets you are looking for to give your kitchen that modern facelift you've been dying to give it. If you have any questions check out our Frequently Asked Questions (FAQ), or if you don't see your question on that page, contact Quick Ship Kitchens. We look forward to helping you get the kitchen cabinets you want!