It's late at night. You've been searching for Philadelphia Cabinets Online to find the best price for quality cabinets when you come across Quick Ship Kitchens! You see their wide selection of Wolf brand cabinets and you find the perfect set of cabinets for your newest home update. 
Quick Ship Kitchens was founded in 2018 with the intention of bringing consumers affordable, pre-assembled cabinets at unbeatable prices. Before Quick Ship Kitchens, consumers only had two options: custom cabinets that would cost a small fortune or cheap, low-quality cabinets that would have to be frequently replaced. If you are interested in replacing your old cabinets, check out our wide variety of products! 
Why Should I Buy Wolf Cabinets Online?
Wolf cabinets are the best choice for consumers looking for an affordable and customizable option. Our cabinets come in all shapes, sizes, and colors. Wolf cabinets are made out of solid wood components and never use cams, brackets, or clips when they are being built. All of our cabinets are made in America and are held to high industry-level standards. Wolf cabinets also use dovetail corners– just like the higher-end cabinets.  
When you look for Philadelphia Cabinets Online you want to buy from a company that you trust. All of our cabinets come with a 5 years warranty, meaning if something breaks or needs to be replaced, we will send you a new one. When you order from Quick Ship Kitchens, we will deliver your cabinets in one to two weeks, as opposed to the usual delivery time of five to eight weeks from other cabinet companies. In addition to the warranty, for shipments over $499, we include a free touch-up kit (putty fill stick, touch-up marker, and a bottle of top coat). These kits can also be purchased for an additional $48 in smaller orders. 
If you want cabinets that are affordable, well-crafted, and from a trusted cabinet retailer order from Quick Ship Kitchens! Check out our assortment of cabinets and start renovating your space today! 
How Do I Know My Philadelphia Cabinets Online Will Look Good in My Home?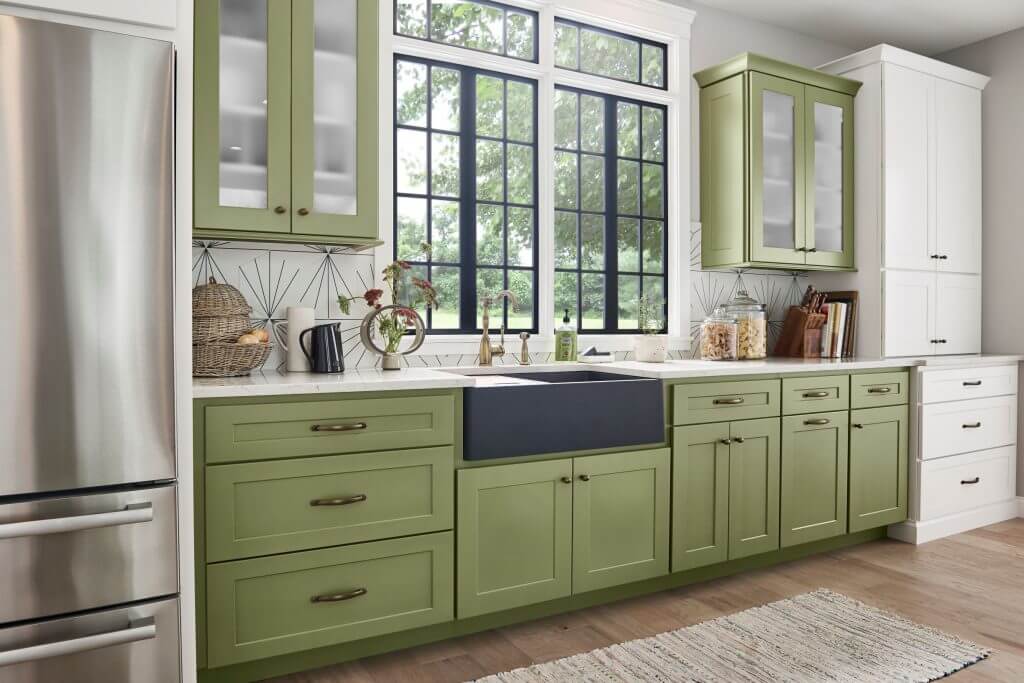 A fear customers typically have when ordering online is how it will look once the product is delivered. In your case, you're renovating your home and you want the cabinets to look as good as they did on the website you bought them from. Quick Ship Kitchens has a tool to help you visualize what your kitchen, bathroom, mud room– whatever your project may be– will look like. 
The first step is going to the 'Design Help' section on our website. Once you get on the page, this is what you will want to do: 
1. Sketch the Room
Not everyone is an artist, but this doesn't need to be worthy enough to hang in an art gallery! It can just be a simple layout of your kitchen, bathroom, etc. that includes measurements, windows, etc. This will help Quick Ship Kitchen get a better idea of what would best suit your space! 
2. Send Photos of the Room
The next step would require you to send us photos of the space you would like to put your cabinets. This helps us understand the kind of cabinets you already have, and visualize your space. 
3. What is the Final Result You're Wanting?
 You've been thinking about replacing those cabinets for a long time and now it is finally happening. Now we are at everyone's favorite part of this process– telling us what your dream cabinets would look like. During this step, please be as detailed as possible so we can get an accurate idea of what you want. Tell us the colors, the types of wood, and the style of cabinetry you want. If you are unsure about what we have to offer, check out our catalog!
4. Submit the Materials
The final step in getting your free design is uploading all the photos and sketches from the previous steps and clicking the 'Submit' button. Once we get all that information, we can begin working on your project. 
If you have any questions along the way, don't hesitate to reach out to Quick Ship Kitchens! We are happy to help in any way we can.  
Use Quick Ship Kitchens to Find Your Philadelphia Cabinets Online! 
When you are ready to begin renovating your bathroom, kitchen, or mudroom, Quick Ship Kitchens will be there! Contact us today to order your cabinets, or take a look at what we have in stock that could make your space go from basic to original!