If you're ready for a kitchen remodel but don't want to spend a fortune, it's time to look into Pennsylvania ready to ship kitchen cabinets. While you can find plenty of different cabinet options from retail stores and carpenters, ready to ship cabinets are the best option for people who are looking to save money and still get high-quality, customizable cabinets that can be installed quickly.
To place an order for ready to ship kitchen cabinets, simply contact the team at Quick Ship Kitchens. You can reach us by phone at 1-888-784-0322. If you'd like some assistance in picking out cabinets, read on; we've provided a quick guide to help you choose which ready to ship cabinets would best fit your kitchen.
Picking the Right Pennsylvania Ready to Ship Kitchen Cabinets
This post will guide you step-by-step through the process of choosing ready-to-ship cabinets.
1.  Set Your Budget First
When it comes to choosing your ready to ship cabinets, the first step is to determine how much you can afford to spend. You'd hate to go shopping for cabinets and find something you love only to discover they're way outside your budget. Carefully consider how much money you have at your disposal then start looking for pieces that will fit within that budget.
2. Take Precise Measurements of Your Kitchen
Having accurate measurements of your kitchen is essential when selecting ready to ship cabinets. Take precise measurements with a tape measure, then write them down in a notebook. Or better yet, use the printable graph paper available on our website. Make sure you measure both the width and depth of each wall and door. You may also want to take into account any components, such as appliances or existing cabinetry that you plan on keeping; check if they fit into your desired space before proceeding with cabinet selection.
3. Consider the Style of Your Home and Kitchen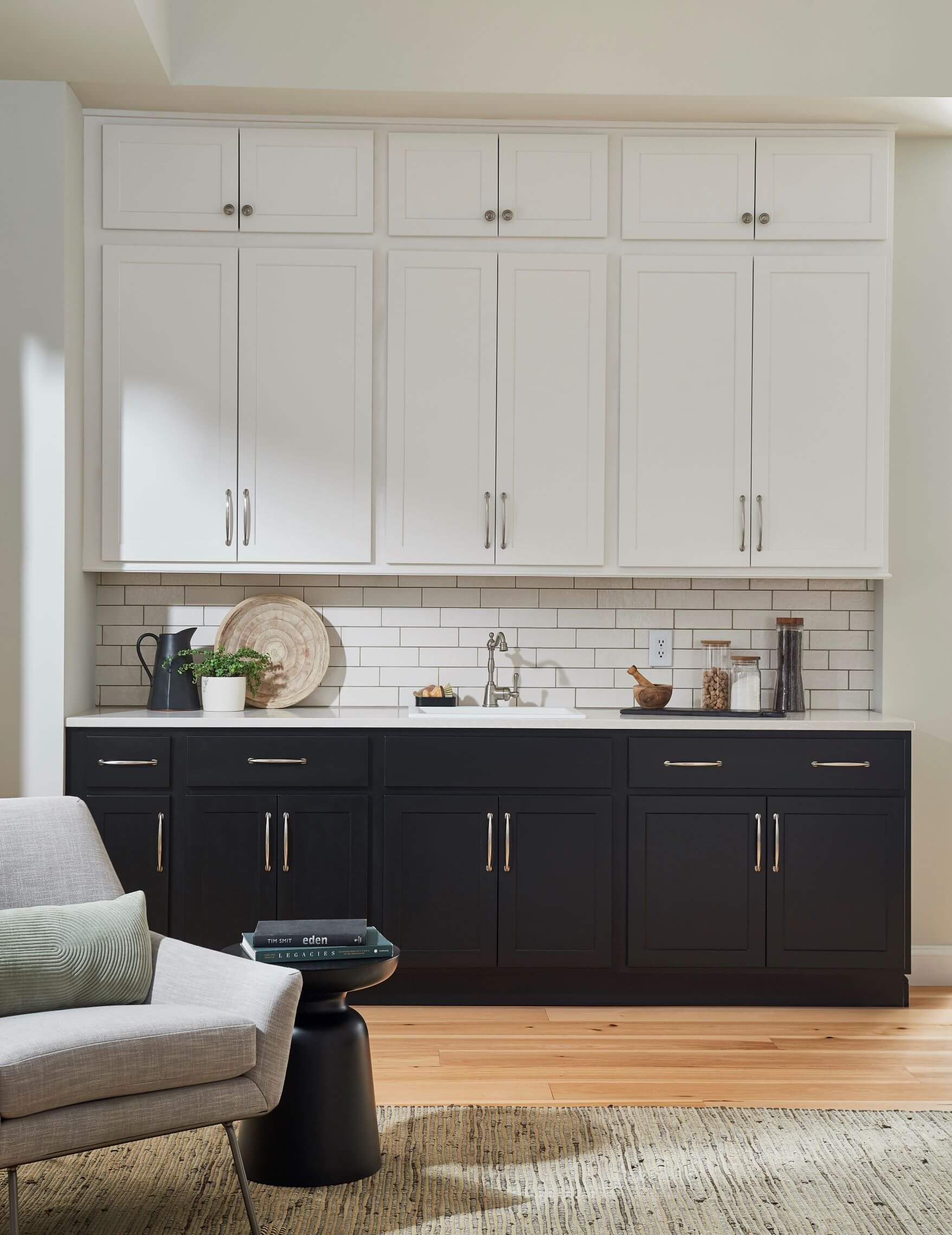 Before you go searching for ready to ship cabinets, consider your home's style and décor. After all, cabinets are an important part of a room, and they should complement—not clash with—your design.
For example, cabinets that come in traditional styles with vintage details look great in homes built in European styles like Tudor or cottage. They also match perfectly with farmhouse kitchens and craftsman rooms. Contemporary kitchen designs featuring simple and clean lines pair best with modern ready to ship cabinets that won't distract from these sleek looks. When picking out cabinets for your space, try matching them to your home's design—and then personalize them however you want!
4. Choose a Specific Door Profile
After you've decided on the overall style you're going for, the next step is to pick the door profile for your cabinets. There's a broad range of styles to choose from; some of the most widely available options include shaker, raised panel (square or arched), slab, or mullion with glass panels. The most versatile style out of all these options is shaker style cabinets, which look great in classic, contemporary, farmhouse, or traditional style kitchens. If you're after something modern or industrial, then a slab style should do the trick!
5. Find a Color You Love
Most ready-to-ship cabinets come in a variety of finishes, and while you might want a pop of color, it's important that your cabinets don't overwhelm your current décor or room design. For example, you might love blue, but if you already have blue accents throughout your home, it could look cluttered if you have lots of cabinet doors and drawer fronts in the same shade. Instead, look for a neutral finish that can be paired with many other colors. If possible, get samples before ordering cabinets to ensure they're exactly what you want when they arrive at your home.
6. Select a Hardware Finish
Once you've decided on your desired overall style, door panel, and color, it's time to start thinking about hardware. It might seem trivial but they can make a considerable difference in the way your cabinets look. A general rule of thumb is to choose a finish that contrasts with the color of your cabinets to add emphasis. Some of the most popular options for hardware include nickel, pewter, bronze, gold, and black matte. You can also choose a specific shape, like round, square, or oval knobs.
Still Need Help Choosing Pennsylvania Ready to Ship Kitchen Cabinets?
If you're still not sure what cabinets to choose from, ask the team at Quick Ship Kitchens! We offer free design assistance to all potential customers. Just give us a call at 1-888-784-0322 or email [email protected] to get started. Contact us today for all your ready to ship cabinet needs!