For the last few years, more and more "Do It Yourselfers" have been using Pennsylvania Ready To Assemble Kitchen Cabinets because of their low cost. But don't think you're locked into buying ready-to-assemble cabinets; there are other affordable options available, such as pre-assembled cabinetry. To help you make an informed decision about which type of cabinet would work best in your home, let's take an in-depth look at both kinds of cabinets and compare their pros and cons
What Are Ready to Assemble Kitchen Cabinets?
You can probably guess what ready-to-assemble kitchen cabinets are just by looking at the name—they're cabinets that arrive at your Pennsylvania home in pre-cut pieces that need to be put together on site. Ready-to-assemble kitchen cabinets (also referred to as RTA cabinets) are usually made from plywood. Since they are made from cheaper materials, you must remember that you will be sacrificing quality to save a few dollars.
They're cut to the necessary size prior to shipment with holes for the hardware already drilled into them. The cabinet pieces are then shipped flat to your home or building site where they can be assembled and hung in your kitchen. Since they do not come pre-assembled, they're usually assembled by the homeowner or contractor on site. Of course, you're still paying for that labor in one way or another—either by taking the time to do it yourself or hiring a contractor to put the cabinets together for you.
What Are Pre-Assembled Kitchen Cabinets?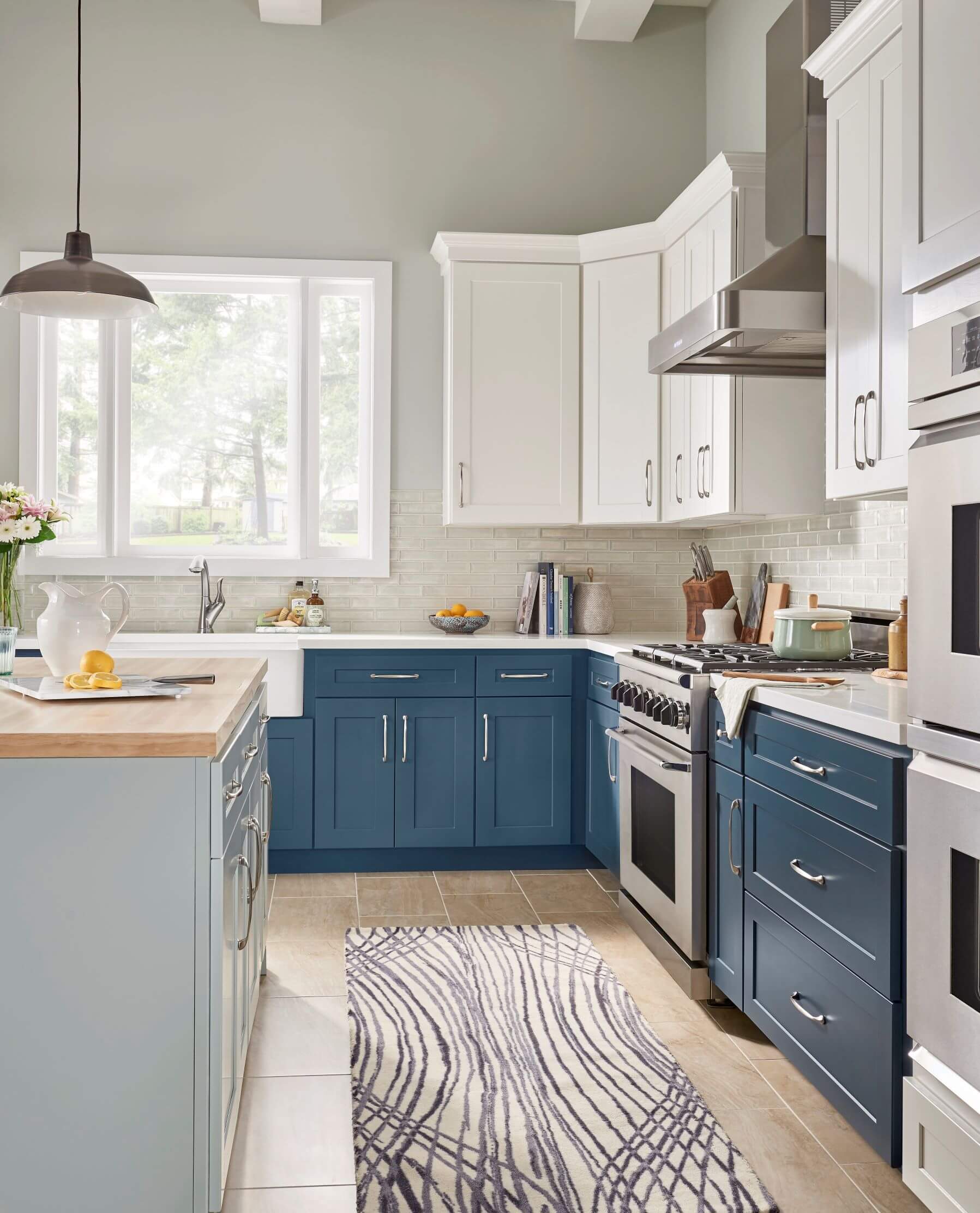 Our pre-assembled cabinets are much higher in quality than Ready to Assemble Kitchen Cabinets. All of our cabinets' doors and drawer faces are made with solid ¾" American maple, which gives our doors amazing quality and strength. All our Wolf Cabinet drawers also have a 75 lb rating to hold all your kitchen needs.
Also known as factory-assembled cabinets, this type of cabinetry is constructed prior to shipment by employees at the manufacturing facility. They're shipped completely assembled so they can be hung immediately after arrival, which saves a lot of time on installation. Most all our cabinets are in-stock and ready to ship when you place your order.
What Are the Pros and Cons of Each Cabinet Type?
These cabinets share a lot of similarities—they're both affordable and convenient alternatives to expensive custom-made cabinetry that can be shipped directly to your home. Despite their similarities, there are a few differences between the two. Look at all the reasons why you should choose our Pre-Assembled Kitchen Cabinets over the cheaper Pennsylvania Ready to Assemble Kitchen Cabinets.
Cons of Pennsylvania Ready to Assemble Kitchen Cabinets
Color, style and size options are more limited in RTA cabinets.
Ready-to-assemble kitchen cabinets include many small parts that are easy to misplace.
RTA cabinets aren't as durable as factory-assembled cabinets because they're put together with simple locking cams or screws.
You probably won't find a strong guarantee on ready-to-assemble cabinets since they're constructed on-site instead of at the manufacturing facility.
Pros of Pre-Assembled Kitchen Cabinets
Pre-assembled cabinets offer more customization options compared to RTA cabinets; you can add trash can pull-outs, bi-fold doors, lazy Susans, mullion glass doors, soft-close hinges, and pull-out shelves.
Factory-assembled cabinets are constructed by professional assemblers, which means mistakes are less likely to occur and you'll receive a strong guarantee from the manufacturer.
Cabinet assemblers use superior construction techniques and durable hardware, which makes pre-assembled cabinets stronger than RTA cabinetry.

 
Why Choose Quick Ship Kitchens?
We know you have many options to choose from when it comes to your new kitchen cabinets. That is why Quick Ship Kitchens is here to offer you our completely free Design Guide to help you design your new kitchen within your budget and style. We also offer a wide variety of hardware to match the styles of the rest of your home. Save the hassle of cheap Pennsylvania Ready to Assemble Kitchen Cabinets, order your kitchen cabinets with us today!
Contact Quick Ship Kitchens for Beautiful, Affordable Cabinets
While you have many options to choose from for your kitchen cabinets, we can guarantee that our pre-assembled kitchen cabinets are the best options for your Pennsylvania home. If you're looking for an affordable option that's durable, easy to install, and can be customized to meet your needs then do not wait to order your cabinets today! To learn more about how your home can benefit from high-quality pre-made cabinets, contact the team at Quick Ship Kitchens. You can reach us by phone at 1-888-784-0322 or by emailing [email protected].