At Quick Ship Kitchens, we're making kitchen remodeling easy for people all across America. Over the years, we've learned exactly what homeowners are looking for in kitchen Pennsylvania Prebuilt Kitchen Cabinets; they want beautiful, customized cabinetry without the exorbitant cost.
So that's exactly what we deliver: stunning, stylish, and sturdy prebuilt kitchen cabinets that are considerably less expensive than custom-made cabinetry. And best of all, they're easy to install and shipped directly to your Pennsylvania home in just 7 to 14 days – talk about convenient!
If you'd like to see the many cabinet options we have to offer, feel free to look through the gallery provided on our website. To talk to a member of our staff about your cabinetry needs, just give us a call at 1-888-784-0322 or send an email to [email protected]
7 Reasons to Order Our Pennsylvania Prebuilt Kitchen Cabinets
If you're still shopping around for just the right cabinets and aren't sure which company to buy from, then keep reading – we've come up with several excellent reasons why you should order from us.
1. We Provide Free Design Assistance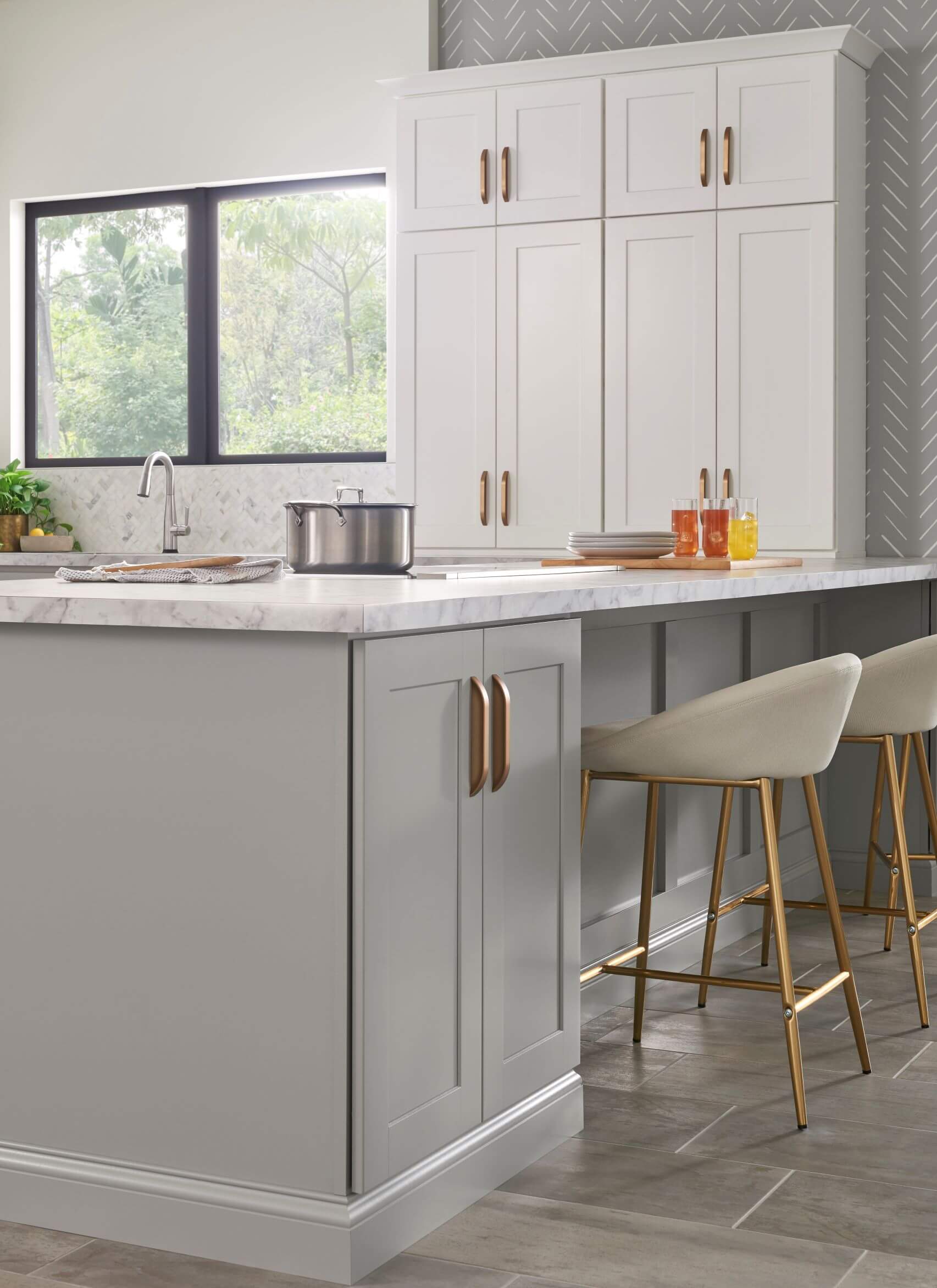 The team at Quick Ship Kitchens wants you to get the exact kitchen you've been dreaming of. To help make that happen, we offer design assistance free of charge to all of our potential clients. We'll walk you step-by-step through the process of measuring your kitchen, creating schematics, and ordering the Pennsylvania Prebuilt Kitchen Cabinets you need. We'll even create a 3D model of your kitchen to help you visualize the various options available to you. We've made the process as seamless as possible to remove the stress from redesigning your kitchen.
2. We Offer Free Cabinet Samples
We want you to be absolutely sure that you're making the right choice, which is why we provide cabinet samples for you to view in your home. To receive your sample, all you have to do is click on the "Samples" tab at the top of the page then fill out the Sample Request Form and we'll send you a 11.5″ W x 13.5″ H cabinet door free of charge. If you'd like to view multiple samples, additional cabinet doors can be sent to you for a small fee.
3. Our Low Prices Are Guaranteed
You don't have to sacrifice quality or beauty just so you can stay within your budget. At Quick Ship Kitchens, we offer affordable prices on high-quality premade cabinets. In fact, we guarantee that you won't be able to find these cabinets at a lower price at any other cabinet retailer. If you do, just let us know by submitting a quote and we'll match their price!
4. Our Kitchen Cabinets Are Made in America
Unlike the cabinets you'll find at many other cabinet retailers, our prebuilt kitchen cabinets are handcrafted right here in the USA. Our cabinets come from Wolf Cabinetry, a company known for their high-quality customized cabinetry made from 100% American maple.
5. Your Kitchen Cabinets Will Arrive Quickly
At Quick Ship Kitchens, we pride ourselves on promptly providing homeowners with the cabinets they need. Because our cabinets are built by an American company, you don't have to worry about long shipping times like you would from cabinets arriving from overseas. In fact, our cabinets typically arrive 7 to 14 days after placing your order; that's much shorter than the several months you'd have to wait to receive cabinets from another country.
6. Your Cabinets Will Be Delivered Right to Your Door
With Quick Ship Kitchens, you also don't have to worry about picking your Pennsylvania Prebuilt Kitchen Cabinets up at a storeroom or retailer; for maximum convenience, we ship them directly to your home. All we ask for is a paved driveway and enough room for our 13' 6" high and 102" wide truck to get through – we'll do the rest!
7. Our Cabinets Carry a 5-Year Warranty
We believe in the quality of our cabinets and so should you. To make sure you're fully satisfied and have complete confidence in your prebuilt kitchen cabinets, we offer a 5-year warranty on all of our cabinets. If your cabinets break due to flaws in the materials or craftsmanship, we'll either provide replacement parts or repair the damage for you.
Contact Us for Pennsylvania Prebuilt Kitchen Cabinets
These are just a few reasons why you should trust us with your kitchen remodel. There are many more, including discounts on bulk orders, free touch-up kits, and free shipping on orders over $2,499. If you're ready to enjoy the many benefits of ordering from Quick Ship Kitchens, all you need to do is call 1-888-784-0322 to get started.