Are you in the market for Pennsylvania Preassembled Kitchen Cabinets that can be delivered directly to your door? If so, then you're in the right place – that's exactly what Quick Ship Kitchens specializes in! Since we first opened our doors in 2018, we've been providing homeowners all over the country with stunning, affordable kitchen cabinets shipped right to their door.
We're not only known for our wide range of high-quality kitchen cabinets, we've also earned a reputation for fast shipment. With other companies, you could be waiting around for several months to get your cabinets. At Quick Ship Kitchens, we know you want to get your kitchen remodel completed sooner rather than later. Because we value your time almost as much as you do, we get most orders out the door and to your home in just 7-14 days. That's just one more reason why our customers love working with us!
If you're interested in learning more about the many options we offer on our preassembled kitchen cabinets, we invite you to take a look around our informative website. There you'll find all sorts of information on the styles we offer, cabinet care and maintenance, design help, frequently asked questions, and more. If you'd like to talk to a member of our team, feel free to give us a call at 1-888-784-0322 or complete the contact form on this website.
Benefits of Pennsylvania Preassembled Kitchen Cabinets
When shopping for kitchen cabinets, homeowners typically have three options to choose from: custom-built, preassembled, and ready to assemble (RTA). Out of the three choices, we think that purchasing preassembled cabinetry is the best option. Here's why: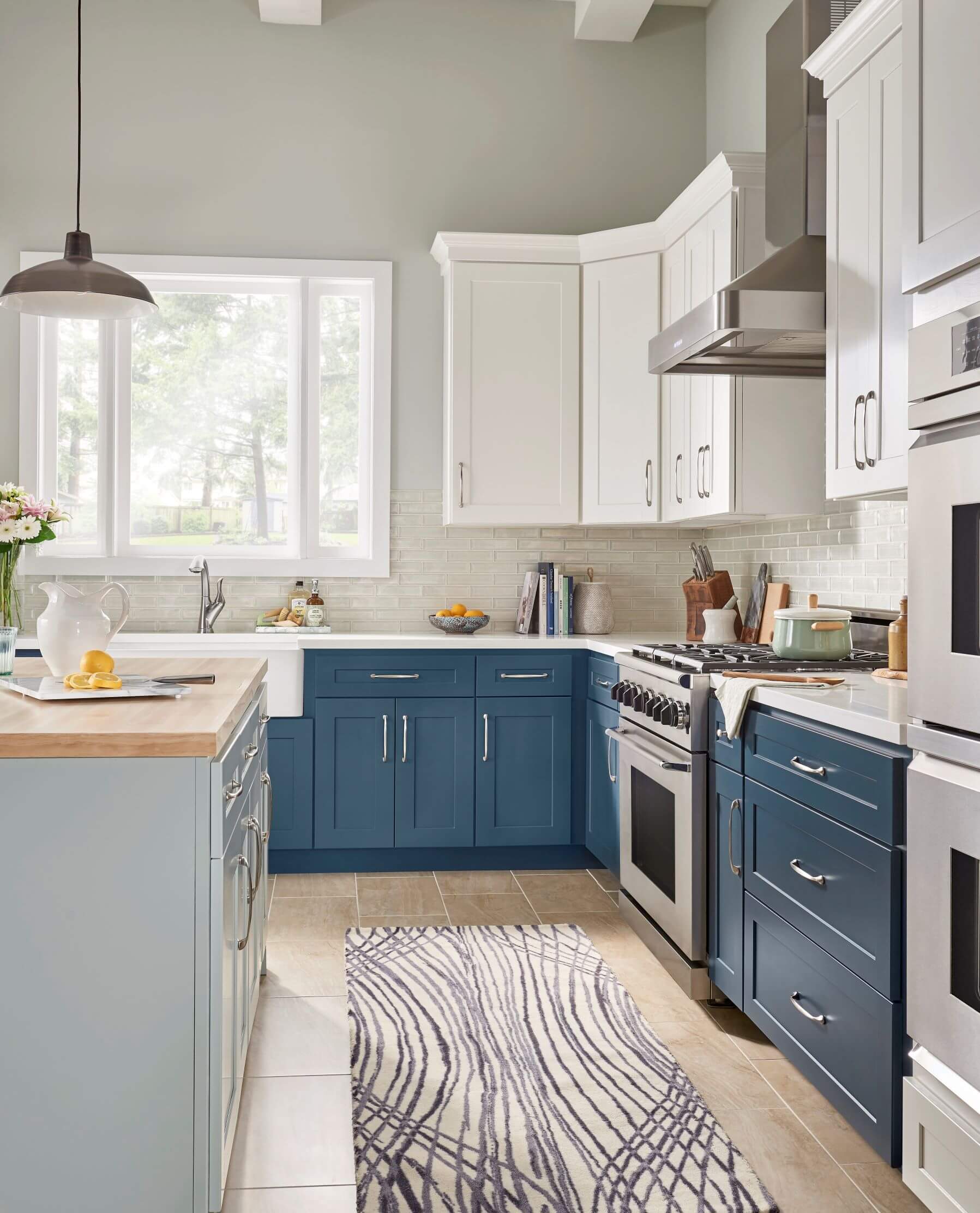 1. Premade cabinets are an affordable option
One of the biggest considerations homeowners take into account when purchasing cabinets is how much they're going to cost. If you're looking for an option that's both affordable and durable, then preassembled cabinets are by far the best choice. Custom cabinetry is also durable, but it's way more expensive than premade cabinets. When you compare preassembled to ready to assemble cabinets, the latter seems less expensive at first glance but then the costs add up once you factor in the amount of time and money it takes to assemble and install RTA cabinets. In the end, the costs end up equally roughly the same amount.
2. Preassembled cabinets are stronger and more durable than RTA cabinets
Another advantage that premade cabinets have over ready to assemble is that they're far more durable. This discrepancy in durability is caused by two factors: the material used to make the cabinets and the expertise of the assemblers.
Ready to assemble cabinets are often made from low-quality particle board fastened with cams, clips, and brackets, which are far less durable than the materials used to create our preassembled cabinets; we use strong American maple wood fastened with high-quality hardware, making our cabinets far sturdier than any RTA cabinet you'll find on the market.
The quality of our construction methods is also far superior to RTA cabinets. Our cabinets are handcrafted and assembled in the USA by the expert staff at Wolf Cabinetry. Who'll be responsible for putting together RTA cabinets if that's what you choose to buy? You? A family friend? Or will you have to pay a crew to come out and assemble the cabinets? Either way, the quality of the construction is likely to be less than what you'd get with preassembled cabinets; in fact, we have so much faith in the quality of our construction that we offer a 5-year warranty at no additional charge.
3. Premade kitchen cabinets can be customized
Another advantage to Pennsylvania Preassembled Kitchen Cabinets is that they can be customized to meet your exact specifications. With ready to assemble cabinets, you're often limited to a few pre-set sizes and configurations. Not so with our premade cabinets – they're custom-made to fit your kitchen. We also offer a wide range of color, style, and hardware options, so you can easily create your dream kitchen without breaking the bank.
Contact Us for Pennsylvania Preassembled Kitchen Cabinets
If you're looking for stylish, durable, affordable preassembled kitchen cabinets for your Pennsylvania home, then contact Quick Ship Kitchens today. Our team members would love to design and deliver the cabinets of your dreams. Just give us a call at 1-888-784-0322 to get started. You can also reach us via email at [email protected]. We look forward to hearing from you soon!