Are you planning a Pennsylvania Kitchen Remodel, but you're still not sure what type of cabinets you want? Choosing the right cabinets is an important part of the renovation process; as the central feature in your kitchen, you want to find cabinets that are beautiful and sturdy while also fitting within your budget.
Finding the right cabinets for your home doesn't have to be a chore if you work with the right team. That's where Quick Ship Kitchens comes in. Our team of cabinetry professionals can walk you step-by-step through the entire process; we'll help you design your ideal kitchen layout, find cabinets you love, assemble them at our manufacturing facility, and deliver them right to your home.
There's no easier way to get cabinets you love at a reasonable price than working with Quick Ship Kitchens. If you'd like to talk to a member of our team about your Pennsylvania Kitchen Remodel, all you have to do is call 1-888-784-0322 any time between 9:00 AM to 6:00 PM Monday through Friday. We can also be reached via email at [email protected] or through the contact form on our site.
Things to Consider Before Starting Your Pennsylvania Kitchen Remodel
Remodeling your kitchen is a huge undertaking—it takes a large commitment of your time, energy, and money. To make sure the process goes as smoothly as possible, it's important to sit down and make some key decisions before you dive into the renovation. Here's what you need to consider prior to starting your Pennsylvania Kitchen Remodel: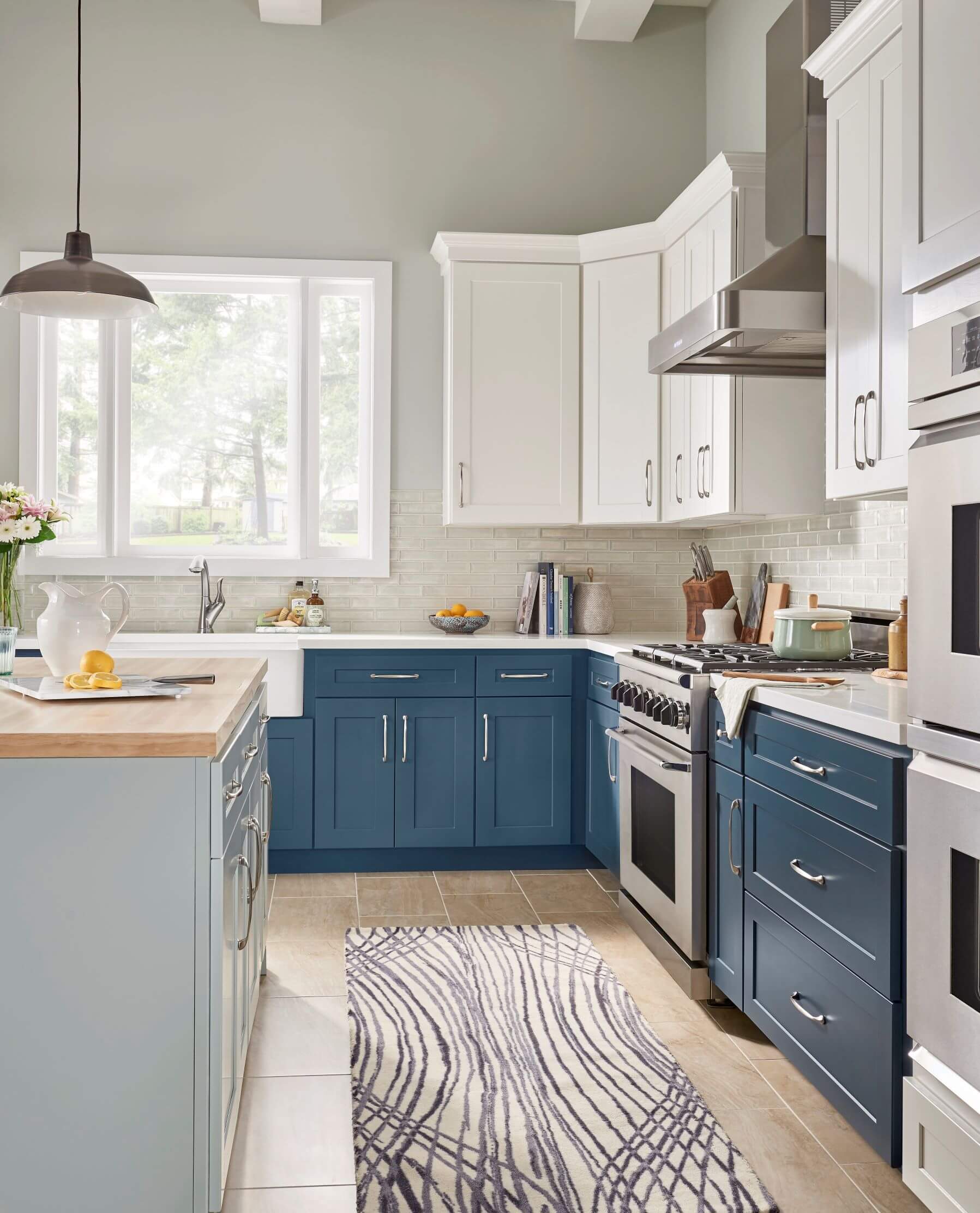 1.    How Broad is the Scope of Your Kitchen Remodel?
The first thing you need to consider is how big of a project you're wanting to undertake. Exactly how extensive will this remodel be? Will you be completing gutting the kitchen and starting over from scratch or are you just replacing your outdated cabinets?
Take a look around your kitchen and decide exactly what you'd like to change. Does the layout stay the same or are you wanting to move around appliances, cabinets, etc.? Are you replacing the floor or keeping it? Do you need new countertops? Will you be buying new appliances? What about the walls—are you painting them or keeping them as is? Will you install new backsplash or work around what you already have? Be as detailed as possible and don't overlook any element in your kitchen; you'd hate to get to the end of your renovation only to discover you overlooked something.
2.    How Much Can You Spend on Your Kitchen Remodel?
Once you've figured out what all you'd like to change in your kitchen, it's time to sit down and crunch some numbers. How big is your budget for the remodel? What all can you actually afford to renovate and replace? As you're figuring out your budget, try to come up with ways you can save money, such as buying granite countertops instead of quartz, laminate in the place of hardwood, and high-quality pre-assembled cabinets instead of custom-made. During the budgeting phase, you should also keep in mind that whatever renovations you make will likely pay off in the end; whenever you choose to sell your house, you can set a higher asking price thanks to your updated kitchen.
3.    What's Your Timeline for the Remodel?
After determining the scope and budget for your Pennsylvania Kitchen Remodel, the next thing you need to consider is what sort of time frame you'd like to have it done in. Are you wanting it finished before the holidays so you can host your extended family for Christmas? Or does it need to be done before you leave on vacation this summer?
As you're trying to figure out the best time to have your renovations completed, you should also keep in mind how long it takes to receive materials for the job. Some kitchen components could take up to 8 to 12 weeks to receive, especially if they're being shipped from overseas. To shorten the wait time, you could work exclusively with American companies like Quick Ship Kitchens who can get cabinets, countertops, etc. to you within one or two weeks.
4.    Who Will Help Design Your Kitchen?
The final thing you need to decide before starting your kitchen renovation is who will help you with designing your kitchen. Trying to figure out every little detail can be overwhelming, so it's essential to find an experienced team who can walk you through the process.
Contact Us for Your Pennsylvania Kitchen Remodel
If you're looking for high-quality cabinets that are beautiful and affordable, contact Quick Ship Kitchens. Our experienced team of cabinetry professionals can help you create the kitchen of your dreams and stay on budget while doing so. To get started, just fill out the Design Request Form found on our site. If you have any questions about our cabinets or design services, you can talk directly to a member of our staff by calling 1-888-784-0322.