Are you looking for help with your Pennsylvania Kitchen Cabinet Design, but you're not sure where to turn? Remodeling your kitchen can seem overwhelming, especially when you're in the beginning stages and you don't know how to get started.
Well, you're in luck—at Quick Ship Kitchens, we provide free kitchen design help to all potential customers. Our experienced team of cabinetry professionals can walk you through the process of designing and purchasing your kitchen cabinets. And best of all, it can be done 100% online without having to visit a showroom.
Why Choose Us for Your Pennsylvania Kitchen Cabinet Design
The team at Quick Ship Kitchens has helped families all over the country design the kitchens of their dreams. Why do they choose us over our competitors? For a lot of excellent reasons, including:
1.    We Make Pennsylvania Kitchen Cabinet Design Easy
Finding the right style and configuration for your new kitchen cabinets can be difficult. How can you be sure that the cabinets you're buying will fit the space or match your current décor? Our team of cabinetry professionals will work with you to ensure you get new kitchen cabinets that are both beautiful and functional. And the design process couldn't be any easier. All you have to do is: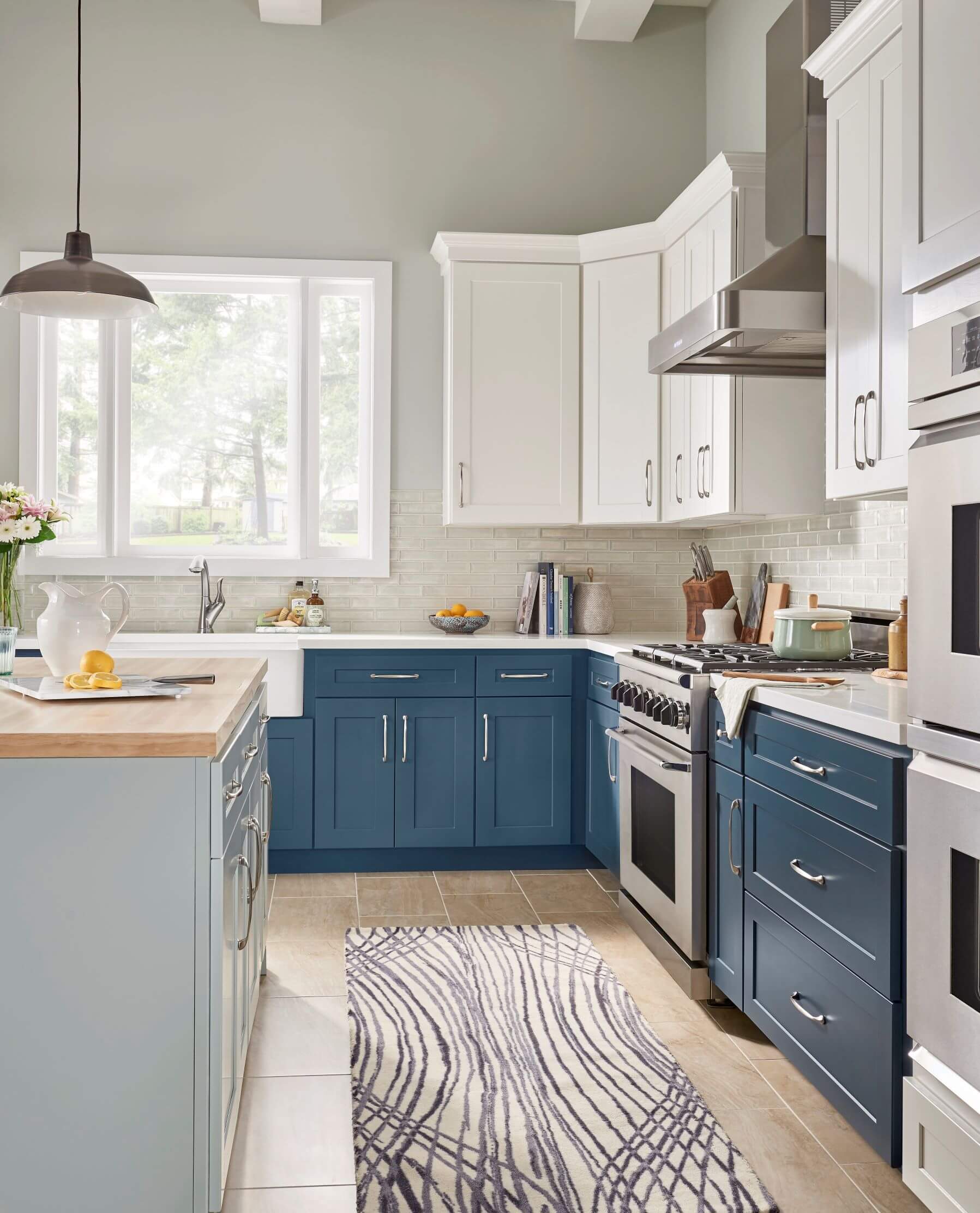 Measure Your Kitchen: Gather the necessary materials—a tape measure, paper, and something to write with. Measure your kitchen and everything in it including the doors, windows, appliances, and cabinets. Draw a diagram of your kitchen and record all the measurements you took. Make the sketch as detailed as possible with measurements within ¼ of an inch.
Take Pictures of Your Kitchen: The next step is to take photographs of your kitchen. You know the old saying: a picture is worth a thousand words. While your measurements are absolutely vital, it's also necessary to provide photos to help designers better envision your kitchen. As you're taking pictures, try to get them from a variety of angles and be sure to include every aspect of your kitchen, not just your cabinets.
Fill Out the Design Request Form: The final step is to complete the Design Request Form located on our website. On the form, you'll provide your contact information, kitchen measurements, and budget in addition to your preferred cabinet styles and accessories. At the bottom of the form is a place where you can upload all of your supporting documentation including the diagram and pictures of your kitchen.
Work With Our Team: Once you've completed the Design Request From, our team will review your information and provide you with a preliminary plan. We can then discuss the details with you and make any adjustments you need. After finalizing the plan for your new cabinets, we can help you finalize the purchase.
2.    We Offer Cabinet Door Samples
Are you hesitant to buy cabinets without seeing them in person first? We get it—kitchen cabinets are a big investment. You don't want to purchase something you might dislike and end up with buyer's remorse. It's far better to see the product in person and get a feel for it before purchasing to be absolutely sure you're making the right choice.
That's why we offer to send a cabinet door sample directly to your home. To request a sample, all you need to do is fill out the online request form. With your sample door in hand, it'll be much easier for you to visualize how the new cabinets will look in your kitchen. Then you can make a more informed decision, ensuring you end up with cabinets you love.
3.    We Provide Fast Shipping
Once you finalize your Pennsylvania Kitchen Cabinet Design decisions and place your order, you don't have to wait around forever to complete your kitchen remodel—you can expect your cabinets to arrive within 7-14 days. That's a whole lot faster than the wait time you'd experience with other cabinet stores, which typically ranges between 8 to 12 weeks.
Contact Our Pennsylvania Kitchen Cabinet Design Team
Are you ready to create the kitchen of your dreams? If so, then contact the team at Quick Ship Kitchens. To get started, all you need to do is give us a call at 1-888-784-0322 or send a message to [email protected].