If you've been looking for Pennsylvania In Stock Kitchen Cabinets in recent months, you might have noticed that there aren't many options available. Thanks to supply chain issues caused by the pandemic, retailers are having a hard time acquiring the products consumers need—and that includes kitchen cabinets. Thankfully, there is a way to get beautiful, affordable kitchen cabinets: by purchasing customized pre-assembled cabinets from Quick Ship Kitchens.
At Quick Ship Kitchens, our cabinets are made in the USA by Wolf Cabinetry; that means you don't have to worry about long lead times caused by delays in the supply chain. Our cabinets are available, easy to order, and shipped directly to your home completely assembled. They also come in a wide range of colors and styles with many customizations available, so you're sure to find the perfect match for your kitchen's décor.
If you're ready to place an order, simply give us a call at 1-888-784-0322 and provide information about the type and size of cabinets your need. If you're not quite sure what style you're looking for, we invite you to explore the many options we offer in our online shop and photo gallery. To learn more about our pre-built cabinetry, keep reading; we've prepared a short guide to help you better understand the many benefits of ordering from Quick Ship Kitchens.
Why Order Pennsylvania In Stock Kitchen Cabinets from Quick Ship Kitchens
If you're still shopping around for Pennsylvania In Stock Kitchen Cabinets, then consider ordering the customized pre-built cabinetry available through Quick Ship Kitchens. Here are just a few reasons why you should trust us with your kitchen remodel:
1. Our Cabinets Are Made in America
At Quick Ship Kitchens, all of our cabinets are made from American maple right here in the USA. American-made cabinetry offers several advantages over other options. For one, you don't have to worry about shipping delays caused by supply chain disruptions, something that's been occurring frequently with cabinets coming from abroad. You also know that the quality of the materials will be high—much better than flimsy cabinets made from particleboard, which is what you often find in ready-to-assemble and stock cabinets from other countries.
2. Our Cabinets Come Fully Assembled
One of the biggest advantages our cabinets have over other options is that they come fully assembled. That means you don't have to spend countless hours trying to piece together cabinets before hanging them in your kitchen; all the work has already been done for you. And since they're built on-site by our team of professional assemblers, you can trust the quality of the construction; these beauties are made to last!
3. Our Cabinets Are Delivered Directly to Your Home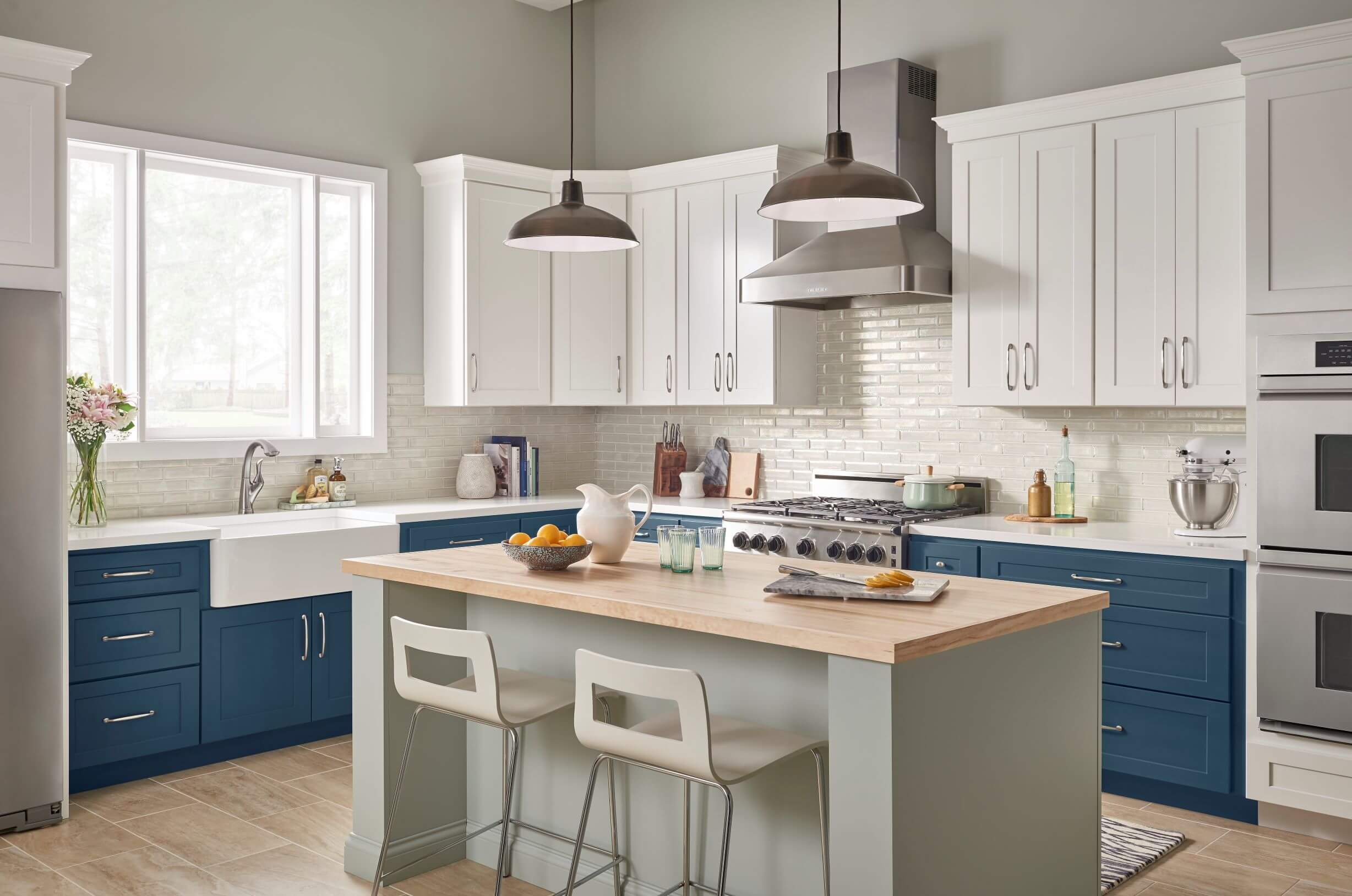 Another benefit of ordering from Quick Ship Kitchens is having your cabinets delivered directly to your home. You don't have to worry about picking up your order from a showroom or retailer; as long as your driveway is paved with enough room for a 13' 6" high by 102" wide truck, we'll bring your pre-built kitchen cabinets straight to your door.
4. We Offer Free Design Assistance
Not only do we provide you with customized pre-assembled cabinetry, but we'll also help you figure out exactly what style, color, and size will work best in your home for free. Our design team will walk you step-by-step through the entire process, including measuring your kitchen, drawing up a floor plan, and making design choices. We want you to be confident in your design decisions, which is why we're happy to provide assistance 100% free of charge.
5. We Provide Cabinet Samples
As an added benefit, we provide customers with samples so you can see what your cabinets will look like in real life. This is an excellent way to confirm that you've made the best design choice for your home. All you have to do is click on the samples tab on our website and fill out the form. You'll soon receive an 11.5″ W x 13.5″ H cabinet door in the mail. You can then make a better-informed decision about which cabinet options work best in your kitchen.
Contact Quick Ship Kitchens to Order Your Pennsylvania In Stock Kitchen Cabinets
These are just a few of the many benefits you can experience when ordering Pennsylvania In Stock Kitchen Cabinets from Quick Ship Kitchens. We also offer fast delivery within 7 to 14 days of purchase, low prices, complimentary touch-up kits, and a 5-year warranty. If you'd like to enjoy these benefits and more, just give us a call at 1-888-784-0322 or send an email to [email protected].