Are you looking for Pennsylvania Cabinet Discounts, but you don't want to sacrifice quality just to save money? If so, then you're in luck—at Quick Ship Kitchens we offer beautiful, well-constructed cabinets that cost a fraction of what you'd pay for custom-made.
We're changing the way Americans remodel their kitchens; our cabinets are designed to your exact specifications just like custom-made then shipped directly to your door fully assembled for easy installation. We take the hassle out of ordering discounted cabinets—just try us and see! To get started, all you have to do is call 1-888-784-0322 or send a message to [email protected].
Why We're the Best Place for Pennsylvania Cabinet Discounts
When you order from Quick Ship Kitchens, you'll enjoy a whole host of benefits, including:
1. Guaranteed Low Prices
If you're looking for Pennsylvania cabinet discounts, then you're definitely in the right place! You won't find our pre-assembled kitchen cabinets at a lower price anywhere else. In fact, we're so confident in our low prices that we guarantee them. If you find the same product offered at a reduced rate somewhere else, just let us know—we'll lower our price to match it! Just verify the price you found by submitting a quote and our team will take care of the rest.
2. Free Design Assistance
Making design decisions can be tough. With so many options to choose from, it can be hard to settle on the right color, style, size, and customizations. If you find yourself endlessly debating over the various choices and don't know how to select the best option, our team can help; we offer design assistance completely free of charge. We'll guide you through the process and help you evaluate your options so you can have total confidence in your design choices.
3. American-Made Cabinets
If you want both high-quality and affordability, you don't need to look any further; our cabinets are made in the USA by an experienced team of professional assemblers. And unlike cheap ready-to-assemble and stock cabinets that are made from particleboard, we use 100% American maple to construct our cabinets. Why compromise quality when you don't have to? With our American-made cabinets, you can enjoy gorgeous, well-constructed cabinets at an affordable price.
4. A 5-Year Warranty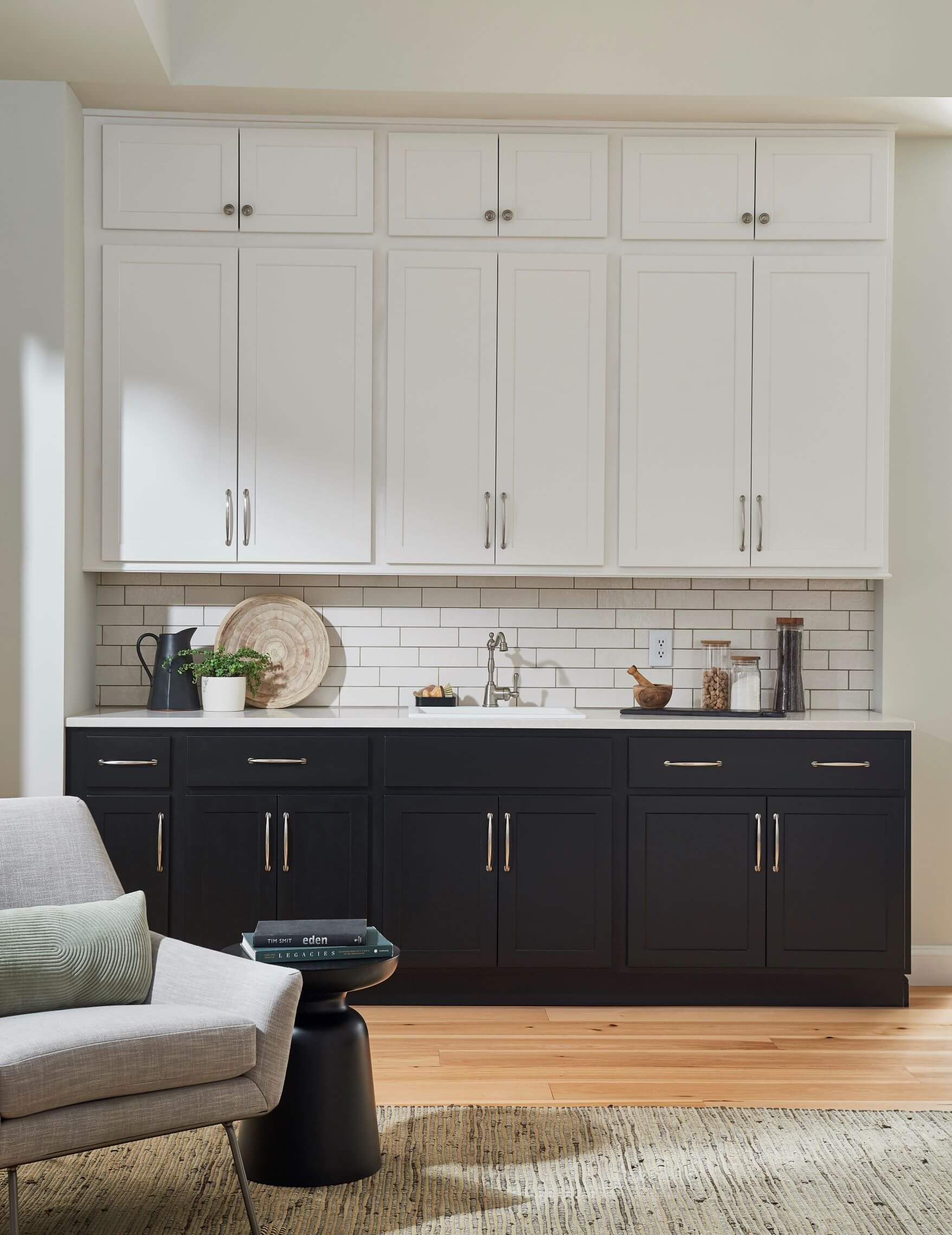 We believe so strongly in the quality of our work that we offer a 5-year warranty on all our pre-built cabinets—that's a guarantee you won't find at many discount cabinet stores. If your cabinets break under everyday usage due to any type of flaw in the material or craftsmanship, we'll either replace the parts or repair the damage.
5. Fast Shipment
Another benefit to ordering from Quick Ship Kitchens is that we live up to our name; our cabinets are shipped quickly! Once you place your order, you can expect your cabinets in just 7 to 14 days. That's a much faster shipping time compared to other cabinet companies—they typically take a month or even longer.
6. Convenient Delivery
We've also made it easy for you to receive your kitchen cabinets. Instead of making you pick them up from a home improvement store or showroom, we bring your kitchen cabinets directly to your door. All you need is a paved driveway that's big enough to accommodate a truck 13' 6" high and 102" wide—we'll do the rest!
7. Easy Installation
Once your cabinets arrive, installing them is easy! Because the cabinets have already been assembled, you don't have to worry about putting them together before installation—all the hard work has already been done for you. So instead of spending countless hours piecing your cabinets together, they're ready to hang as soon as they arrive. Nothing could be easier!
Contact Us for Pennsylvania Cabinet Discounts
If you want beautiful, hand-crafted kitchen cabinets at a discounted rate, then contact the team at Quick Ship Kitchens today. To place your order, all you need to do is call 1-888-784-0322. If you'd like design help before making an order, just fill out the design form available on our website, providing us with basic information about your kitchen dimensions, preferred style, etc. A member of our team will look over your answers and get back to you promptly. If you have any questions, feel free to email us at [email protected].