If you have ever had to remodel your kitchen, you know how much time and money it can take to have custom cabinets built. Of course, when it comes to your kitchen, you only want the best: top-of-the-line materials, custom colors, a variety of styles, doors that open just the way you like them, etc. But what if you could have all of that in a cabinet that's also affordable and easy to install?
That's exactly what you get with our New Jersey Ready-to-Ship Kitchen Cabinets. At Quick Ship Kitchens, we offer beautiful, durable cabinets that can be customized to your exact specifications, but they don't cost a fortune. With quality like that, why look anywhere else?
If you'd like to place a cabinet order, all you have to do is give us a call at 1-888-784-0322; we're open between the hours of 9AM to 6PM on Mondays through Fridays. You can also reach us via email at [email protected].
If you still want to learn more about ready-to-ship kitchen cabinets, then we invite you to keep reading; we've prepared a quick guide below to teach you everything you need to know about this versatile and affordable type of cabinet. 
What Are New Jersey Ready-to-Ship Kitchen Cabinets?
Ready-to-ship kitchen cabinets are pre-built in the factory according to homeowner specifications and come in a variety of colors and finishes. They arrive fully assembled and are designed to fit into your specific kitchen layout, so you can simply place them in your desired location. And because they're ready to go, installation is quick and easy.
Features of New Jersey Ready-to-Ship Kitchen Cabinets
A few of the unique attributes of our New Jersey Ready-to-Ship Kitchen Cabinets are:
They're made of durable hardwood plywood that will stand the test of time.
They include solid wood dovetail drawers.
They come in a wide range of colors, cabinet door styles, and hardware.
They can be customized to include crown molding, a lazy Susan, wine racks, plate racks, a trash can pull-out, tall pantry cabinets, staggered wall cabinet heights, and more.
They're put together by professional assemblers in our factories so quality construction is guaranteed.
They're shipped fully assembled and arrive at your home ready to install.
They're free to ship if you order $2,999 worth of cabinetry or more.
They typically arrive in just 7 to 14 days.
They come with a 5-year warranty
Which Should I Choose: New Jersey Ready-to-Ship Kitchen Cabinets?
If you're looking to design your dream kitchen, and you want the cabinets to complement it perfectly, then you may be wondering about ready-to-ship kitchen cabinets versus custom-made cabinets. While custom-made cabinets allow complete freedom when it comes to choosing every little detail and making sure the end result is perfect, they're also a lot more expensive and can take several months to finish and install. Ready-to-ship kitchen cabinets, on the other hand, are a great alternative that provides you with the same look as custom-made cabinets without all the hassles, delays, and expenses associated with them.
How to Order Your New Jersey Ready-to-Ship Kitchen Cabinets
1. Measure Your Space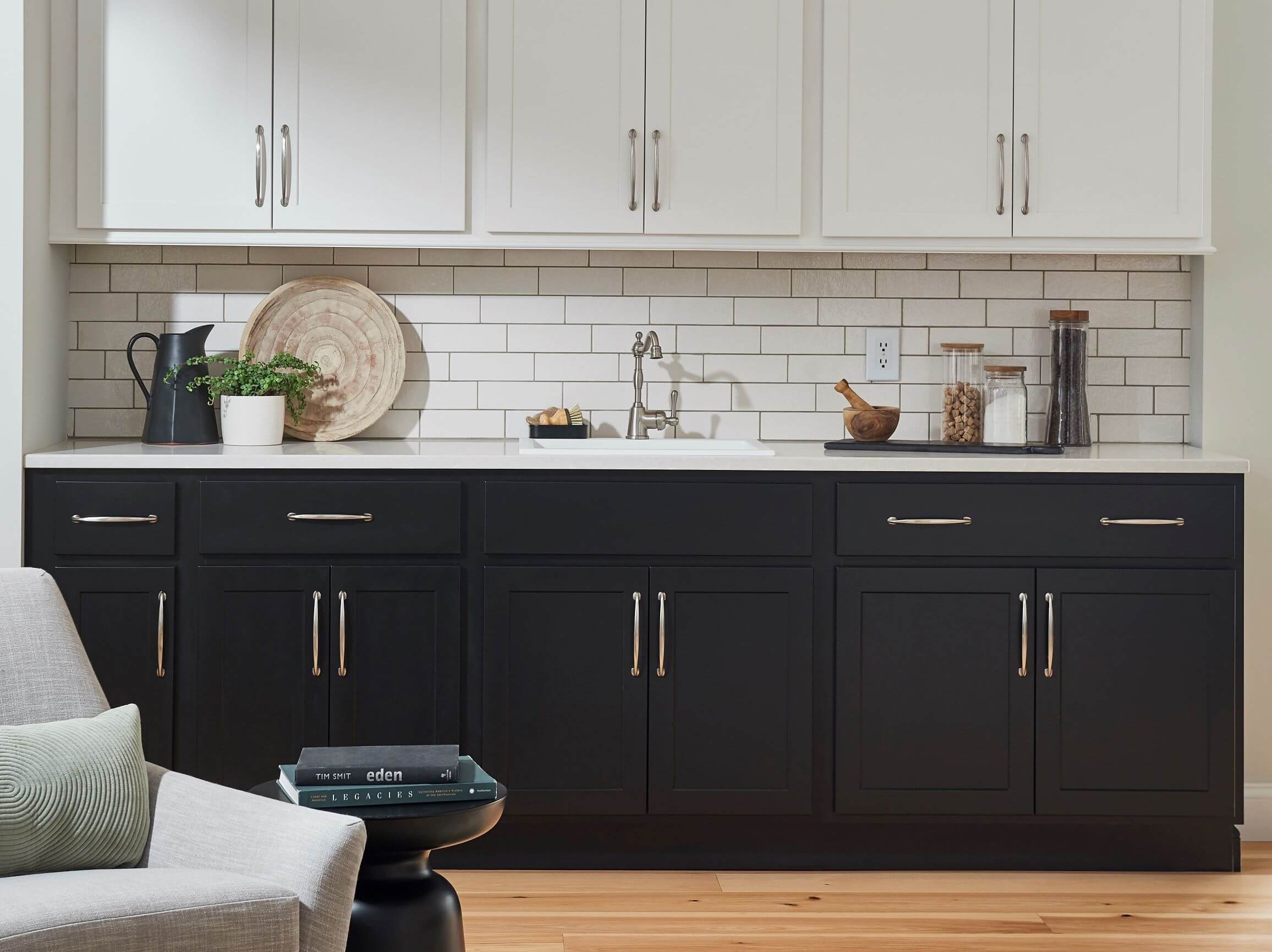 The first step is to take detailed measurements of your current kitchen, so you know exactly what size cabinets you need.
2. Draw a Schematic
Next, you should draw a layout of your kitchen that designates exactly where the cabinets should be placed and how big they need to be.
3. Consider Your Options
After creating your floor plan, look online to find a reliable cabinet supplier you'd like to work with.
4. Choose Your Door Style
Once you've chosen a vendor, view their options and pick your preferred cabinet door style.
5. Select a Color
The next step is to select the color of your cabinet door. If you're not sure if the cabinet color with work in your current home, consider requesting a door sample so you can view it in person.
6. Pick Out Hardware
You'll also need to select your preferred hardware style and color; popular finish options include brushed pewter, polished nickel, satin nickel, brushed oil rubbed bronze, polished chrome, gunmetal, and satin bronze.
7. Place Your Order
After you've made all your selections, it's time to place your order. If you need assistance at any time during this process, you can get help from our design team by filling out the Design Request Form on our website
Contact Us for New Jersey Ready-to-Ship Kitchen Cabinets
New Jersey Ready-to-Ship Kitchen Cabinets are the ideal choice because of their high quality and cost-effectiveness. If you're ready to order your cabinets, contact Quick Ship Kitchens by calling 1-888-784-0322 or emailing [email protected]. If you have any questions, feel free to reach out; we'd be more than happy to help!