Kitchen cabinets are one of the most important parts of your New Jersey Kitchen Cabinet Styles. There are tons of different styles you can choose from, and each style comes with its own benefits and drawbacks.
If you're in the market for new kitchen cabinets, then contact Quick Ship Kitchens. We offer many different kitchen cabinet styles in a wide range of colors. Our cabinets are made of high-quality material and are custom made in our factory and then shipped directly to your home. To start designing your dream kitchen, all you need to do is complete the Design Request Form on our website. If you have any questions or need design assistance, don't hesitate to ask; we can be reached by phone at 1-888-784-0322 between 9AM to 6PM Monday through Friday.
To learn more about some of the most popular New Jersey Kitchen Cabinet Styles, read on; below is a list of seven of the most popular cabinet styles on the market today.
The Top 7 Cabinet Styles to Spice Up Your New Jersey Kitchen
When it comes to kitchen design, cabinets are one of the most crucial aspects you'll need to consider. This piece of furniture won't just play an aesthetic role, but will also have an impact on your cooking routine and habits. There are many different styles of kitchen cabinets you can choose from, each with its own set of benefits and drawbacks. Keep reading to find out which are the top seven kitchen cabinet styles that you should consider in your design!
1. Standard Kitchen Cabinets
The most popular kitchen cabinet style is the classic, standard kitchen. This look features cabinets that are flush with the ceiling and doors that are flush with the fronts of the cabinets. Standard kitchens can be customized to fit any space, and they're perfect for those who want a timeless look.
2. Asian Style Kitchen Cabinets
Asian-style kitchens are characterized by clean lines and a minimalistic approach. This style is perfect for those who appreciate a clutter-free space. To achieve this look, opt for cabinets made of natural materials like bamboo or wood. You can also add in pops of color with accents like green plants or red stools.
3. Modern Kitchen Cabinets
If you're looking for a kitchen that's both stylish and functional, you can't go wrong with a modern design. These kitchens often feature sleek lines, minimalistic décor, and plenty of counter space – perfect for the busy home cook. Plus, with all the latest appliances and gadgets, a modern kitchen can make meal prep a breeze. 
4. Rustic Style Cabinets
If you want a kitchen that feels like a cozy country cabin, go for rustic-style cabinets. These cabinets are typically made of natural wood, like hickory or knotty pine, and they often have intricate details and a weathered finish. The downside of rustic-style cabinets is that they can be expensive and difficult to find (especially if you're looking for specific woods or finishes). If you're up for the challenge, though, rustic country-style cabinets can add a lot of charm to your kitchen. 
5. Shaker Style Cabinets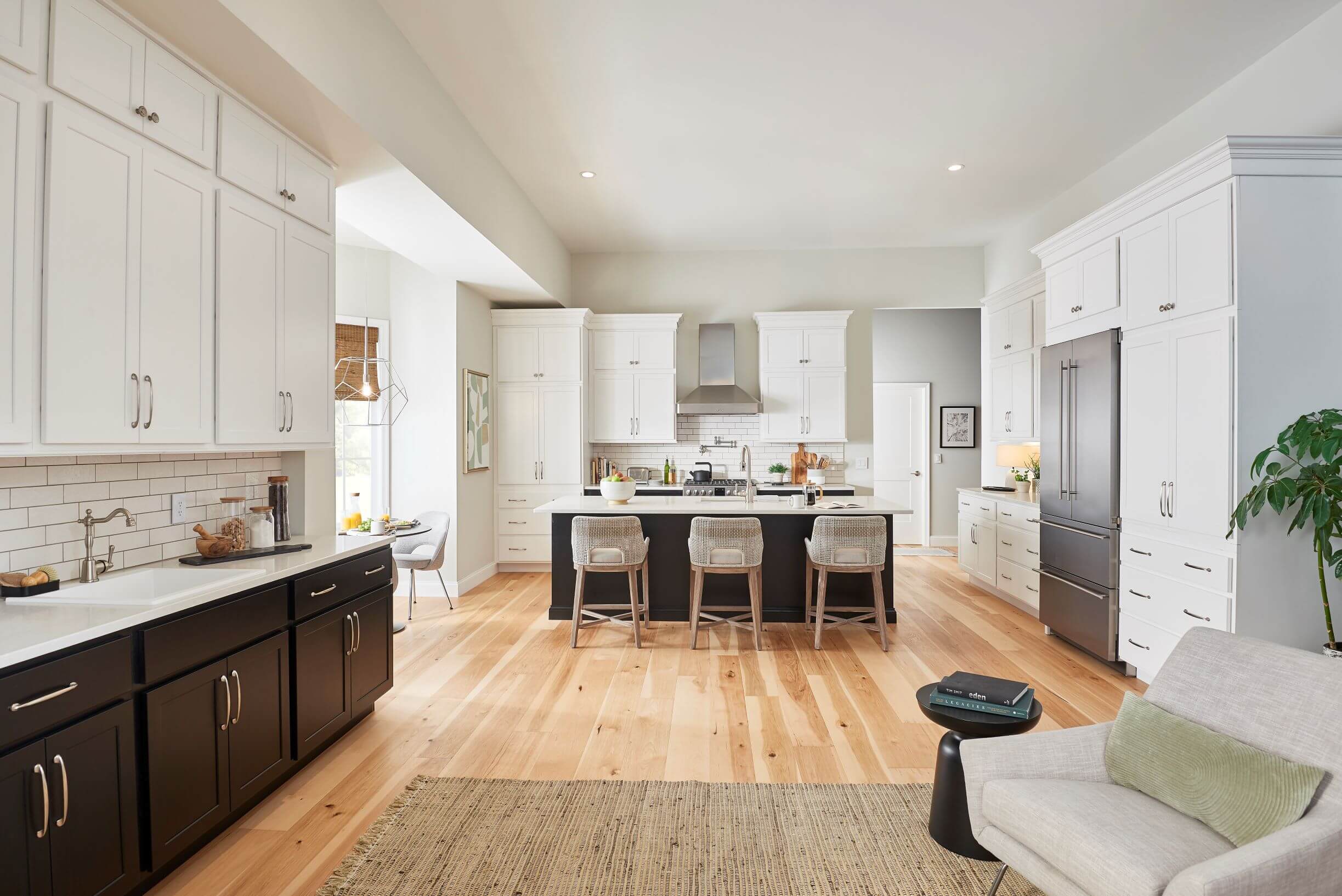 The Shaker kitchen style is a timeless look that can be customized to fit any home. This style is defined by its clean lines and simple, yet elegant, design. Shaker cabinets are usually made of wood and have either a raised or recessed panel door. If you're looking for a kitchen cabinet style that will never go out of fashion, Shaker is the way to go.
6. Glass Front Kitchen Cabinets
One of the most popular New Jersey kitchen cabinet styles is glass front cabinets. This style allows you to show off your beautiful dishes and cookware, while still keeping them safe from dust and fingerprints. Plus, they can make your kitchen look more open and airy. If you're looking for a way to add some extra pizzazz to your cooking space, glass front cabinets are a great option.
7. Contemporary Style Cabinets
These sleek and modern cabinets are perfect for those who want a stylish, yet simple kitchen. The lack of ornate details keeps the contemporary style clean and uncluttered. Plus, the use of straight lines and geometric shapes gives the space a feeling of orderliness. If you're looking for a sophisticated kitchen, then contemporary-style cabinets are the way to go.
Contact Us for the Best New Jersey Kitchen Cabinet Styles
Kitchen cabinets are so much more than just kitchen storage space; they add flavor and style to your cooking space and can really be the life of the party in your home. If you're looking to revamp your kitchen, then contact the team at Quick Ship Kitchens. You can reach us by phone at 1-888-784-0322 or via email at [email protected].