Today, people have more options than ever when it comes to purchasing kitchen cabinets. If you're in the market for New Jersey In-Stock Cabinets, you might want to consider a Quick Ship Kitchens.
That's exactly what we offer at Quick Ship Kitchens—affordable cabinets made in the USA from high-quality materials. And best of all, they can be customized to fit your kitchen perfectly.
If you'd like to talk to a member of our team about the cabinet options we have available, simply call 1-888-784-0322. We can also offer free design assistance to all potential customers; to get started, complete the design help form found on our website
7 Reasons to Choose New Jersey In-Stock Cabinets
There are many reasons to choose our factory-built in-stock cabinets; here are just a few:
1. Quality
When it comes to cabinets, quality should be your top priority. After all, these are pieces that will be holding up your dishes, glasses, pots, and pans. Our in-stock cabinets are factory-built cabinets and made from better quality materials, so they'll last longer.
2. Personalization
When you order factory-built cabinets, you can choose from a wide range of styles, colors, and materials to create the perfect look for your home. Factory-built cabinets are made to order, so they can be customized to fit your specific needs. You can even select the type of door (raised panel, flat panel, or glass), drawer fronts, hardware, and other features that you want.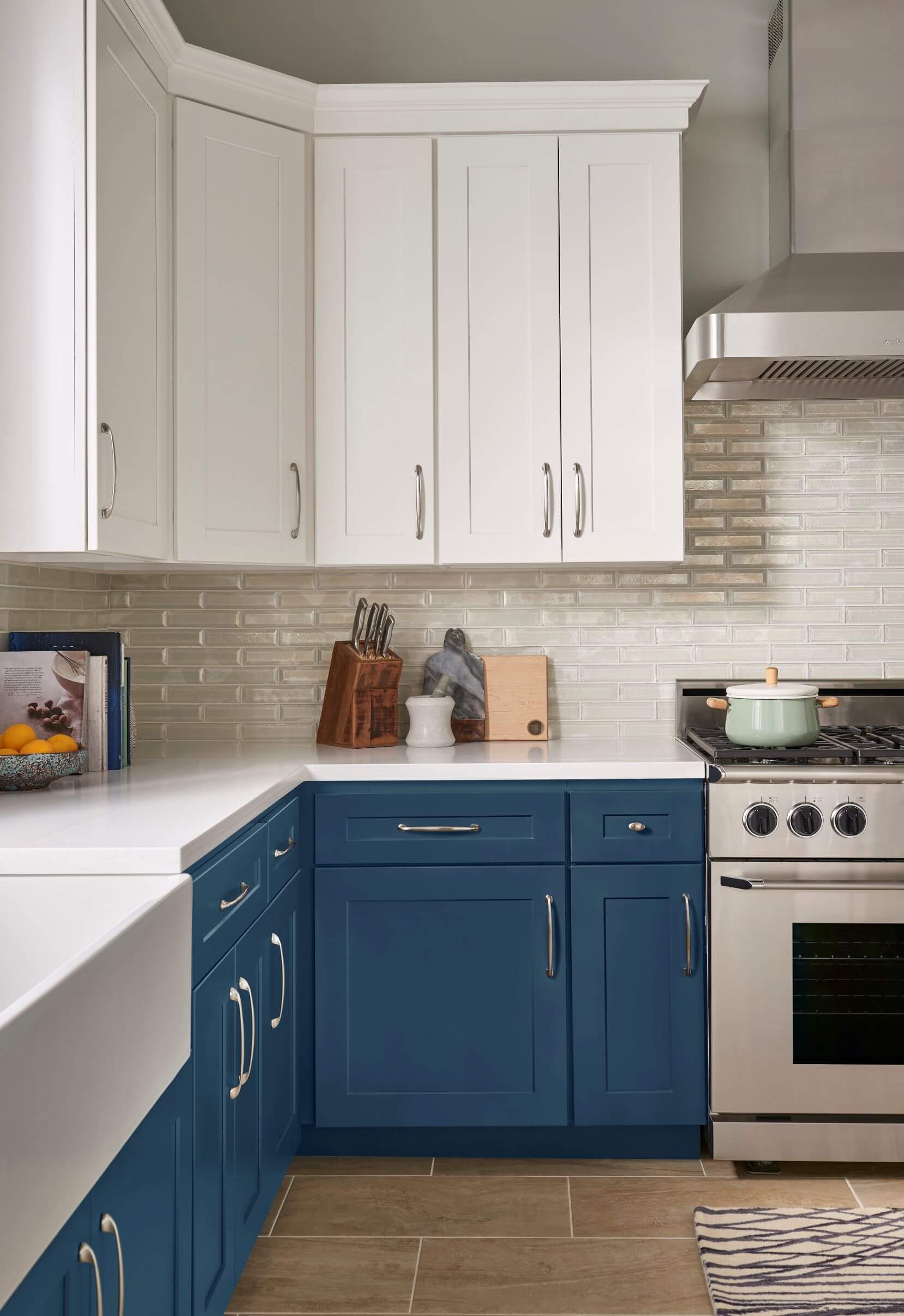 With New Jersey In-Stock Cabinets, you can shop through all of our cabinet styles and fronts and know that they will be ready when you go to order.
3. Fit
If you're looking for the best fit possible, you'll want New Jersey In-Stock Cabinets. With RTA cabinets, you can only purchase whatever the store has in stock, which may not be a good match for your kitchen and are difficult to build. On the other hand, factory-built cabinets are made to order; you can choose the exact dimensions you need to fit your space perfectly.
4. Stability
One of the main reasons to choose our New Jersey In-Stock Cabinets is stability. Our cabinets are made with higher quality materials and construction methods that make them much more stable. This is important because it means your cabinets will last longer and look better over time.
5. Value
Our in-stock cabinets are a better value overall for several different reasons. For one, factory-built cabinets will last a lot longer. They have higher quality construction of factory-built cabinets is also a benefit because it adds to the value of your home. Whenever you go to sell your home, you'll be able to ask for a higher price because you chose quality cabinetry instead of a cheaper alternative.
6. Warranty
When you buy cabinets, you want to be sure that they will last. That's why a warranty is so important. With factory-built cabinets, you can be sure that your cabinets are covered in case anything goes wrong. Plus, with a warranty, you'll know that the company stands behind its product.
7. Customer Service
You'll also get better customer service if you buy factory-built cabinetry for New Jersey In-Stock Cabinets. It's important to choose a cabinet company with excellent customer service for a few reasons:
First, you'll be able to get help with planning and designing your space.
Second, if there are any problems with your order, you'll be able to get them resolved quickly and easily.
Third, you'll have peace of mind knowing that you can always reach someone if you need help.
Fourth, excellent customer service can help you save money by getting you discounts or free shipping on your order.
A Better Alternative to New Jersey In-Stock Cabinets
Whether you're looking at quality, stability, longevity, or any other factor, pre-built cabinets are clearly a better choice for  New Jersey In-Stock Cabinets. If you're ready to upgrade your kitchen to high-quality customizable cabinets that are both beautiful and affordable, then contact the team at Quick Ship Kitchens. We can be reached by phone at 1-888-784-0322 or via email at [email protected].