What should you do when your kitchen feels like it's stuck in a different decade? Maybe you've been in your house for a long time, or you bought the house with intentions to have your kitchen remodeled sometime down the line. Now is the time to start remodeling. You want your kitchen to feel fresh and clean. Quick Ship Kitchens is the perfect place to shop for Modern Kitchen Cabinets for your home. When you want a kitchen update fast, shop Quick Ship Kitchens.
High-Quality Modern Kitchen Cabinets
Not only do you want modern looking cabinets, but you also want cabinets that are durable and will withstand the test of time. If you're an environmentally conscious shopper, you might be looking for cabinets that are from a manufacturer that is responsibly sourced and gives back to the environment. We understand these are important values. That's why those searching for Modern Kitchen Cabinets also want modern policies. At Quick Ship Kitchens, we feel the same way.
All of our cabinets have certifications from the Environmental Stewardship Program (ESP) and Kitchen Cabinet Manufacturers Association (KCMA). The ESP and the KCMA set high standards regarding air quality and pollution prevention, resource sustainability, waste management, and environmental stewardship. Wolf Classic proudly meets these standards.
With over 175 years in the business of cabinetry, Wolf Classic is known for its all-wood factory-assembled construction and exceptional value, quality, and delivery speed. The cabinets are handcrafted.  Wolf Classic combines generations of woodworking expertise with today's latest technologies. Solid hardwood components and a state-of-the-art finishing system produces a consistently beautiful and long-lasting appearance. Our Modern Kitchen Cabinets and hardware come with a 5-year warranty.

Our Design Team Has Modern Options For Additional Storage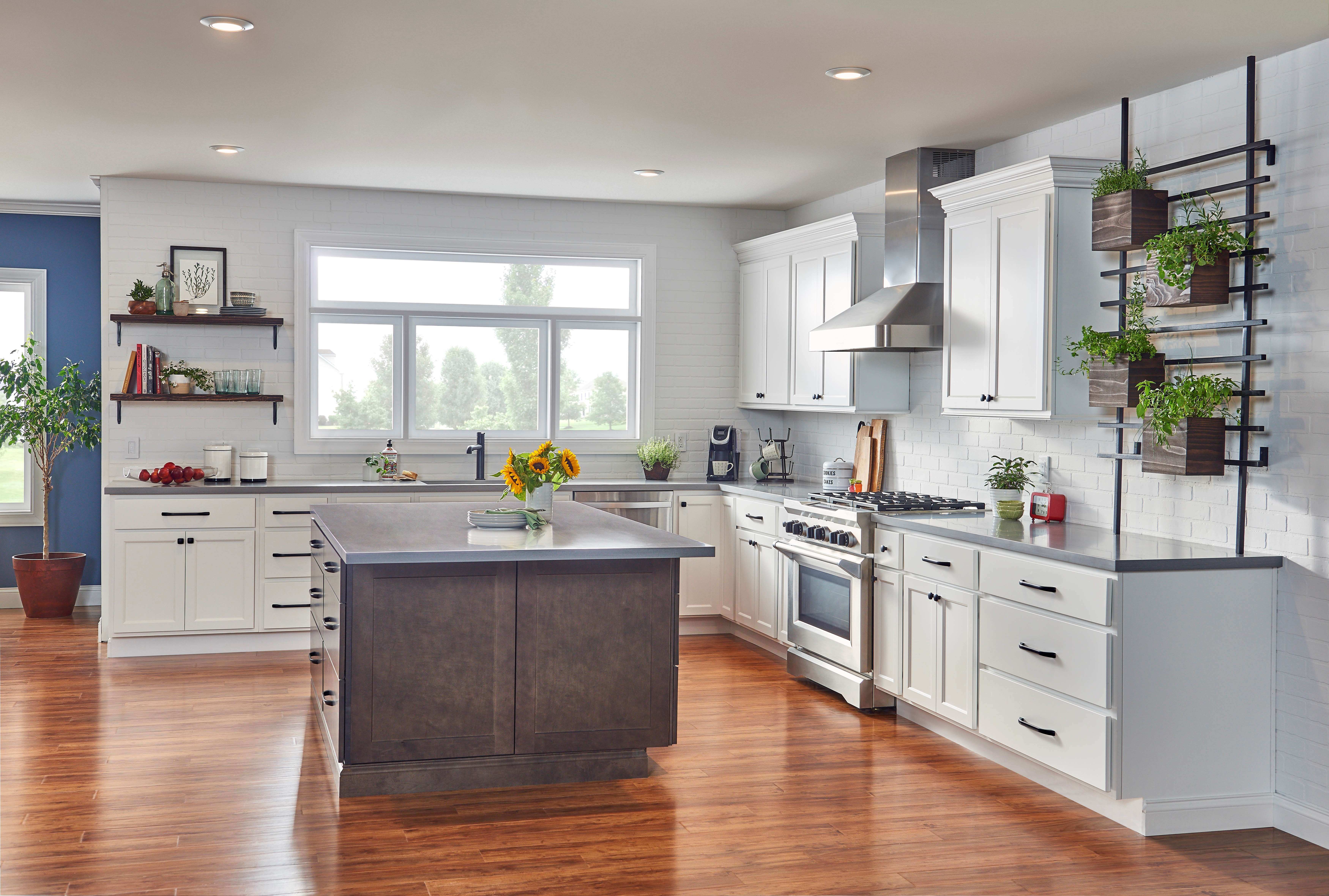 Get started on your new kitchen with help from our Design Team. Our Modern Kitchen Cabinets will look best in a custom-designed area tailored around your wants and needs. We take an individualized approach with every customer.
First, you'll need to check our Design Help Guide. Follow the easy steps in the guide. Start by sketching your kitchen layout and taking measurements. Your measurements need to be accurate. Your sketch should include things like doorways, appliances, and windows. Then, you'll take pictures of your current kitchen and submit them to us. Finally, you'll fill out our form with any additional features you want to see in your new kitchen.
The Quick Ship Kitchen design team will send you a complete itemized quote for your new kitchen once we have all the necessary information. Let us know what other features you want in your new kitchen. Check off which special storage and aesthetic features you want to be included in your cabinets. Wine racks, lazy susans, three drawer bases, and even crown moldings are modern accessories you can add to your new kitchen.
Shop Modern Kitchen Cabinets With Confidence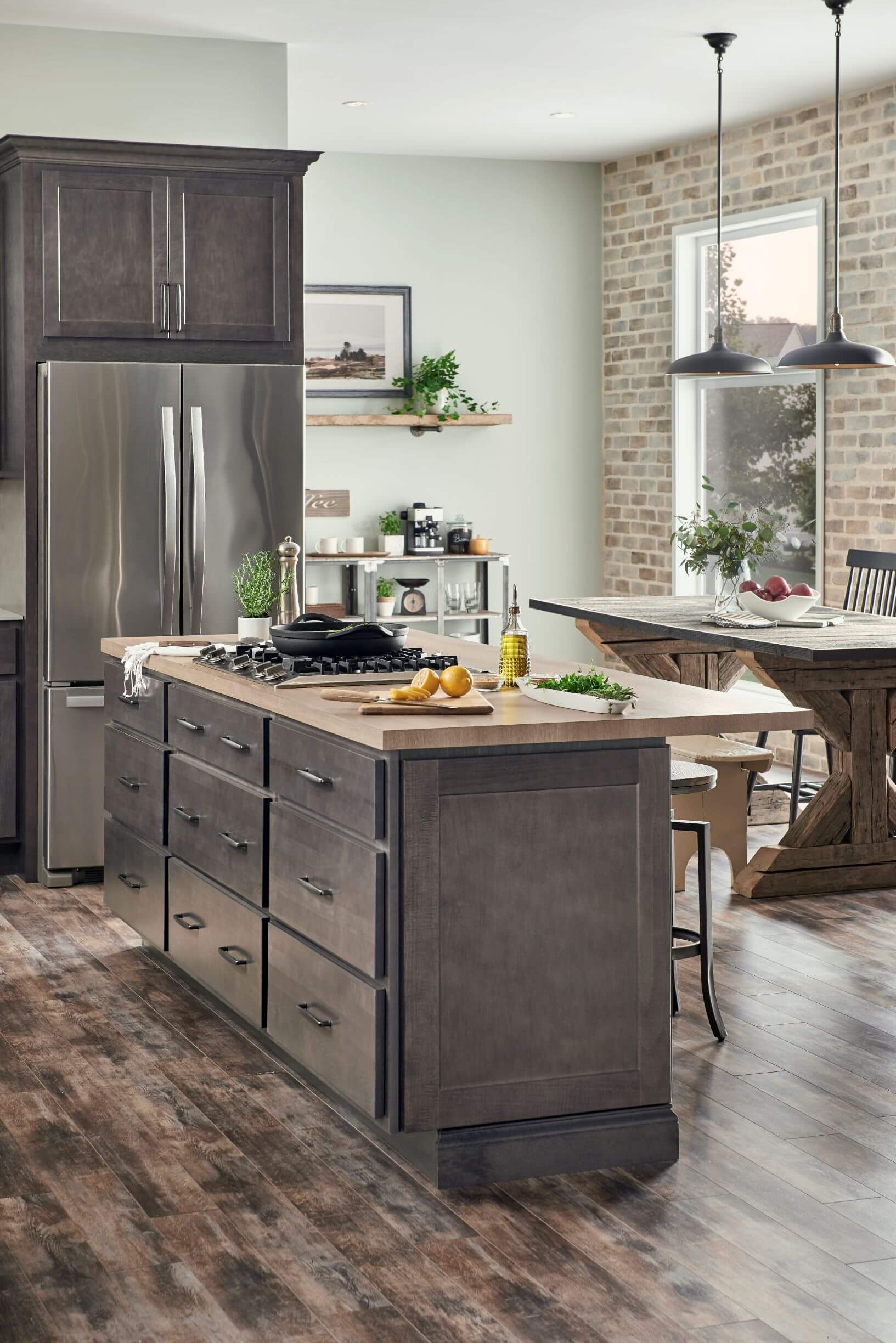 Now it might feel weird to order Modern Kitchen Cabinets online. We get it. But Quick Ship Kitchens doesn't have to have a storefront, salespeople, or delivery teams to help our customers save big on high-quality cabinets. We take pride in providing our customers the best and most trusted service possible. In the the end, our customer saves the most time and money on their new kitchen. We want you to feel confident in your investment. That's why we offer door samples on any of our 19 different cabinet options. This ensures you're getting the modern look you're trying to achieve without breaking the bank.
Quick Ship Kitchens wants you to feel confident about your decision. We encourage you to take your door sample and your quote to other retailers. All of our products come backed with a price match guarantee. We will examine quotes from competitive retailers. If we find your quote is less for the same high-quality cabinets, we'll match it. We know you'll be so impressed with your Modern Kitchen Cabinets from Quick Ship Kitchens; therefore, you know you've made the right choice.
Order Your Modern Kitchen Cabinets Today
Stop cooking in an old, dated kitchen. Update to a new Modern Kitchen Cabinets from Quick Ship Kitchens. Our design team is standing by to answer any and all questions you have about ordering cabinets online. With modern amenities, quick delivery, and a price match guarantee, you can't go wrong by going with Quick Ship Kitchens.