Quick Ship Kitchens has been helping our customers save time and money on creating the kitchen of their dreams since 2018. We help renovators, DIYers, and contractors alike build kitchens that are high-quality, sustainable, and are delivered quickly. Our Kitchen Cabinet Design team is here to help you from the start to ensure you have a kitchen you are satisfied with.
Steps to Incredible Kitchen Cabinet Design
If you're new to Quick Ship Kitchens, we're going to break down our process step-by-step so you know exactly when to expect when it comes time to design your new kitchen cabinets.
1. Order A Cabinet Door Sample
You wouldn't buy a car without kicking the tires first, right? We understand that you want to see what your cabinets are going to look like before you buy them. That's why we offer door samples.
Take your sample to other stores and compare the quality. All of our products come backed with a price match guarantee. We will examine quotes from competitive retailers, and if we find your quote is less for the same high-quality cabinets, we'll match it. We know you'll be so impressed with your Kitchen Cabinet Design; you know you'll have made the right choice by going with Quick Ship Kitchens.
2. Get A Quote Using Our Design Help Guide
At Quick Ship Cabinets, when you're ready to start building the kitchen of your dreams, you need more than a quote. You need a design team to help you make decisions and determine which Kitchen Cabinet Design fits best for your space. That's why we provide an extensive design help guide. This guide does not only give you an itemized quote, our design team works with you to build something you're proud of.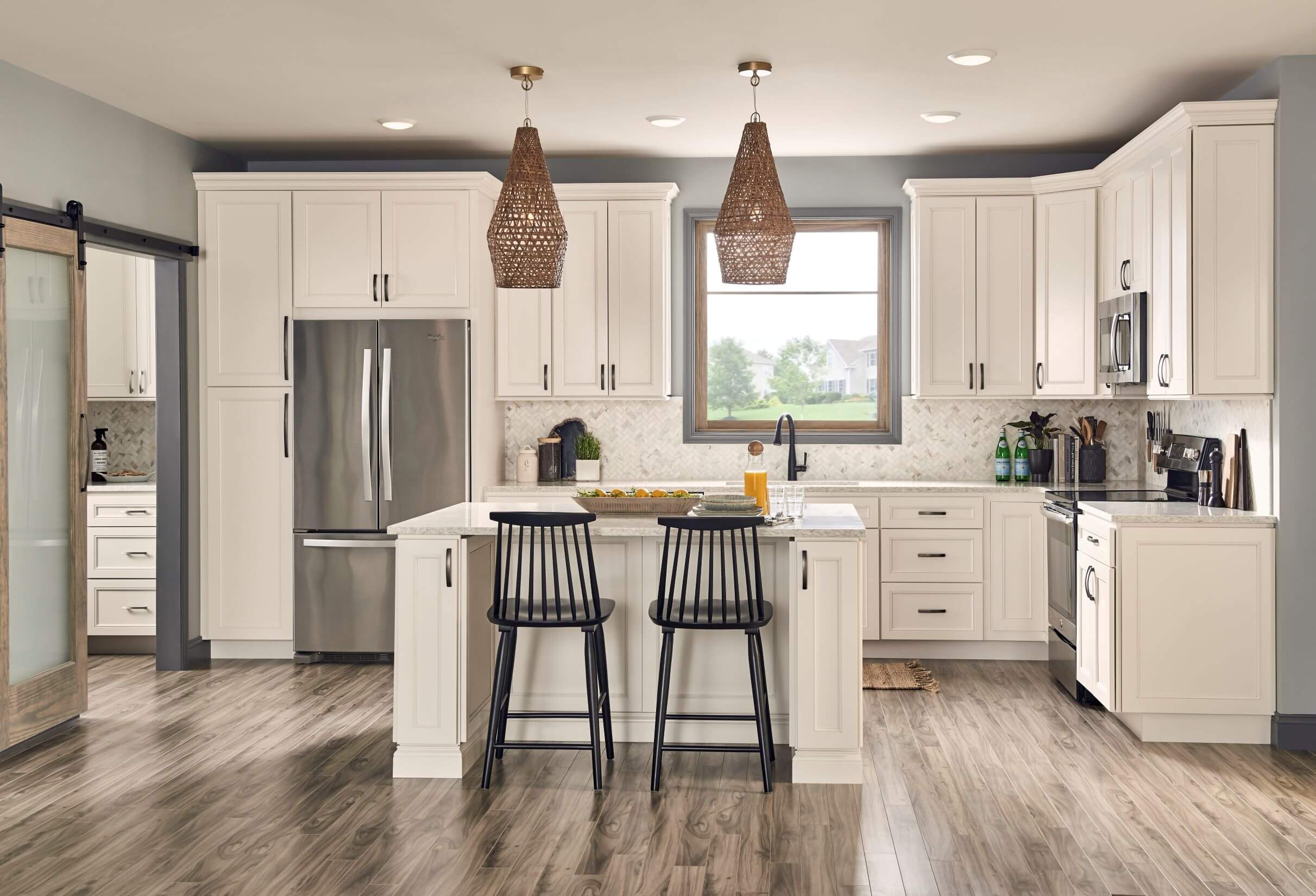 You'll need to measure and sketch out your current kitchen, so we know what kind of space we have to work with. Be sure to include any windows, doors, and other obstacles that might cause issues. Then you'll take pictures of the kitchen and fill out our questionnaire. This is where the fun begins. Check off which special storage and aesthetic features you want to be included in your cabinets. Things like wine racks, lazy susans, three drawer bases, and even crown moldings can all be added to your cabinets.
If you need more help, Our Kitchen Cabinet Design team is standing by. You can contact them by phone or email to communicate your kitchen features and requirements needs better.
3. Order Your Wolf Classic Cabinets
With over 175 years in the business of cabinetry, Wolf Classic is one of the fastest-growing and one of the most popular cabinet lines in America. Most of the kitchen cabinets are Wolf Classic Cabinets. All cabinets and hardware come with a 5-year warranty and a variety of accessory and storage options to enhance not only kitchen aesthetics but functionality. All of our cabinets have certifications from the Environmental Stewardship Program (ESP) and Kitchen Cabinet Manufacturers Association (KCMA).

The Wolf Classic Cabinet Line are cabinets that will impress you. They are made in America using American Maple and the highest quality hardware without brackets, cams, or clips. The face frames are made with ¾" solid maple and drawers have a 75 lb rating. All of our cabinets come standard with solid wood dovetail drawers and all-plywood box construction.
4. Assemble Your Cabinets

Because of Wolf Classic's superior technology that combines generations of woodworking expertise with today's latest technologies, your Kitchen Cabinet Design will be completed and delivered to you quickly. We directly ship your cabinets in 1-2 weeks to your home instead of 5-8 weeks. This beats most standard industry wait times, so you can enjoy your kitchen sooner.
When your cabinets arrive, you'll want to inspect them for damages just in case. If you notice any damage, call our customer service line with 14 days of your delivery and we can help set things right. Our cabinets come pre-assembled by the manufacturer and are ready for install.
5. Enjoy Your Kitchen Cabinet Design
How do we do it? How do we get such a high-quality Kitchen Cabinet Design made and installed in your home so fast? A combination of better technology and cutting out middlemen. We don't need showrooms, salespeople, and delivery teams. Our customers save the most on time and money when it comes to their new kitchen. That's why we have so many satisfied customers that love their brand new kitchens.
Get Started on Your Kitchen Cabinet Design Today
Stop hating your old kitchen and start loving your new one! When you work with the Kitchen Cabinet Design team at Quick Sip Kitchens, you know you're getting a high-quality product made faster. Start shopping for cabinets today, and then talk to our design help team to get started.