The use of East Coast Ready to Assemble Cabinets has been increasing in recent years. They're an inexpensive alternative to custom-made cabinetry and used by those who want to remodel their kitchen without breaking the bank. However, they are rarely the best choice for someone who is wanting to upgrade their space.  There is another choice available to economically-minded homeowners – preassembled cabinets.
What Are Pre-Assembled Cabinets?
Pre-assembled cabinets are similar to RTA cabinets, but they arrive to your home already assembled and ready to install. These cabinets are often referred to as factory assembled cabinets since they're typically put together by experienced employees at the manufacturing facility. Because pre-assembled cabinets come ready to go with all the hardware already included, it takes a lot less time for installation. As with RTA cabinets, the primary benefit to purchasing pre-assembled cabinets is the reduced cost compared to locally made custom cabinetry. However, Pre-Assembled cabinets have superior quality due to the types of materials used.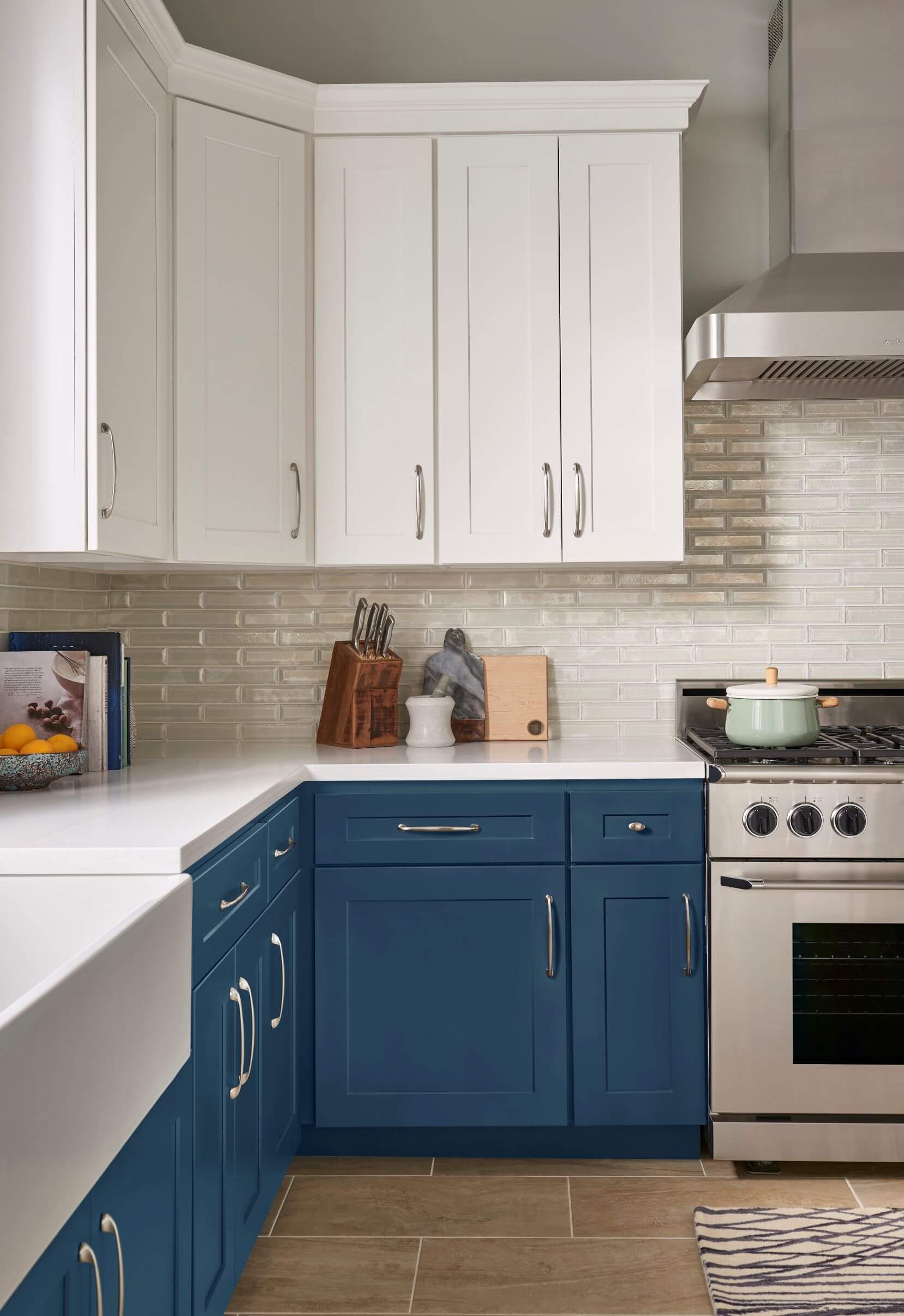 Pros of Pre-Assembled Cabinets
The cabinets come fully assembled and can be installed immediately, which saves a lot of time (and potential frustration)
There are many customizations available with pre-assembled cabinets; homeowners can choose lazy Susans, trash can pull-outs, mullion glass doors, soft-close hinges, bi-fold doors, and pull-out shelves, options that aren't typically available with RTA cabinets.
Cabinets that have been assembled by the manufacturer carry a much better guarantee than ready to assemble cabinets do
Most pre-assembled cabinets are put together by experienced assemblers in American factories, which means there's less chance for error and you can receive replacement parts more easily if any are necessary
Cabinetry that's assembled at the factory is more durable and will last longer than ready to assemble cabinets.
Pre-assembled cabinets and RTA cabinets cost roughly the same once you factor in the cost of on-site labor.
What Are East Coast Ready to Assemble Cabinets?
Like the name implies, ready to assemble cabinets (also called RTA cabinets) are put together at the building or home site. These cabinets are typically made of plywood and shipped flat in labeled pieces that are already cut to the necessary size with pre-drilled hardware holes. Then the homeowner or contractor can follow the provided instructions to assemble the cabinets and hang them in the kitchen. The primary advantage of ready to assemble cabinets is the lower cost compared to custom-made cabinetry; however, this means cheap quality kitchen cabinets.
Cons of East Coast Ready to Assemble Cabinets
While you may initially spend less money on the purchase of your east coast ready to assemble cabinets, the time and cost of labor may override those savings in the long run
RTA cabinets include lots of small parts which are easy to lose track of, especially at a busy construction site
The style, color, and size options are often very limited in ready to assemble cabinets
Once the cabinets are assembled, it may be difficult to tell where in the kitchen each cabinet piece belongs
Because these cabinets are assembled on site using simple locking cams or screws, they're often a lot less durable than pre-assembled cabinets
Since final assembly is done on site instead of at the factory, many RTA cabinets don't come with a strong guarantee
Many ready to assemble cabinet pieces are mass-produced overseas, which makes getting replacement parts a considerable challenge
Shop Our Kitchen Cabinets
Skip the hassle of cheap East Coast Ready to Assemble Cabinets. Quick Ship Kitchen only carries the best quality Pre-Assembled Kitchen Cabinets from Wolf Cabinets. With over 40 colors and styles to choose from, we have an option for almost any style you could choose from. With almost all cabinets being delivered in less than two weeks, why go anywhere else for your perfect kitchen?
Contact Quick Ship Kitchens for Beautiful, Affordable Cabinets
Factory assembled cabinets and ready to assemble cabinets are both excellent options for homeowners who want to remodel their kitchen while saving money. There are essentially three major differences between the two options: the amount of time spent assembling and installing the cabinets, how durable they are, and the amount of customization that can be done.
For beautiful, durable, customized cabinetry that can be installed immediately upon arrival, pre-assembled cabinets are clearly the best choice. To learn more about high quality factory assembled cabinets, contact the Quick Ship Kitchens team at 1-888-784-0322. We can also be reached by email at [email protected].