Are you remodeling your east coast kitchen and looking for cabinets that can be shipped quickly? If so, then you're in the right place. That's exactly what we do at Quick Ship Kitchens; we provide East Coast Quick Ship Kitchens that are customized to your specifications for easy installation. We have a wide range of options in stock, so you're sure to find cabinets that match the style of your home.
To talk to a member of our team about your cabinetry needs, just give us a call at 1-888-784-0322 or send a message to [email protected]. If you're not sure exactly what kind of cabinets you want to invest in, keep reading – we've provided a quick guide to help walk you through all the key decisions you need to make prior to purchasing cabinets for your east coast kitchen.
Decisions to Make Before Purchasing East Coast Quick Ship Kitchens
Kitchen cabinets are by far the most prominent feature found in any kitchen; that's why it's so important to evaluate your options and make a few key decisions before finalizing your purchase. Here's what you need to consider:
1. Determine Your Kitchen Layout – The first thing you need to decide is how you want your kitchen to be laid out. Measure your entire kitchen from top to bottom before deciding how many cabinets you'll need and what size will work best for the space you have.
Don't overlook any detail, including how high up the cabinets should reach. Do you prefer cabinets that reach all the way up to the ceiling? Or are shorter cabinets the only option due to bulkheads built into your kitchen to hide electrical wiring, pipes, etc.?
When determining your layout, don't forget to factor in where each appliance will go. You should also preplan where your sink, trash can, windows, and doors will all be located. Accuracy is a must when creating a layout; any mistakes made in the planning phase could be costly in the long run.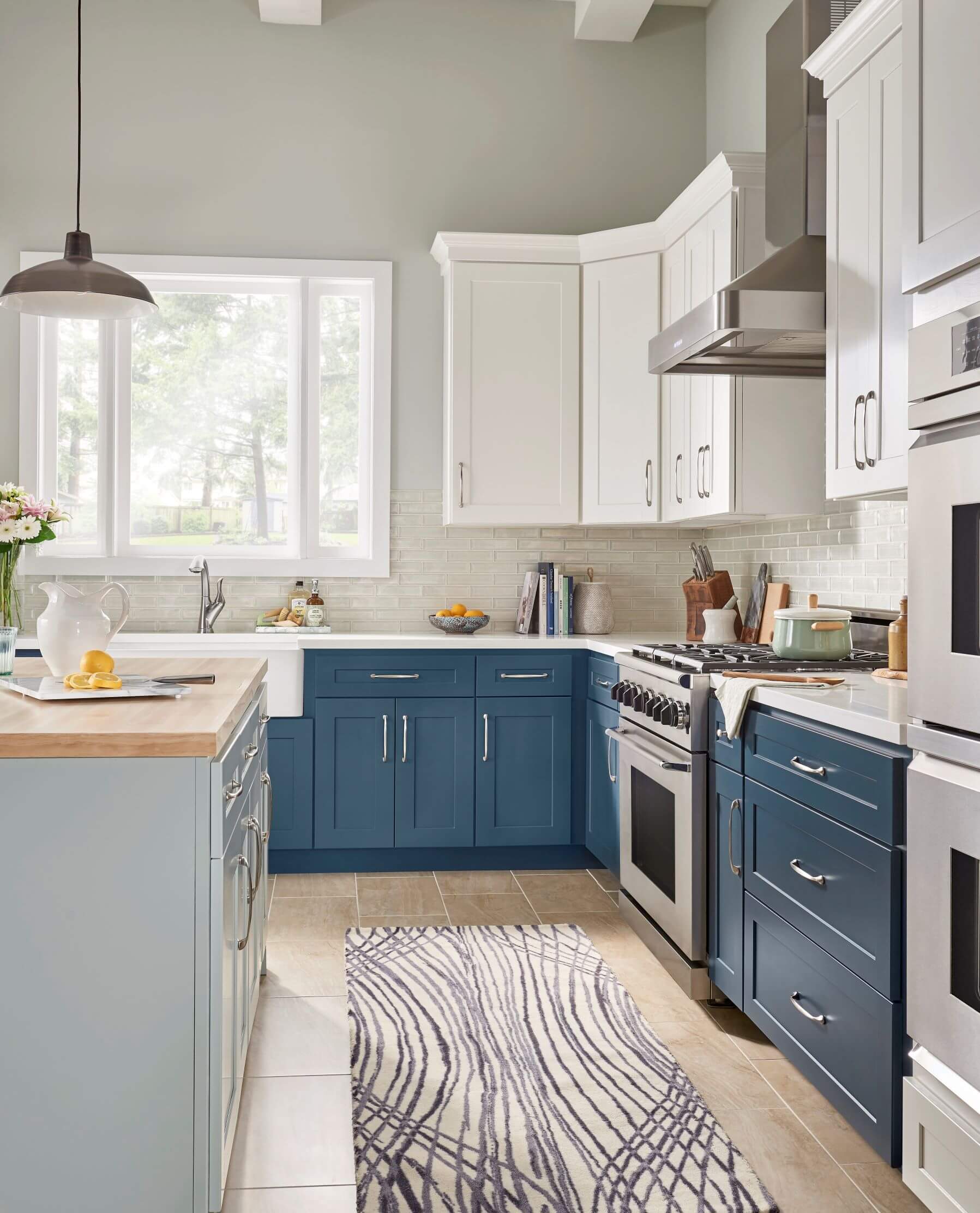 2. Type of Cabinet – The next key consideration is what type of cabinet you plan to purchase. There are essentially four types to choose from: custom-built cabinets, semi-custom cabinets, stock cabinets, and ready to assemble cabinets. You can choose which type best suits you by evaluating your budget, determining how quickly you want your cabinets to arrive, and deciding how much time you're willing to spend on installation.
If you have a lot of money to spend and all the time in the world, then you might want to choose custom cabinets. Custom-made cabinets are by far the most expensive option of the four and they take a considerable amount of time to make, but they are high-quality and will last a long time.
For those who are more budget-minded, you should consider any of the remaining three options. If you love putting projects together yourself, then ready to assemble (RTA) cabinets might be a good fit. Stock cabinets are also inexpensive, but they're easier to install since they come already assembled. There are two big issues with ready to assemble and stock cabinets, however: the quality is lacking and there's little room for customization.
If you're looking for an option that's somewhere between custom-built and ready to assemble or stock cabinets, then the perfect choice for you is pre-assembled cabinets (also known as factory-assembled cabinets or semi-custom cabinets.) These cabinets are inexpensive but they're also high quality and can be customized to meet the exact specifications of your kitchen layout. Factory assembled cabinets can also be installed quickly, so you don't have to wait around for long to get your kitchen looking the way you envisioned.
3. Cabinet Style, Color, and Hardware – Once you've determined which type of cabinet best meets your needs, it's time to focus on a specific style. What type of cabinet doors are you looking for: shaker style, raised panel (square or arched), slab, mullion with glass panels, or something entirely different?
What about colors? Are you looking for sleek modern white cabinets, a traditional style with a wooden finish, or something more eclectic with a pop of color? While figuring out which style best suits your kitchen, don't forget about hardware options; there are various shapes and finishes to choose from. If you're not sure what cabinet or hardware style to choose, it's always a good idea to visit a showroom so you can see all of your options in person.
4. Cabinet Supplier – After figuring out your kitchen layout, deciding which type of cabinet to order, and settling on a style, the next step is to find a reputable cabinet supplier. If you're looking for a supplier with years of experience, a wide range of options to choose from, fast shipment, and a commitment to high-quality customer service, then contact the team at Quick Ship Kitchens – we'd be glad to help you find the cabinets you need. Just give us a call at 1-888-784-0322 or send an email to [email protected] to get started.