The thought of renovating your home can make even the handiest homeowner tremble. With the rising costs of materials and lengthy backorders, quick kitchen remodel can be drawn out for weeks. However, when you choose East Coast Prebuilt Kitchen Cabinets from Quick Ship, we make sure your renovation does not slow down! Since 2018, Quick Ship Kitchens has been offering all of their customers the best Prebuilt Kitchen Cabinets in the industry.
Superior East Coast Kitchen Cabinets
Many companies brag about their products being the most superior in the market; however, here at Quick Ship Kitchens, we stand by the quality of all of our products. Here are only a few of the reasons why you should order from us:
Product Quality– All of the cabinets we offer are all-wood and factory assembled from Wolf Cabinets. With over 175 years in the cabinetry industry, there are no better products on the market. Each cabinet is made in America with American Maple doors and dovetail drawers. With these Prebuilt Kitchen cabinets, you will skip the cheap brackets, cams, and clamps those other sellers offer. To see the high-quality construction yourself, you can order your own door sample.
Unbeatable Pricing- At Quick Ship Kitchen, you do not have to sacrifice quality to get the best price. If you are able to find Wolf Cabinets at a better price, shoot us an email and we will match it. It is that simple!
Shipping Speed- One of the most distinguishing features of our classic cabinets is the speed at which they arrive at their destination. We direct deliver all of our cabinets within two weeks. We beat our competitors by three to five weeks! We are able to get our cabinets to your doors quickly by offering in-stock cabinets. This saves you from having to wait on back-ordered products.
Installation Time- All of our cabinets are custom factory assembled before arriving at our warehouse to ship to you! By ordering our East Coast Prebuilt Kitchen Cabinets, you are able to install all of your cabinets the day they arrive. You will not have to spend hours of your time assembling cheap kitchen cabinets, with clips and cams, before you can install them in your home.
Customer Service- Whether you need help designing or ordering your new kitchen cabinets, one of our representatives is here to make the process easy! Not only are we here to get your kitchen ordered, but we will here for you once the cabinets are delivered. If there are any dings or knicks on your cabinets from delivery, let one of our representatives know within two weeks to get your new cabinet shipped to you quickly.
How to Order Your Prebuilt Kitchen Cabinets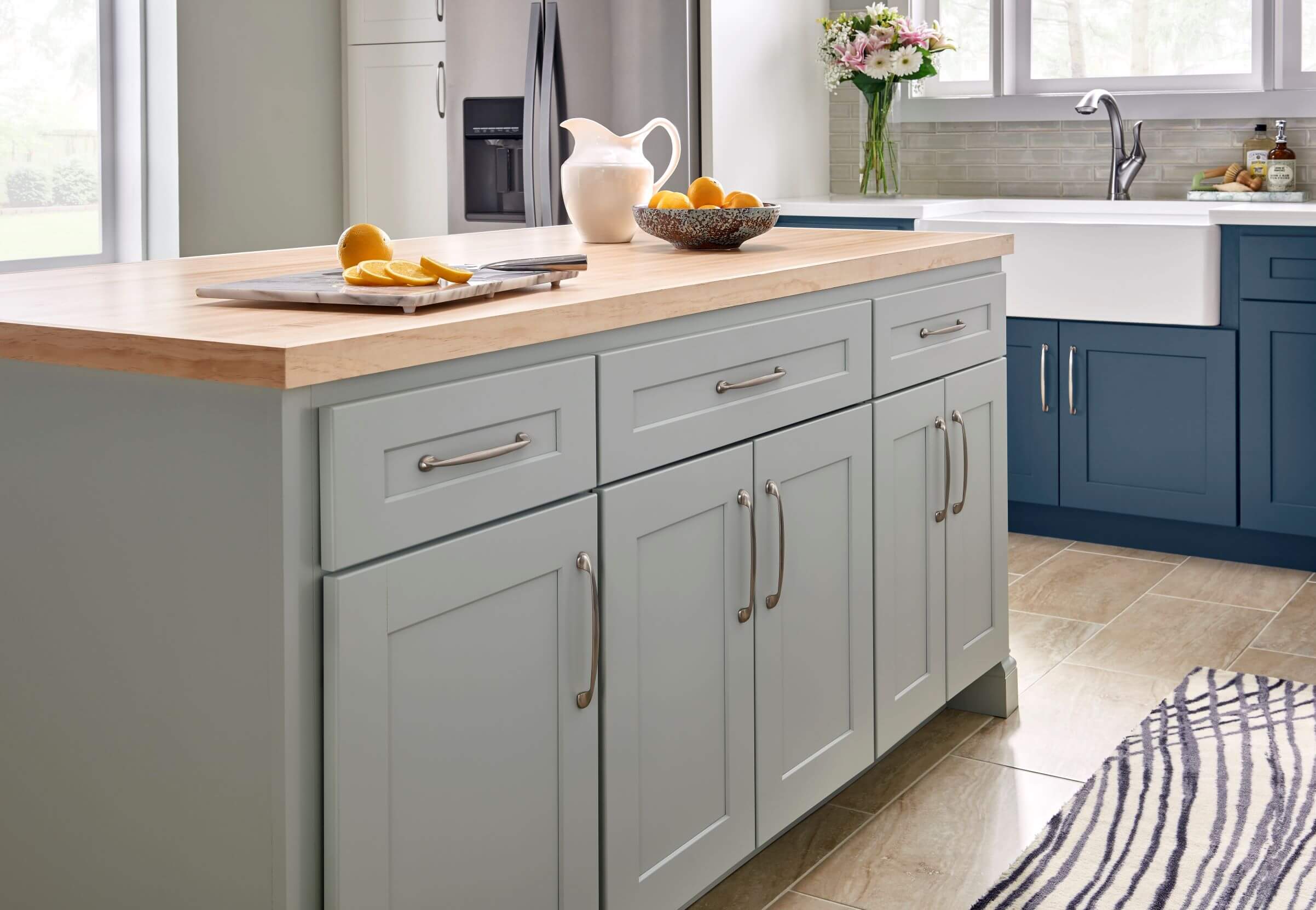 We know that not all of our clients will have a construction background; therefore, we have created a foolproof design guide for your new kitchen cabinets. Before ordering your cabinets, you will sketch out your kitchen. Once you have all of your cabinets and appliances drawn out, you will add exact measurements to the sketch. After you draw everything out you will take pictures of your current kitchen layout. After that is done, fill out our design guide form to include details about the kitchen you desire. Here you can include what is important to you, whether it is cost, functionality, or design. Finally, you will add all of the sketched-out designs and current photos. After we have gone through everything, we will send you an itemized quote to let you know EXACTLY what you will need.
Using our itemized quote, you will be able to find the cabinet door style that you desire for your home and start your cart. All of our cabinets are laid out in wall, base, and tall cabinets to be able to sort through the exact products you need. On each of our cabinet lines, you will be able to view all of our accessories, fillers, and panels. Not only do we make online ordering easy, but your order will also come with a filler kit to be able to prolong the life of your cabinets for years to come.
Contact Us for Your East Coast Prebuilt Kitchen Cabinets
What is stopping you from having the kitchen of your dreams? With Quick Ship Kitchens we are able to provide you with superior quality, affordable prices, and lightning speed shipping. What more could you ask for? If you have any questions before ordering your East Coast Prebuilt Kitchen Cabinets, reach out to one of our knowledgeable representatives. We cannot wait for you to be able to cook your perfect dish in your flawless kitchen.