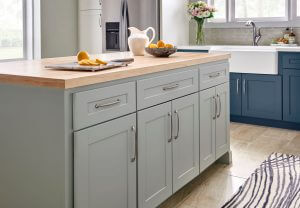 Starting a kitchen renovation is no easy task. Not only do you have to plan your new layout and shop for appliances, but you also have to find high-quality cabinets. You want sturdy cabinets that can hold heavy pots and pans, but that also give your kitchen that "wow" factor. Searching for cabinets online might get you pigeon-holed into something that is notoriously flimsy or suspiciously cheap. At Quick Ship Kitchens, you'll find high-quality East Coast Modern Kitchen Cabinets at affordable prices.
Quick Ship Kitchens has been helping families flip their home kitchens fast. With quick turnaround times and speedy delivery, you'll be impressed with how soon you can start enjoying your new cabinets. Shop our selection of modern colors and styles, then contact us to learn how to start building your new kitchen.
Many Styles of Modern Kitchen Cabinets To Choose From
Quick Ship Kitchens offers Wolf Classic Kitchen Cabinets. These cabinets come in a large variety of colors and styles. We offer cabinets to fit every kitchen style. Customers love our simple and modern options like "York White." Some prefer a classic dark wooden look like "Dartmouth Brownstone." More and more, we are seeing orders for bold and colorful cabinet styles like "Hanover Laurel" or "Dartmouth Seaport." Whatever look you're trying to achieve, Quick Ship Kitchens has the East Coast Modern Kitchen Cabinets you've been searching for.
Not only do we have a large selection of cabinets, but we also feature a plethora of accessories you can add to your new kitchen. Crown molding can add a touch of class to your kitchen. Lazy susans are great at making all items in a cabinet accessible. Hide your unsightly kitchen garbage in a wastebasket cabinet. All of these features and more can easily be added to your Quick Ship Kitchen order.
How We Deliver Our Cabinets So Fast
At Quick Ship Kitchens, we call ourselves "quick ship" because we get our cabinets to your home fast. After you order your cabinets, you'll receive them in 1-2 weeks. That's better than most other cabinet companies that take 5-8 weeks. It almost seems too good to be true. But our secret is Wolf Classic Cabinets.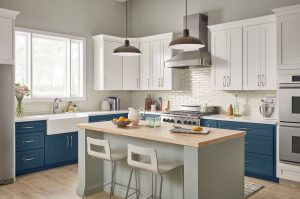 Wolf Classic has been making cabinets for over 175 years. Their quality and service stand above the rest. With decades of experience in woodworking, all of their cabinets are made of American maple wood. They do not come with brackets, cams, or clips like many preassembled cabinets do. Their high-quality hardware and all plywood box design are capable to meet any kitchen needs. The drawers have ¾" faceplates and the solid maple drawers have a 75lb rating.
All Wolf Classic Cabinets come with a 5-year warranty. Not only will your new East Coast Modern Kitchen Cabinets look great, but you'll also feel good about them too. That's because all cabinets also have certifications from the Environmental Stewardship Program (ESP) and Kitchen Cabinet Manufacturers Association (KCMA). This means that your cabinets are sustainability sourced and must meet environmental standards in their factories. Wolf Classic keeps up with these requirements to show that modern cabinets can be earth-friendly as well as high-quality.
Make Your East Coast Modern Kitchen Dreams Come True
When you're ready to start designing your new kitchen, shop around at other stores, and then try Quick Ship Kitchens. We put the design tools in your hands. Start with our Design Help guide. Follow the steps and show us what your current cabinets look like, and your vision for your new East Coast Modern Kitchen Cabinets. We'll work with you on the spacing and design to create the perfect layout you've been looking for.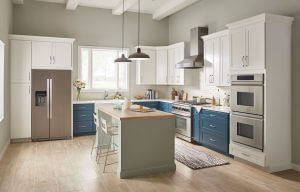 Once you're happy with your design, we'll send you an itemized quote for your entire kitchen. You'll be pleasantly surprised by the cost and the results. Then, your kitchen cabinets will be shipped directly to you within 1-2 weeks. Once you receive your cabinets you can start building your new kitchen. If you have any trouble with getting them together, you can always use our handy guides to help adjust your cabinets so they open and close correctly.
If you're unsure about the quality, you can always test it for yourself. We offer samples of all of our doors for $25 each. If you have any questions about the quality of the cabinets or the design process, you can always contact us Monday-Friday 9am-6pm. A member of our team will be happy to answer your questions so you can feel confident in your decision.
Shop East Coast Modern Kitchen Cabinets from Quick Ship Kitchens Today
Creating a new kitchen is not an easy task, but Quick Ship Kitchens makes it easier with quick turnaround times and fast delivery. You'll love our East Cost Modern Kitchen Cabinets in your home. You might even start considering buying more cabinets for your bathroom, entryway storage, or office space. Start with our Design Help Guide, and if you have any questions please don't hesitate to contact us. We're here to help you make your kitchen dreams a reality.