The east coast is filled with beautiful older homes. While these homes look great from the outside, the insides often need updates to make them compatible with modern living. If a kitchen renovation is on your list to-do in your east coast home, then check out Quick Ship Kitchens. Our high-quality cabinets make completing East Coast Kitchen Renovations a snap.
Quick Ship Kitchens has been helping homeowners redesign their kitchens since 2018. We invest in high-quality cabinets and promise to ship them to you quickly. How quickly? In 1-2 weeks. Most cabinet companies that 5-8 weeks. Being without a kitchen for a long period of time is difficult. The faster your new cabinets are delivered, the sooner you can start enjoying your new kitchen. Shop our cabinets start planning your kitchen renovation today.
East Coast Kitchen Renovations You Can Do Yourself
When embarking East Coast Kitchen Renovations process, there might be some sticker shock. Contractors, cabinet builders, and designers all come with a price. Currently, many contractors have large backlogs of projects. Finding a contractor to install your new kitchen cabinets might mean that your new kitchen won't come to life as soon as you expected.
Quick Ship Kitchen puts the designing and kitchen creation in your hands. We ship preassembled cabinets that you can install yourself. We work with you from start to finish to ensure you are happy with your new kitchen design.
High-Quality Wolf Cabinets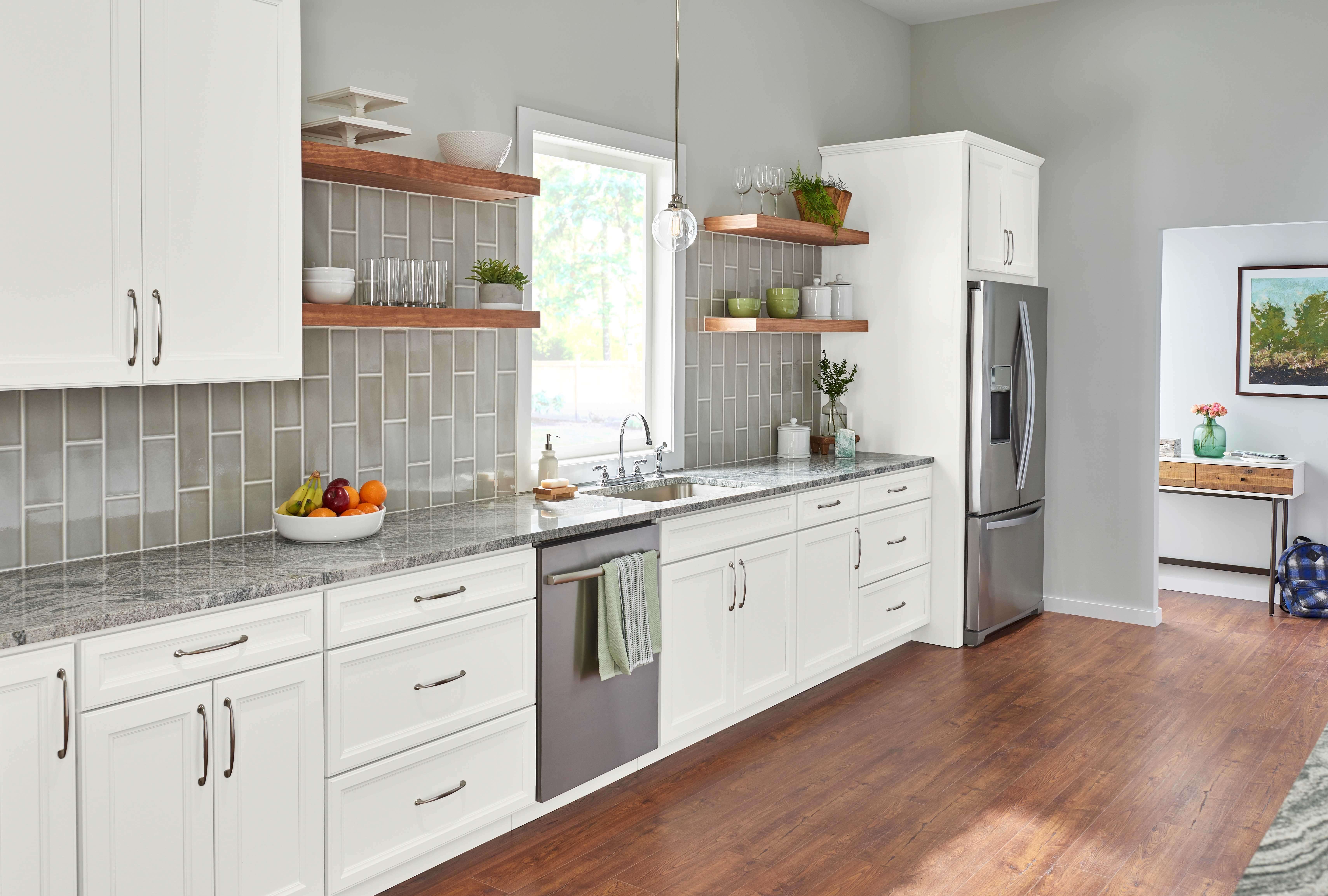 You might be curious how Quick Ship Kitchens can claim to have such high-quality cabinets delivered to your door so fast. We partner with Wolf Classic Cabinets. With over 175 years of experience making all-wood factory-assembled cabinets, these cabinets are the real deal. They do not include any brackets, cams, or clips as some cheaper pre-assembled cabinets would. They are made in America with solid American Maple wood. All cabinets come with a 5-year warranty and are have certifications from the Environmental Stewardship Program (ESP) and Kitchen Cabinet Manufacturers Association (KCMA).
Wolf Classic cabinets are made with high-quality construction materials. The face frames are made of ¾" solid maple with drawers capable of holding up to 75lbs. And with 19 different colors to choose from, you'll be sure to find a match to your East Coast Kitchen Renovations designs and color schemes.
Skeptical? That's ok. We understand. That's why we offer to ship door samples to our customers for $25. You'll be so impressed with the quality and craftsmanship of these cabinets, that you'll have to order cabinets for the rest of your kitchen renovation right away.
Custom Kitchen Renovation Design
Now if you've never designed a kitchen before, there's no need to worry. Quick Ship Kitchens has the design team and the know-how to help you every step of the way. Start with our Design Help Guide. This process helps you and our design team have a better understanding of what you want in your new kitchen along with any additional storage options or custom details you're looking for.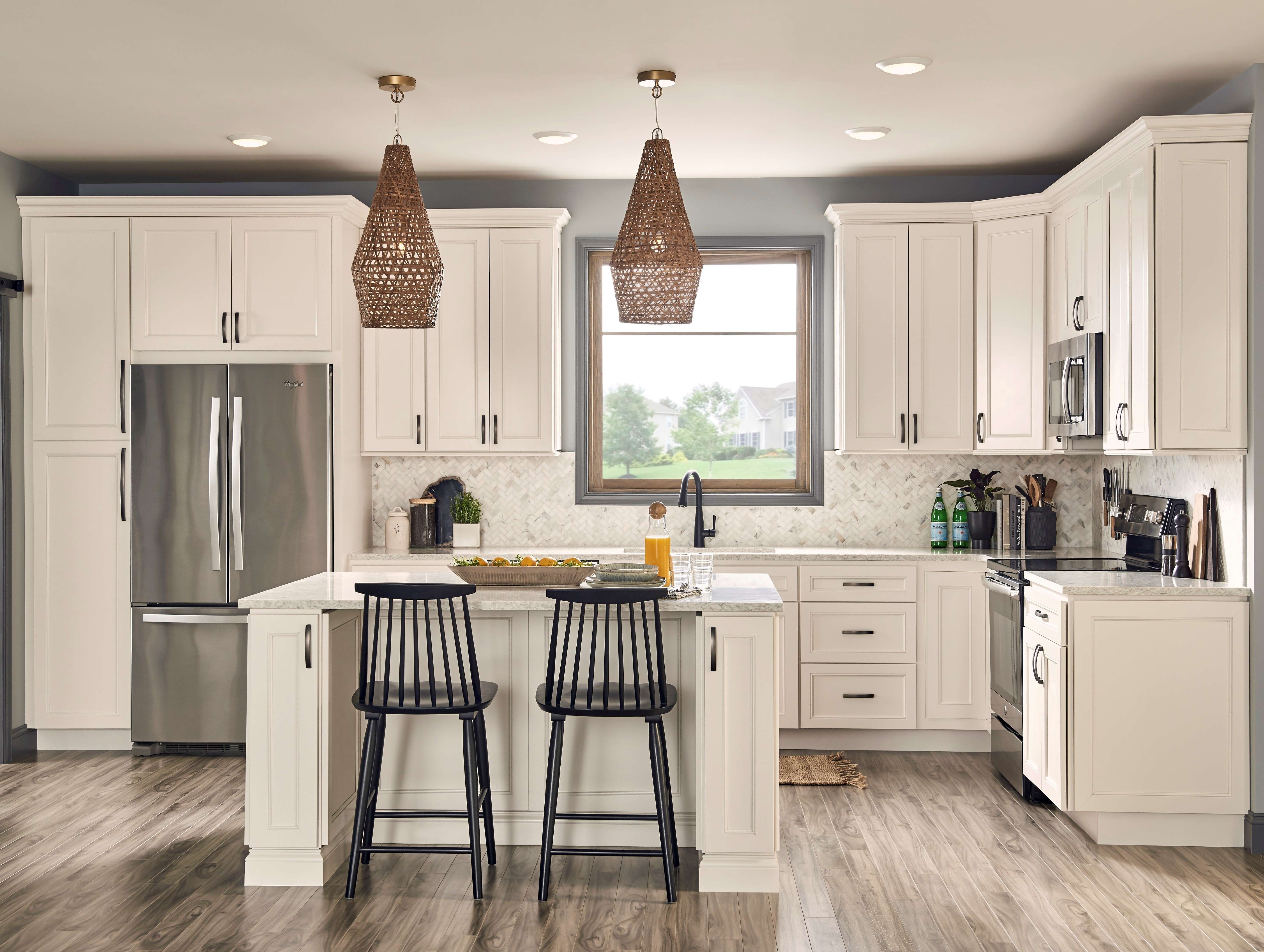 Want crown moldings, wine racks, or three drawer bases? They are easy to add to your East Coast Kitchen Renovations. Even if you're not looking to renovate a kitchen, our clients have used our cabinets for bathrooms, entryway storage, and bars. The possibilities are endless with Wolf Classic Cabinets from Quick Ship Kitchens.
Once you finish the guide, you'll receive an itemized quote for your new kitchen cabinets. From there, we'll ship them directly to you in 1-2 weeks. Your cabinets will look great as soon as they arrive, but if you notice any damage, you can contact us within 14 days of your delivery. Every order over $499 comes with a touch-up kit. This kit includes a putty fill stick, a touchup marker, and a bottle of topcoat. Throughout the kitchen assembling process, if you have any questions or run into any trouble, you can refer to our handy guides and videos. Our videos include anything from maintenance, adjustments, and additional instructions to help your cabinets look great for years to come.
Start Your East Coast Kitchen Renovations Today with Quick Ship Kitchens
If you're ready to start on your East Coast Kitchen Renovations then shop Quick Ship Kitchens to see all the options available. Shop around at other stores too and you'll be surprised how much time and money you'll save with Quick Ship Kitchens. We work with contractors, home builders, and homeowners to create high-quality kitchen cabinets that are designed to wow. A kitchen remodel doesn't have to break the bank or your back. Quick Ship Kitchens makes it easy. Contact us today to learn more about your Wolf Classic kitchen cabinet options today.