Completing an East Coast Kitchen Remodel requires a big commitment of your time and energy. There are so many decisions to make and options to choose from, it's easy to get overwhelmed!
But the process doesn't have to be a burden if you work with the right team. That's where we come in. At Quick Ship Kitchens, we can help you through the remodeling process. Our team of cabinetry professionals will walk you through each step of the process – from design and ordering to shipping and installation. If you ever need any help, we're just a quick call away.
And once you receive our cabinets, you're sure to be delighted. We offer high-quality customized factory-assembled kitchen cabinets in a variety of contemporary styles, so you're sure to find the perfect fit for your home.
To talk to a member of our design team about your East Coast Kitchen Remodel, give us a call anytime between 9:00 am to 6:00 pm (E.S.T) Monday through Friday at 1-888-784-0322. We can also be reached online.
Key Decisions About Your East Coast Kitchen Remodel
Don't let the remodeling process overwhelm you – it doesn't have to be complicated. In essence, there are just four major questions you need to answer before proceeding: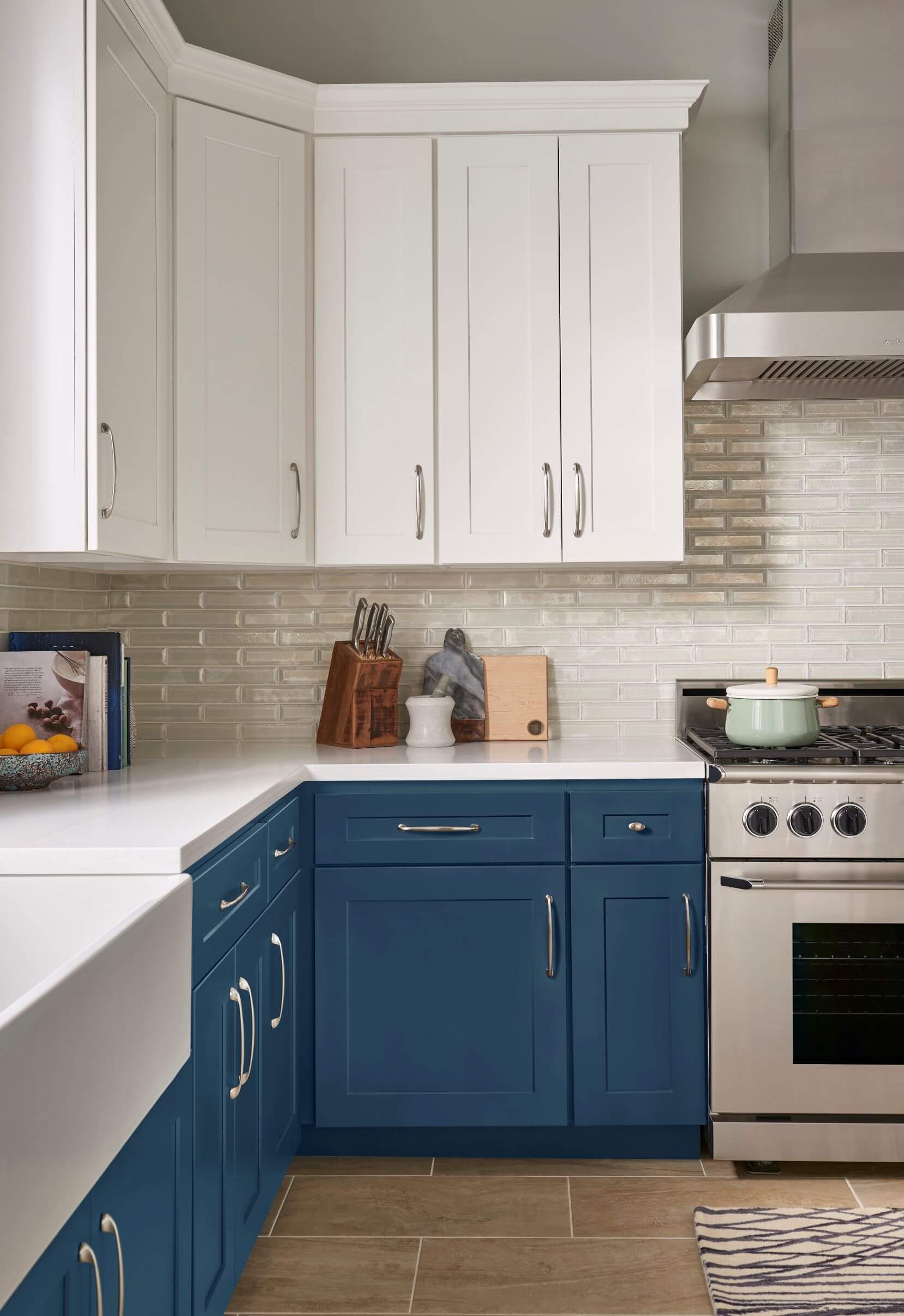 What's the scope of the project?
The first thing you need to determine is how big of a remodel you're willing to take on. Take a look around your kitchen and figure out what you'd like to change.
For example, do you want to completely rearrange your kitchen layout and update all your appliances or are you just wanting to install new kitchen cabinets? Are you keeping that old tile floor or installing new flooring? Will you paint the walls and get a new backsplash or work around what you already have? What about the countertops – do they stay or go?
Once you have a clear idea of exactly the type of changes you'd like to make, you're in a much better position to move forward in the remodeling process.
How big is your budget?
Unfortunately, all those changes you want to make require money. It's now time to sit down and figure out exactly how much you're willing to spend on your East Coast Kitchen Remodel. Once you've set your budget, you might need to find ways to compromise on your desired changes. For instance, you could substitute laminate flooring for hardwood, buy granite countertops instead of quartz, and order pre-assembled custom cabinets online instead of through an expensive retail store.
When do you want your remodel completed?
Once you've determined the scope of your remodeling project and set a budget, you can now figure out when you'd like the work to be done. You need to take into consideration how quickly you can get the materials necessary to do the job. For some components, it could take up to 8-12 weeks. If you'd like your kitchen remodel to be completed sooner, work exclusively with companies like Quick Ship Kitchens that can get cabinets, countertops, etc. to you within 7-14 days.
Where can you get design help?
The hardest part about the kitchen remodeling process is when you have to do it alone. For the best results, find a reliable, professional design team that can help you through the process, like the one at Quick Ship Kitchens. With their many years of experience, they've been through this process a thousand times and can advise you along the way.
Why Work with Quick Ship Kitchens
The team at Quick Ship Kitchens has developed a system to help streamline the remodeling process. It's as easy as 1-2-3:
Measure your kitchen
With your tape measure, pencil, and paper in hand, measure everything in your kitchen including all the appliances, doors, windows, and cabinets. Draw a schematic of your kitchen with detailed measurements down to ¼ inch. If you're wanting to make significant changes to the current layout, create a second diagram to display the new configuration.
Take pictures of your kitchen
Once you've drawn an accurate diagram of your current and desired kitchens, go around the room and take pictures. The pictures should be taken from a variety of angles and include all parts of your kitchen.
Fill out of Design Request Form
After measuring your kitchen, drawing the corresponding diagrams, and taking pictures of its interior, it's time to provide that information to the Quick Ship Kitchens design team. All you have to do is fill out the Design Request Form and upload your pictures and diagram – we'll take it from there!
The Next Step
After our team has received your information, we'll look it over then provide you with an itemized quote. Then all you have to do is add the items from your quote to your cart and they'll be shipped directly to your door!
So what are you waiting for? If you're ready to get started, just fill out the Design Request Form. To talk directly to a member of our staff, we welcome you to give us a call at 1-888-784-0322. Let the remodeling begin!