When thinking of your dream kitchen, an East Coast Kitchen Island is top one of the top items on everyone's list. Not only do you get more counter space, but you will also get more storage. Then depending on what type of island you are looking for you may even get an extra eating area or appliance space.
What's the scope of the project?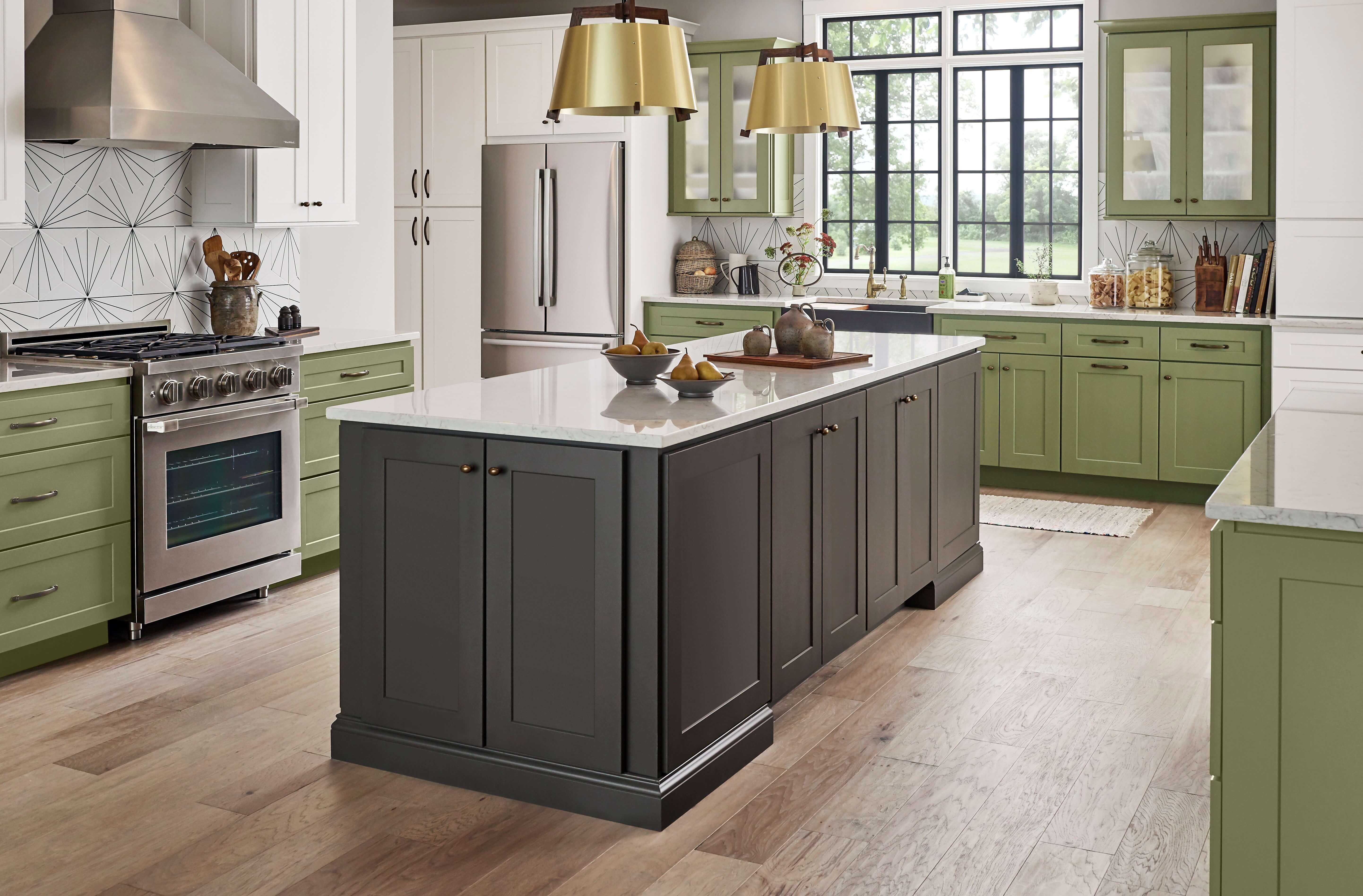 Whether you are replacing your current island or adding in a new one, you will still have some decisions to make. Is it going to have a larger footprint, or will you just be using the same amount of space? Will you be moving any appliances to your island, like a stove, sink, or microwave? These are all great things to think about when designing your island.
Another thing to think about is, "Do I have the space?" A trick to finding out if you can expand or add an East Coast Kitchen Island is marking off the area with painter's tape. By doing this, you will be able to visually see how the island will take up space. Is there still room to get around? Does my kitchen feel too small or cramped?
How big is your budget?
While it would be nice if money were not an object, but for most of us we have a limited amount of funds to put into the update of our home. That is why it is important to find out your budget at the start of your kitchen island project. If the cabinets were the most important pieces for you, you can save your money on budget-friendly countertops and hardware. With Quick Ship Kitchens, you will always get the lowest price. If you find cheaper Wolf Cabinet prices, we will price match!
When do you want your remodel completed?
If you are in a rush to get your island completed then Quick Ship is perfect for you. Not only do we save costs by taking out the middlemen, but we also save time. We can get our cabinets to your door in two weeks! If you are in a rush to get your cabinets finished, all our cabinets are custom factory assembled and in stock to be able to be installed the same day that they arrive at your home.
East Coast Kitchen Island Design Help
While it may seem like you need to hire a whole team to be able to design an island in your kitchen, our Design Guide allows you to be your own contractor. Our specialists, at Quick Ship Kitchens, is ready to help you design the kitchen of your dreams at no extra cost to you.
Step One: Measurements – You will want to sketch out a diagram of the room. All of your measurements need to be measured out down to ¼". You will start with the windows, walls, doors, and openings. Then you will sketch in the appliances and cabinets. Next, you will want to measure any other details that might affect your cabinets (low ceilings, half walls, range hoods, and floor vents).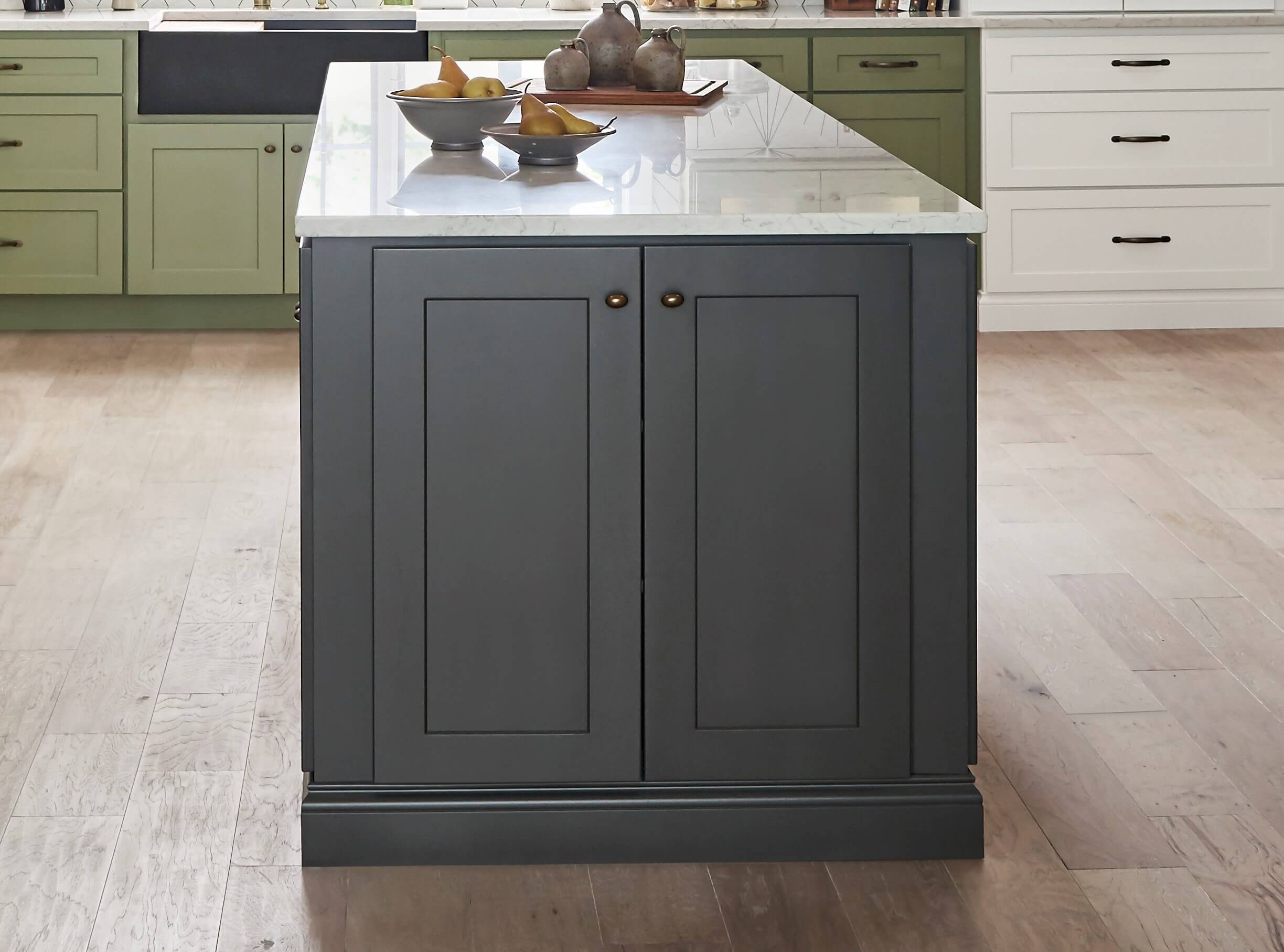 We will need two sketches. One will be of your current kitchen as it is. The other will be with your proposed kitchen island. That way we can make sure that the size of the island will fit within the room you have available.
Step Two: Pictures – In this, you will be taking images of your kitchen. You will want to take pictures from a variety of angles. This will help us understand all your sketches and if there will be able issues with your desired kitchen.
Step Three: Options & Additions – On our request form you will be able to tell us about your options. You will also be able to tell us if you are looking into any other accessories, such as crown molding, Lazy Susan, wine racks, and more.
Step Four: Itemized Quote- Once you have submitted your information and images, we will be able to get you an itemized quote that keeps your budget and style in mind.
Contact Us for Your East Coast Kitchen Island
If you would like to learn more about how to design your own Kitchen Island, feel free to reach out to a representative at Quick Ship Kithcens today. We cannot wait for you to have the kitchen of your dreams. We look forward to your order!