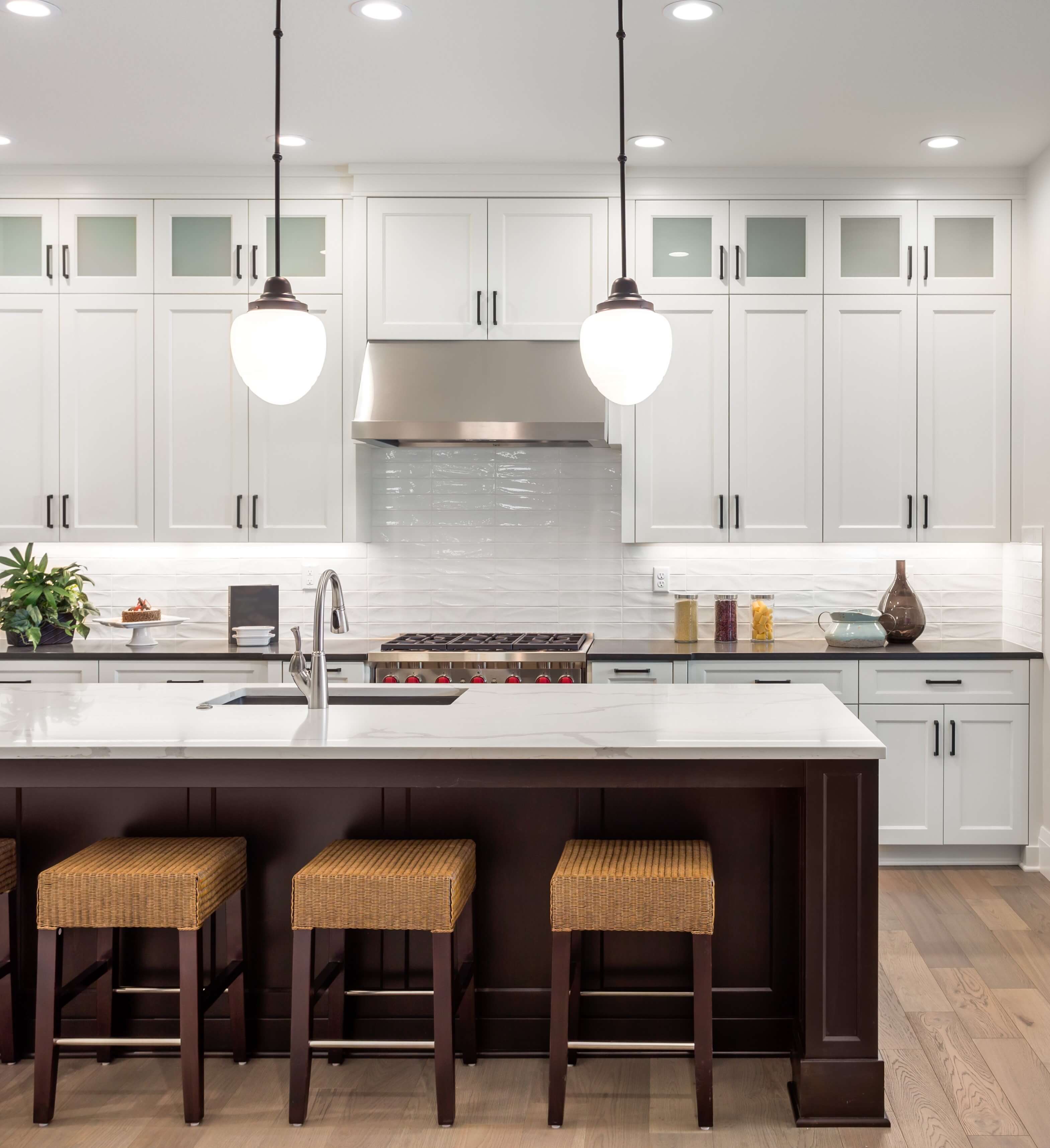 At Quick Ship Kitchens, we're changing the way Americans renovate their kitchens, one home at a time. We offer beautiful, already assembled kitchen cabinets that are shipped directly to your door – and for a lot less money than custom-made cabinets!
We've learned that homeowners want all the benefits of stunning craftsmanship and customized cabinetry without having to shell out an inordinate amount of money. And we agree – why should you have to sacrifice quality just because you're on a budget?
Now you don't have to. With our premade custom cabinets, you can enjoy high-quality cabinets at a low price. If you'd like to explore the many colors, styles, and customizations we offer, we invite you to take a look at our online shop or photo gallery. If you'd like to talk to a member of our staff about your cabinetry needs, just give us a call at 1-888-784-0322.
Why Order Assembled Kitchen Cabinets from Us
If you're still shopping around and haven't decided yet which company you want to order from, then keep reading – we've got a few good reasons why you should trust us with your kitchen upgrade.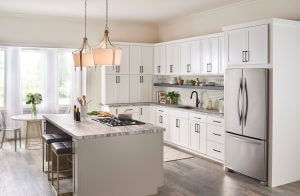 1. All of our cabinets are made in America
Our preconstructed cabinets are made right here in the USA. They're handcrafted using 100% American maple by Wolf Cabinetry, a brand known for their exceptional quality.
2. Our premade kitchen cabinets are delivered directly to your home
There's no need to visit a storeroom or pick up your order. We'll bring your already assembled kitchen cabinets right to your home! Our cabinets are shipped directly from the factory to you.
3. We offer free design assistance
If you're having trouble figuring out exactly what style, color, size, and customizations you need, all you have to do is ask a member of our staff – we'd love to help you find just the right fit for your home. And all that help is available for free!
We'll guide you through the process step-by-step – everything from taking measurements and creating a floor plan to selecting your cabinet options and viewing them in a 3D model of your kitchen – at no additional cost to you. How sweet is that!?
4. We can send you cabinetry samples
Just in case you prefer to see what your choice looks like in real life, as opposed to our high-tech 3D model, we can send you a sample to view. That's right – we'll send you a 11.5″ W x 13.5″ H cabinet door. All you need to do is click on the tab labeled "Samples" at the top of the page then fill out the sample request form. If you'd like to try out multiple samples, we can send additional ones too!
5. Your new cabinets will arrive quickly
A lot of companies will make you wait a month or more for your preconstructed cabinets, but not us. The name of our company might give you a small clue about how our operation works.
At Quick Ship Kitchens, we know that you're eager to upgrade your cabinets; that's why we pride ourselves on delivering your cabinets as quickly as possible. Most orders are received within 7-14 days. That's a huge improvement over the typical 5-8 week lead time that you find throughout the rest of the industry!
6. We guarantee our low prices
You won't find these already assembled kitchen cabinets at a lower price – we guarantee it! If you go to another cabinet retailer and find the exact same product available at a lower cost, we'll reduce our price to match it. Just submit a quote to verify the price, and we'll take care of the rest!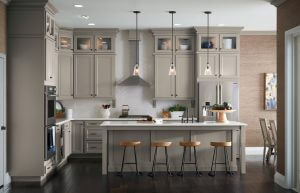 7. We offer a 5-year warranty on all our cabinets
We're so confident in the quality of our preconstructed cabinets that we offer a 5-year warranty. If your cabinets break under normal usage due to flaws in the material or craftsmanship, the manufacturer will either repair the damage or provide parts for replacement.
And more…
The list goes on and on…complimentary touch-up kits, discounts on bulk orders, free shipping on orders over $2,499, and more. If you'd like to enjoy the many benefits that come when you order from Quick Ship Kitchens, just give us a call at 1-888-784-0322 to get started.